Just got a Samsung Galaxy S21? Want to know what happens when you drop it without a case?
Once there was an unblemished Samsung Galaxy S21. Fresh out of its box, the smell of paper and static electric still wafting off of it from the removal of the screen slicker. Remember those days? Like… at most a week or so ago? Then it dropped. The model doesn't matter, it's all the same more or less when dropped from a height of about six feet straight down. Damage.
Luckily this particular phone was not Paul's new S21 Ultra as he would be crying right now as he doesn't carry insurance on phones, ever.
All State Protection Plans sent over their test results on the Galaxy S21 series, here's some shattered expensive dreams of silicon with 33 feet per second per second applied for roughly six feet.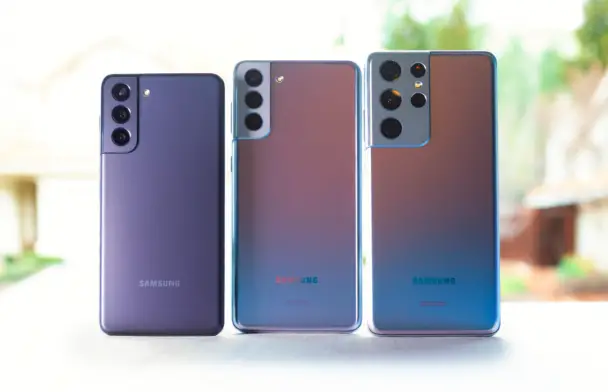 Here's some phone torture…
I forced my phones to watch that horror on repeat in the hopes they remember to stay cool and not cause my fingers to sweat causing a drop.
TL;DW the new tougher glass isn't going to really stop much of anything. Cameras are housed better. Get a case.
From the press communique (all cut and pasted below):
---
Face-Down Drop Test: When dropped six feet onto the sidewalk, all three Galaxy S21 phones were damaged. The Galaxy S21 fared the best, with a cracked screen and raised glass. The screen of the Galaxy S21+ cracked, loosened and malfunctioned. The Galaxy S21 Ultra, the largest phone in the range, suffered the most damage and could not be used after one drop.
Back-Down Drop Test: The Galaxy S21, which has a polycarbonate rather than glass back, held its own in the back-down drop test and had only minor cosmetic damage—even after being dropped twice. The Galaxy S21+ and Galaxy S21 Ultra, which have glass rear panels, both shattered after one drop. However, the new "Contour Cut" metal rear camera housings on all three phones were intact, and their cameras were fully operational.
The durability of all three Galaxy S21 rear camera housings is a noted improvement over its predecessors. So is the durability of the smaller Galaxy S21 model's polycarbonate rear panel. Considering that 140 million Americans have previously damaged a smartphone, according to a recent Allstate Protection Plans survey, this should be welcome news.
---
I was going to include the All State press release about misconceptions about phone repairs – basically a "these cost more than you think, you should buy our phone insurance" just because anyone who blows $4K on breaking stuff kind of gets my admiration, but their press release absolutely refuses to cut and paste in any format. Here's a link to it.
My personal belief is insurance always wins for the insurance company, otherwise they'd be out of business. Then again I do know someone who probably has spent $21,000 on phones in the past 10 years from multiple drops, losses, and other alcohol-related events powered by very high paying employment.