The Intelli PowerHub: Charge everything
Got a lot of devices to charge and few outlets and space to spare? The Intelli PowerHub is a device that adds two power outlets, a 10 watt wireless charger, an 18 watt USB-C PD port, and 2 standard 2 AMP USB ports. It's a beast although with significantly higher wattage PD out there and faster Qi charging standards now, it's not the fastest on the market. Just perhaps the most concentrated power strip/splitter/adapter you'll run across.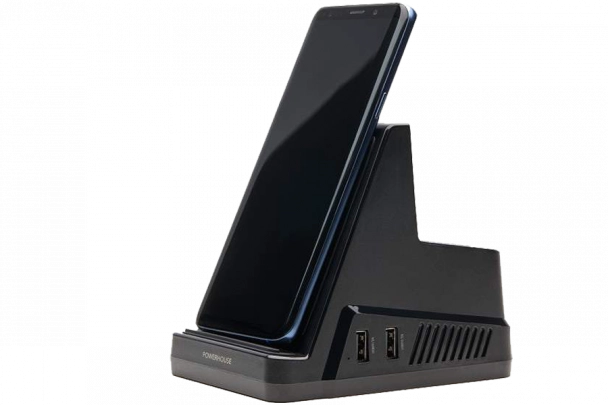 It's a big black industrial looking charging brick, and as at least one other reviewer I've read has pointed out, it's a tad imposing. But let's walk through what this does.
10 watt charging: check. Plug it in and you've got two additional power outlets to plug into on the back: Check. 18 Watt USB-C power delivery: Check (up to 15 watts, I didn't have an 18 device). Two USB-A ports that appear to deliver 2 AMP: check. Does it do what it says it does? Yes.
Should you want to stop there you can, skip to the end – the thing works, for my finding fault with design, read on.
Paul finds something to complain about
My first thought was to put this in the kitchen and use it to power a couple of devices, but the upward-facing outlets mean I'm not so inclined to put it in an area where water might splash and possily sink down into the unit. It also means that any cord I plug in is going to go up higher before folding out. I'd love to see the outlets moved straight to the back so you have one cord coming in and 2 going out in the same area. Maybe to one side.
In power repositioning requests I'd like to see all the USB ports on the same side. PD/USB-C on left and 2 USB-As on the right mean there's going to be cable spaghetti coming out of this unless you proactively plan cable management. Not a huge deal, but as this is aimed at being an all in one desk charging solution it's something to consider.
OK, this one is being worked on at the moment (so it should not ship with this,) and took me a bit to figure out what was going on, get video, and get it to the mfg, but I had my phones going from fast charging to slow charging pretty quickly. Turns out the 90 degree angle that most wireless chargers have was not used for the Intelli PowerHub, and it's more in the 100 degree angle range and relying on a rubberized piece to stop and prop the phone in place. That piece is slippery.
More of an\_ than an L leaning back was the issue.
It tended to allow the phone to move, especially if your PowerHub shakes slightly when you walk around the room. Once my phones started moving, they backed away from the Qi coils, and went from fast charge to meh. A fix should be in place for future ones.
Overall
Consider your use cases. This is great at desk power delivery (one device to rule them all,) probably near perfect as a night table device to power your phone, your partner's, a clock radio, etc. I'd stay away from places where any liquids might be just because upward facing plugs worry me in these scenarios.
It saves a lot of space, but is not the fastest thing going. I dig it for what it is.
You can grab an Intelli PowerHub at the manufacturer's website.