NexPad Pro T530 – Google certified video conference tablet (week 1 impressions)
Have you needed a business level video conference tablet that has all the available business video conferencing apps backed by the power of an open Android device capable of installing anything? The NexPad Pro T530 merits a moment of your time.
TL;DR – Google certified, business class Android conferencing device with PoE/WiFi, Kensington lock, HDMI out. Link to final review at the bottom.
Some of the more interesting features I've run across so far include Power over Ethernet should you want it, HDMI out for video presentations. Wired or Wireless connectivity, the full Google Play store and an Android 10 base, Kensington lock capabilities so nobody can wander off with the thing, a 4K camera, and a fairly impressive array of misc features.
I will point out for Pocketables readers, this can be considered a full featured Android tablet (that evidently reports itself as a Google Pixel,) and even though it looks quite a bit like the Lenovo Smart Displays Google Home devices, this is not a Google Home, although you can install assistant on it and set it to listen.
Your IT department will probably want to set up a dedicated Google account for this and install some lockdown software as it's a little open by design.
The camera in video conference mode is good. I do not think Duo, Meet, Zoom, etc really take advantage of a 4K front facing camera so we're looking at the future. Microphone pickup is good if you can get people to actually stop shouting that would be better, but for some reason in use people's volumes keep going up.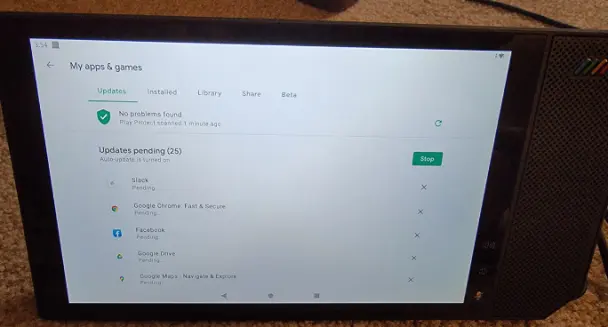 I've disliked the lack of ability to adjust where the camera is pointing easily. It tends to be angled up meaning if it's on a table and far away I might be under it in a conference room situation. I mean this can easily be remedied by tilting the device, but it would have been really nice to have something built in or as an add-on to adjust the tilt/where you're looking. I think it will work for most situations, just when you're at a 14 foot conference table which is where I was testing this you need to be closer than I was to not have to use drink coasters to tilt the NexPad Pro T530.
The PoE port on the back means if you've got PoE, you're golden, one wire for power and internet. The Kensington lock is on the back as well. These two things really aid in cable management, but unfortunately the HDMI port is on the left side of the unit meaning if you're going out to TV you've got a cable dangling off the side, or the top depending on orientation.
I would probably be getting a 90 degree HDMI cable if I had this positioned for a TV, but that's just me. Wish they would have run this out the back or included a 90 degree adapter… oh well.
There's a Micro-USB port hidden on the side that appears you may be able to access the unit with ADB or some such. I'll investigate that. I was not able to power the device via that, however I did manage to wake it up for a second which makes me think there might be a smallish battery in there. Or at least some capacitance.
As far as I can tell this is a fully featured Android tablet, you can do whatever you want on it. It has 32GB storage reported, can probably run anything a Pixel phone can run although we'll see. I'll run some benchmarks on it, see if I can capture decent video at 4K and report back in a later review.
The Nexvoo NexPad Pro T530 is availble on NexvooTech's website
Most likely final review at 47 days of use can be found here.