Thoughts on Google's Driving Mode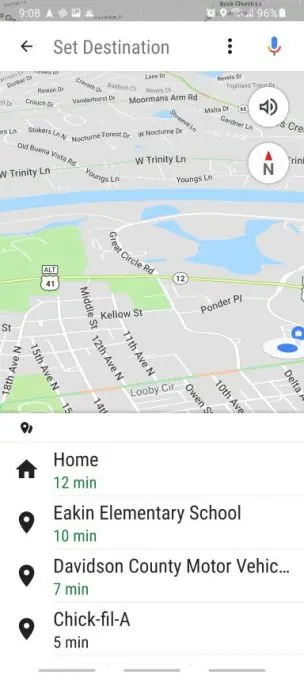 Driving mode was introduced at some point recently. It's basically a US experiment which is Google Maps in portrait mode with a few destination buttons that it thinks you might be interested in navigating to as well as an overhead view of you and the traffic.
As many of us are finally getting out and driving around, it seemed that this might be a useful tool and I've been using it since about the time I got the S21 and… yeah, it's … it exists.
I find myself wondering if there's some reasoning behind it. I mean it's good and all, but it's Maps that's stuck in portrait mode and all the voice commands are just standard Assistant commands unless I'm missing something. There's more of an Assistant audio integration in the bottom portion, but nothing spectacular.
In the early days of Driving Mode there would be a little section down at the bottom that told me what I was listening to, but that's gone away. It wasn't particularly useful because that info was also on the car's screen, but I do wonder where did it come from, where did it go?
Unlike Google Maps / standard navigation, Driving Mode doesn't randomly decide to resize itself into a smaller window just when you need to look at it for the last couple of directions.
It also tends to get accidentally closed significantly less.
The suggestions that pop up on the bottom tend to be, almost to a T, not things I've been to. Chick-fil-A? No, I was in the next building over. DMV? I think I searched for that once in 2017. Eakin? That's the school next to the park I took my kids. Home? Such a good movie.
My guess is it's trawling my location history, badly. I question here how many people go to a place and then need directions to that place again. I mean, maybe that's a real thing but the heads-up recent seems to only be useful if you're looking for traffic timing. Maybe that's the use.
When you do select something, we're in standard navigation mode with voice again. This is something I'd like to change a bit. Like I'd like it to have an option of visually navigate and let me know if there's a slowdown but for the love of god quit telling me the 6000 details of which lane to be in as this is a destination I'm familiar with and would like to listen to my podcast.
Overall, driving mode is a thing, I find it slightly more useful than Maps for actual navigation, but it's not something to envy if it isn't out in your area yet.