A few of Paul's favorite things – insomnia edition
I've stressed for quite a while that at Pocketables I'd rather review something for real than make a few bucks off of it. I've engaged in long term reviews that have lasted years on products like the Sense Home Energy Monitor and the Luci brand of solar lights that I couldn't kill.
A lot of things have been given away (I generally don't sell products I get, but they have to leave or go on the pile so they're given away,) but here are some things that I kept and keep me fairly happy, whether I have reviewed them harshly or not.
Most of this is tech I've had for 6months to 4 years, so not a lot of cutting edge stuff.
The Ooler Sleep System
In 2019 I was contacted by ChiliSleep's PR after having done several insomniac posts about various sleeping devices, trackers, etc. They sent over an Ooler sleep system, actually they sent two control units and two pads for left/right zone control on the bed.
You can read the reviews here. TL;DR version is we had some major trouble with the first batch, I'm on two replacements at least for them due to issues, but have been sleeping cool for the past year with the only major issues being that the scheduler refuses to work on two different units meaning I have to turn on mine or Kim's manually quite often.
I also am still somewhat annoyed that I have attempted to give them a $5 to produce part that would solve one of the most complained about issues, and as far as I can tell I'm dead to them now because of my reporting on the sludge issues from the first batch.
I now hate sleeping anywhere else.
I'll note I had reviewed the Bedjet before this. I generally found that my issue was heat under me due to me being hot, and the memory foam being a heat pit, which the Chillpad/Oolers work for, heat above me was not my problem. Your experience may vary.
The Midea U Inverter 12,000 BTU Smart Window AC
As I've been home a bit more the past year the remote starting ability has not been a huge deal, but it's been really nice to be able to cool off the one room I'm probably going to be working in before I step back into the house. Just due to how my house is laid out getting it cold upstairs is a fairly useless effort with my central unit.
Basically due to 1940's house, ducting or lack thereof, and an AC guy taking off with payment and an AC system I purchased for the place after getting paid I'm at the mercy of a window unit, which … works wonders oddly. While I have not been able to integrate this with the Nest in any meaningful fashion, turning on the central's fan with the modifications I made to and old heat duct to be a return, cranking on the Medea, it works. At least it has while the temperature has been under 90.
We'll see how well this works this summer I guess (I've also added a couple of hundred dollars of insulation to the equation).
You can see my reviews here, but TL;DR – pretty good, their app/service is not as reliable as I'd like it to be, and tech support was slow and pretty much useless by sending the vaguest answer I've ever had from a question.
The Samsung Galaxy S21 Ultra 5G
The photos seems to keep getting better, the app itself for the photos seems to be moving settings around. So yeah, everything on this phone is amazing, the pictures are amazing, the app is designed to make me feel like I'm completely missing the settings for how to put the resolution up to the max or something.
Google Home / Nest speakers
As much as I complain about Google Home / Assistant, I use it a lot. I've got alarms running, automation tied in to various things I or my kids can say, we call the grandparents on .. well, it's the Lenovo Smart Speaker but you know how this goes.
From playing music, to setting timers, to whatever. I've had a lot to complain about because it's not perfect, it breaks, the support blames rather than listens half the time. But damn if it hasn't overall been useful. We've been covering them forever.
The Roborock S7
The Roborock S7 is the newest addition to the family. The Roomba 551 has been sent upstairs and the various smart vacuums we've reviewed in the past have been mostly donated to cleaning up after foster dogs. The S7 is still new and shiny, but it's already been named Rhonda by Kim, has a track record of cleaning without getting jammed, lost, etc.
I really can say that I love that I don't have to play "where the hell did the smart vacuum wedge itself this time?" with it.
Reviews are here. It's awesome.
Smart bulbs
Love 'em. Only the color changing WiFi ones though as I can set them for information conveyance. Oh, that light's pink? Dryer's finished.
Bunch of different brands here.
The Sense Home Energy Monitor
I've probably devoted more time to seeming annoyed with this than promoting it, but that's because it has so much potential and I feel it's sort of capped with how they have things set up with the AI learning.
I've been using this since 2017 evidently. Back in February reset the thing and have started over. Have talked to many people and repeated the consumer complaints that we need a training mode because it's not finding some of the devices. I've got my issues with it but it's helped me track down more waste than the thing costs.
Your experience may vary.
Plex
Plex Media Server and the associated apps allow me to take my kid's media wherever I go, watch and record live over the air TV using an HDHomeRun device, and generally acts as a damned fine commercial-removing DVR and movie slinger.
Trying to go into everything that Plex can do is sort of useless. There are free alternatives that can do more. Plex has that "just works, do you really want to be tech support?" sort of sales pitch here.
The Jabra Evolve2 85
There are two headsets I use regularly. These are the Jabra Evolve2 85 which I consider the peak of audio clarity on phone calls and a pretty decent all around headset, and some Elepawl headphones I reviewed long ago that do not appear to be around any more that were the absolute best for mowing.
Sadly I believe the flood may have removed my Elepawl headphones from dryness, and the Evolve2 are not sweating-headsets.
Urban Armor Gear
Phone cases, I've had many phones in Urban Armor Gear Monarch Cases. Love those. The rest are good I'm sure, but the red Monarch has a special place in my heart which was sadly out of stock when I went to the S21.
Syncwire Gravity car phone mount
It works, hasn't fallen off, hasn't annoyed me, that's more than most of the others I've reviewed I can say about although one of them was awesome before being stolen from my dash.
Cansonic UltraDuo Z2
I think there are plenty of better options these days, but man, this thing has held up. Looks like the one I have is discontinued and the Z3 has replaced it. I've used this on average once every two months to send off video to the police of a crash I captured. Been useful.
Just saying, dash cams are pretty useful. This particular one I have was a preview unit, as in before the final release. I don't know how well my experiences reflected the final version so yeah.
The Nest Learning Thermostat
Set schedules, turn off the AC when you're out and forgot to. It's great for people like me who walk out with two kids and seventy things to do and forget to set or unset the AC.
The Nest thermostat review was here
Plenty of features and experiences not reviewed however.
Nest Cams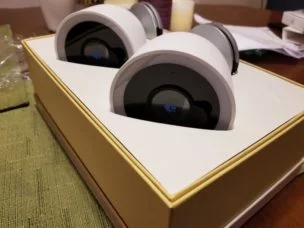 While my experience with Google's tech support has been infuriating, they have a good product… just a really really bad way of dealing with problems that are theirs.
Vizio stuff
Let me preface this – you give me a TV and a soundbar I'm going to love you, and Vizio has provided me with a couple of different things through a couple of channels.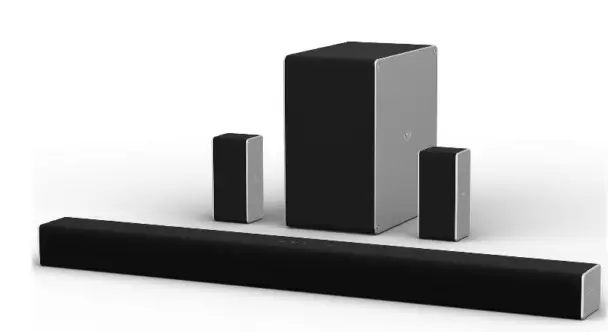 The speakers, I can't fault 'em for what they are. I've heard better recently, these were the best small package Atmos speakers I'd heard three years ago. It works for my setup.
The M50-D1 50″ display has served me well. Sadly the instant I decided to use it as a gaming display for an old system it decided to start throwing up some mixed up bottom lines on me. I've read a couple of people thinking it has something to do with the game mode that got pushed out, I have not investigated. I have lines on the bottom of the thing now that seems to correspond with what should be on other lines. Still great for Netflix though.
The Vizio V705x-H1 70″ class UHD TV – this was not given to Pocketables, rather it's something that I managed through a reviewer program quite on my own. It's also quite possibly the cause of the first Google Adsense case where they called my traffic fraudulent (because I was one of three reviews of this beast). It's a great TV. Some of the visual quirks I noted should be discarded or taken with I evidently had to get glasses and did not notice it.
The Portal WiFi Router
I'm going to stress at this point this thing's antiquated. There is no support, no support for IPv6, and the app control is lacking seriously. It's a great router for 4 years ago but it's day is done. That said, it's still better than that router I just had to return that couldn't handle my devices.
Airthings Radon Detector
I like knowing I don't have radon.
The Sandmarc Prolight
It's really useful for my wife's imaginary food blog, and for several product shots. Review here.
I wish I had more uses for the lenses Sandmarc makes, but my use cases tend to not intersect with them. The lenses are fine… damn fine… I mean, really, an aftermarket clipon lens… they're great but I've failed to showcase how great they are.