FedEx offers to pay you $5 to have Walgreens lose your packages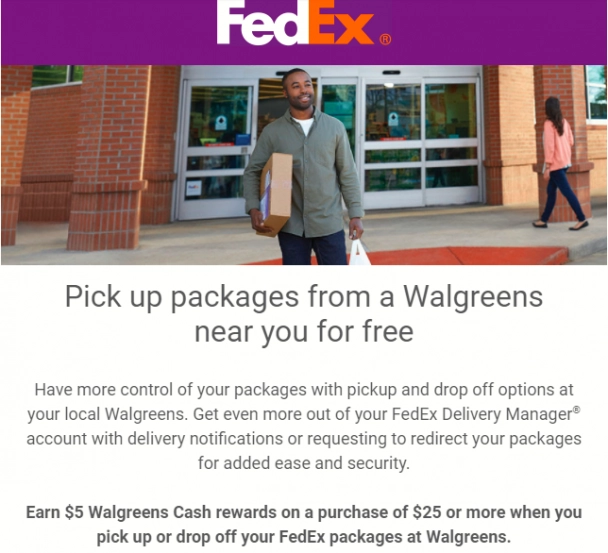 FedEx is offering a $5 incentive to have your packages delivered to Walgreens. As you can tell by the headline I've had bad experiences with this.
TL;DR – Paul does a Yelp! review. Walgreens+FedEx is bad, don't do it.
The Brainwavz review was delayed by nearly two weeks because FedEx delivered to Walgreens at about 2pm every day and at 4:40 they'd come back and the employees at the store (training issue with the entire store,) would have put it on the outgoing. Store manager asked if I could get there earlier rather than, you know, fixing the issue.
The package bounced between my house, a delivery driver, Walgreens for a while eventually requiring me to contact FedEx, have it escalated, have a manager call the delivery person and have it pulled from a truck and delivered after several several attempted pickups.
"Oh that's one story Paul," yup, here's another – wife ordered some products, delivered to Walgreens, they gave one of her packages to someone else evidently.
Had one that required a signature that I had delivered to a different Walgreens… that one was just waiting for 20+ minutes to get the one person who was working the store by themselves free from the register.
"Oh that's just a couple of incidents," you say… yup, 100% of my interactions with this service have been negative, let's check the neighborhood groups…. yeah, no.
So, basically the short of it is they're incentivizing you $5 (if you spend $25 at Walgreens,) to go to the store saving FedEx about $1.31 in delivery expenses. If you're going to Walgreens anyway, well, congrats baller, prices there will more than even out that $5 in FedEx/Walgreen's favor.
Do not recommend. My experiences may have just been outliers but damn. $5 off at Walgreens what is that like a candy bar?