Preview: The Dreame Bot L10 Pro robot vacuum/mop
We'll start with that this is the most powerful robot vacuum I've worked with clocking in with the capacity to pull 4000Pa, and one of the lightest vacuums as well. I'll also preface that the unit I have and have tested is running pre-release software and expected to be updated so we will be doing a full on review closer to May 8, 2021 when this is being released.
TL;DR – The Dreame Bot L10 Pro is coming out May 8th, 2021 and you probably will like it. Pricing and promo periods listed in article. Full review coming later.
The Dreame Bot L10 Pro is a mopping robot, or a vacuuming robot, but it is not one of the units that lifts the mop up or shakes it around to scrub. You can define mopping zones and vacuuming zones and ask it to hit those in the app however. Just pointing this out at the beginning as that was the only thing I didn't quite get when I started this review.
The L10 Pro is designed to not get trapped, and not to run over things it can't handle using dual lidar sensors to get a feel for where it's going and what it's about to run into. There are ways to defeat this I'll point out, my children discovered they can make it back up over things by being fierce and menacing, but generally it did well at avoiding attacking larger objects in their rooms and has only been trapped once during testing that I can recall.
Software that's currently in use appears to be the same mapping software that Rhonda uses, although a slightly different incarnation of it. Most notably multi-floor is an option and works correctly, but Google Assistant support is not there yet (Amazon Alexa is however, so hopefully shortly.) I'll check back on Rhonda's multi-floor, it worked, then didn't last I checked.
I decided to do some testing to see how a 4000Pa vacuum went against a 2500Pa vacuum (Rhonda) and a … 900Pa? Roomba 551 I'm not entirely sure on the Roomba, let's just say it's from 2007 and has had all its guts replaced. I let the Roomba fly first, it picked up most of the surface dirt, reminded me I don't understand how my house is so filthy constantly, and generally made things look good. Rhonda came along for a second pass, picked up some more dirt from who knows where and some carpet fibers, and then the Dreame Bot L10 Pro set to maximum suction came through and filled up its bin with carpet fibers and I'm guessing dirt from under the carpet.
I emptied it out and ran it again and it was mostly carpet fibers this time. My determination is that it wins the suction wars, however I have not had a chance to determine what the battery drain is when you've got it set to full suction. It was able to do a floor with no problem, but my 800 or so square foot floor and yours will vary.
Important to remember the great thing about robot vacuums is they can run multiple times per day if needed while you're out. Doesn't have to be the most powerful to win the game, just the one with the best battery and schedule.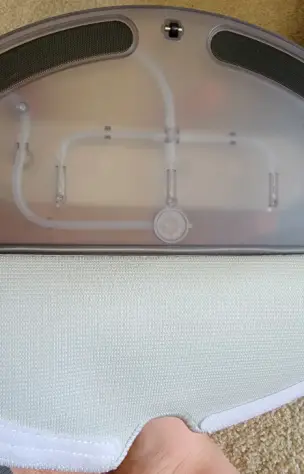 In the mopping category, the L10 Pro mops well. I only have one good testing area for this because my wife has put carpet over every possible mopping location. Even the kitchen has a rug in it we have to remove. I don't get this, whatever. The mopping unit attaches with a click, it detaches and cleans pretty easily. It uses a mop that you slide out and can toss into the washing machine (although I would not dry it as I think the Velcro would die.)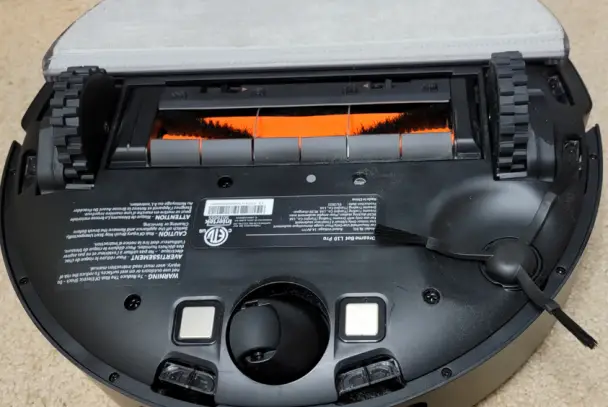 The Dreame Bot L10 Pro uses a combo silicone and bristle brush, which means you'll be pulling hair out of it at some point. A cutting tool is included that sits in the vacuum chamber area. The unit has your standard robot charging base. Larger than average vacuum chamber which is nice if you want a few runs without having to empty it (although I'd assume it gets less effective as it fills.)
Overall if you're in the market for it it's a remarkably solid piece of equipment.
Other tests I threw at my robot army included just trying to see which one would get stuck first. The L10 Pro wins for getting stuck last. Hula Hoop took out Rhonda, a very easy to see chair took out the 551, it took half an hour and a carpet that was tilted just perfectly to take out the L10 Pro. Did I manage to get a picture of that? Evidently not. I'll stage one for the final review if I have to it was… not an expected carpet event.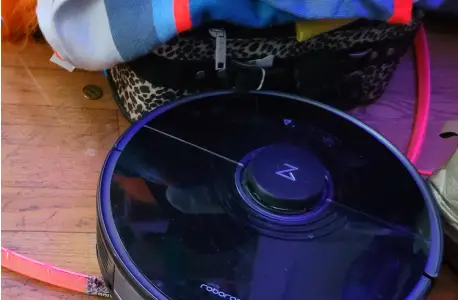 So far the L10 Pro has done a bang up job of not becoming a stranded robot vacuum. Not that Rhonda's been an issue. That 551 though man, it's like find the robot every single time.
Availability
The US pre-sale of the Dreame Bot L10 Pro will start on May 8th, 2021 and go to May 22nd. May 15th-20th shipping starts. This will be available on eBay. It will be listed at $389.99 with a $30 off coupon on the page to drop it to $359.99.
The US regular sales / intro pricing period will be May 20th-June 5th on Amazon. Pricing will be at $379.99