Second Pfizer dose gets its own post
About three weeks ago I had my first dose of the Pfizer vaccine. The short of the first dose was while I did have some side effects, they were mild. I generally considered the first round to be whatever. I'm going to say the second round is whatever as well, but different.
This is a non-tech story of my experience with the Pfizer vaccine, unless there's a third shot requirement this will be the last post. Should you wish to complain about it and how this somehow is a plot against your political ideology, or I'm team Big Lizard People, please do so in the comments.
This will be updated until such time as there are zero side effects to note.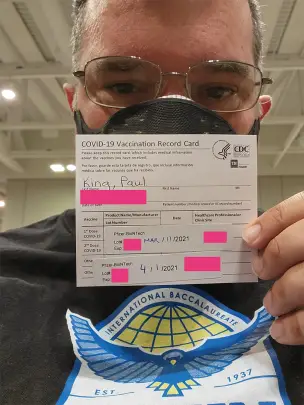 TL;DR – here's everything that happened after shot 2, there's a lot but absolutely nothing interesting or dramatic on day one. Day 1 = slept extra. Day 2 = mostly normal
Day 1
At a little after 8am on April 1, 2021 I got my second dose of the Pfizer Covid-19 vaccine. Unlike the first shot, this one I felt. It felt a little like a very weak fire in my muscle. I will stress weak. The only reason I mention this is the first one I didn't feel, other than the needle.
Sat around playing on my phone for 20 minutes or so to make sure I didn't die. Neither I nor any of the 200 or so people in the waiting area appeared to die. I went to work.
At 10am I was feeling sleepy. I hadn't slept particularly well, my arm was… not sore, but I was aware of it. Everyone at work was out for vacation so I did what needed to be done and decided to head home around noon. My arm was itching slightly and I decided to preemptively take an antihistamine. Friend of mine had an allergic reaction, Benadryl was the doctor prescribed cure.
I don't really remember much at this point other than preemptively taking some ibuprofen, saying something to my wife to the effect of I was going to investigate the abyss, and then taking a nap for an hour.
I don't generally dream or remember dreams. I don't generally have crazy dreams. Both this dose and the last one I remember having crazy dreams. This time however I had several involving spinal injuries, surgery, and accidentally slicing half my foot off with a Bluetooth 5.1 connected toenail clipper.
I woke up an hour or so later freezing. I should point out it was actually freezing and I wasn't just feverish, but I felt pretty cold even for it being pretty cold. Put all the blankets on me. Seemed fine after a bit and took my temperature and surprise surprise, it was ever so slightly below normal. I mean like 0.2F low. Nothing.
Headache hit like a two year old with a stuffed animal at 6 or 7pm. I took a couple more ibuprofen. The evening I felt vaguely like I was hung over, about 80-85% mental capacity. Tired and went to bed at a reasonable time (gasp).
I have to assume it was about 10 when I went to bed. Some odd but not crazy dreams came up. At about 3am I woke up thought I smelled smoke/sulfur but it was me (may have been a dream) hit the bathroom and was the most dehydrated nail polish remover smelling event ever (indicating that the 5 glasses of water I drank after noon evidently sweated out or something instead of urined out.)
The diabetic/nail polish remover smell, I do not know. Vaccine, antihistamines, ibuprofen were it for me. Went back to bed and slept another seven hours (yeah, about 11-12 hours of sleep after a nap.)
Overall day 1) mild headache, extra sleep, should have drank more water even though I had a great amount, odd dreams, possible nasal hallucination, odd smelling pee. Impact on my life about a 2 out of 10.
Side note, I decided to go and get my CDC card laminated at Staples – they're doing that for free (office depot as well, but this was closer,) as Krispy Kreme is giving out donuts, and strip clubs giving out VIP memberships.
Evidently if you have the thermal stickers on your card they'll turn brown so they have to basically copy your card and laminate the copy.
Day 2)
Day 2 has started off mostly being slightly tired. Preemptively took a Tylenol as the ibuprofen didn't feel like it was cutting it the night before. Slightly tired having slept too much. Feel like I'm at about 85% normal mental ability at the moment.
After about 3pm I started getting some energy, mowed the yard, put up a bunch of stuff, about back to normal although mentally feel a little like I've been drinking slightly and have set myself to Lazy River levels.
The Tylenol seems to have worked where the Ibuprofen didn't. I don't know if this is a thing or it's just I'm further away from the shots but yeah, maybe Tylenol first instead of Ibuprofen, I don't know. Wife said the same thing, perhaps I'm just echoing her.
Day 3)
Slept well, woke up feeling fine, should not have bought that feeling. Went out in 40 degree weather to do an Easter egg hunt at the zoo with my kiddos and I was sweating like a hog, feverish, headache set in at an hour, basically misery. Should have packed a Tylenol.
Back home, two tylenol later, an hour on laying down, fine… no issues… acetaminophen seems to be it. Like literally no symptoms an hour later.
Day 4)
Woke up, got acetaminophen as first thing, felt perfectly normal. Day went on, felt perfectly normal. Was talking with relatives, mentioned that Thursday I'd be at two weeks… was informed I was currently at day 3 or 4 and honestly was surprised that it wasn't past week one.
Last two days have been a long week. Mild headache, mush brain. Whether allergies, or shot, or just Easter prep, not entirely sure. Going to assume combo at the moment. Little bit tired physically.
Meh…
Day 5)
Sleep didn't really come last night. Unsure if that's related or weather change. Woke up feeling fine. Drove the kids to school (0 cases so far still) – and was about to head into work when I realized that I suddenly felt the onset of bleh. Quick detour back home to grab acetaminophen, 20 minutes to verify it was working, fine to noon at least.
The generic Tylenol seems to work between two and three hours for me. I don't remember exactly why I never use Tylenol but I don't. Most pain killers never seemed to work in the past. Eh, seems to be the only painkiller that works for this, even if it doesn't last particularly long I don't expect to be on it that much longer.
I walked around about 4 miles today – mild/moderate exercise. Forgot that last time I checked SpO2 and heart rate, did and am once again surprised at an elevated heart rate and a lowered O2 level.
Mild headache, lower requirement of Tylenol this day – still not feeling great but also some of this at this point may be allergies.
Day 6)
I would say I had no symptoms. Went out walking at a park. Google Fit claims my last 3 days of activity met the week guidance of the AHA so I did a week's worth of walking/exercise in under 3 days. Tired and legs were a little sore but no big. More tired than I should have been I will note, but also having insomnia past couple of days.
Day 7)
What the eff. I'm wearing a light cloth mask today because the one I'm testing I feel like I'm suffocating in. The light cloth mask I'm finding it difficult to catch my breath and talk. Should be noted this is evidently without the mask as well. I've gone the entire pandemic masked and this is the first time I've had any breathing issues. Hell, I even mowed my lawn wearing two masks and had no issues.
Standing up my heart tells me I'm alive. I didn't have a headache or anything yesterday so I don't have painkillers with me at work. Oy. Yeah, feels like a mild hangover today. I may be running into the confluence of the shot and allergy season as the breathing thing feels a little different and I can taste the air.
Days 8-12)
Unremarkable. Light headache day 12 I think was unrelated. Going to declare Round II over.