Sit back and let me tell you about the FlexiSpot Soutien ergonomic chair
It's really hard for me to express enthusiasm about a chair, but let me lead with the statement that the FlexiSpot Soutein has been a very fine chair this past month, even if my wife managed to steal it from me and claim it as her own.
TL;DR – it's a good chair, a couple of special features make it nice. Decent price.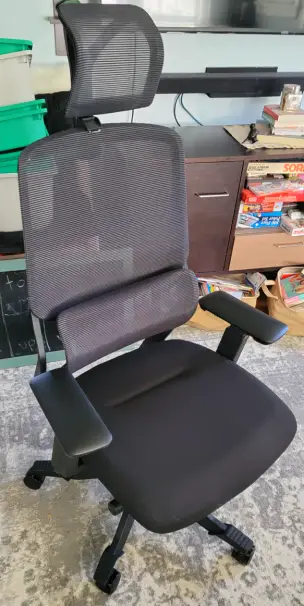 There are things to note that maybe only appeal to those of us with a little too much around the middle, but take a look at the back of the chair. It's a breathable mesh that does not absorb heat. Even the adjustable lumbar support and the headrest allow air to flow through them and don't feel like they're structurally compromised at all for the cooling effort.
I'm told this is also useful for heat but seems like that would be covered by traditional chairs.
It has a 45° back tilt which thankfully didn't throw me (feel like it will, doesn't) and, at least in the first month of use, does not squeak or do anything my best of 1997 chairs I had to borrow from the office during the pandemic did.
The lumbar support is nothing new, but it's done well. There's a 4D arm rest that allows you to move it forward and back and rotate it and it's possibly the weakest selling feature on this as I think most people would be more enamored of a 2D arm rest with swing arms. But it works. The arm rests are solid, but they're the only part that feels meh.
Standard chair depth controls, nothing fancy, but feels solid.
If you occasionally like to sit cross-legged in a chair this is a better than average for that.
The chair, as it is designed, has gone without a negative remark since the assembly phase.
Paul finds problems with everything
I'd love to claim this was perfect other than my kind of feeling meh about the 4D armrests (they're good, don't get me wrong,) but there was a problem during assembly dealing with a slight manufacturing issue.
Basically one of the foot peg holes where the wheels attach had a small amount of residual plastic. It did require about a minute tracking down a flathead screwdriver and popping it out.
This is not a huge issue when dealing with one chair, I did want to mention that it did not assemble perfectly though as before I noticed the thing I attempted to sit in it and it was way off. Most noticed when I attempted to move it and the wheel fell out. All good now though.
Basically just make sure the wheels are completely in. All but one went in without a hitch.
This also may have been the world's best protected/packaged chair. You get a large cardboard box containing a large cardboard box containing a perfectly packaged chair. I mean, all for this but this was a recycling bin load in and of itself and seemed like at least the exterior box was not needed.
Overall
As mentioned, I really like this chair. I haven't reviewed a lot of chairs (I believe two for Pocketables although I can only find this one) but I like this one at about a fifth of the price of the last chair I can find I reviewed.
The FlexiSpot Soutein is, in my opinion, a good chair, decent price ($259 at the moment,) feels solid. I'll update if anything changes or I run into a much less expensive chair that managed to get stolen from me by my wife.
You can find it on the manufacturer's website here.
Just for transparency's sake, as we're talking about monetizing the site a bit, I was contacted via FlexiSpot Marketing, I have no monetization link, I've got a free chair (with however I review it,) and that's it. If it shows on Amazon at some point I might make 6% off of it if I remember to come back and update the article.
Update in 2022, I now have a monetization link.