Trying to get a Real ID in TN, week two (minor update)
The Real ID license is basically what's going to be required to fly and for various ID purposes that I will need it for. It was supposed to roll out last year but due to the pandemic it got pushed back. For dark and mysterious reasons I need one. Sit back and let me tell you the story…
TL;DR – TN's DMV goes high tech with Homeland Security initiative with no tech support available and is absurdly easy to break. I'm told this is standard DMV
11 days ago my wife makes us two appointments for a Real ID using the TN DMV/Homeland Security site. This appointment is booked out sometime in late June as that was evidently what was available and it was at the Centennial DMV.
She tells me to make an appointment as well as she tried to make me one and it did not work. I am told when I am making the appointment I already have one. I look up by my phone number and it says I've got one. I have no confirmation email, and the only options I have are to see the time which shows me her time, and her confirmation ID.
I'll stress the DMV location is a haul to get to so going together is the best option by far.
We try and look her appointment up by phone number, it's not there. She's got the confirmation email which shows her phone number. I do what I can from the TNDOT website and finally decide it's time to call someone.
Any attempts to edit or see the appointment are met with this:
I send a letter via the contact form and make a phone call to the main line and choose option one or two, whichever was the one for the RealID, and I get transferred and told that the number has been disconnected. Called again and it hangs up when choosing the option. Try a few more times and finally give up on that option and choose a different office.
Different office tries that a few times and determines that from their end it's just hanging up and not disconnected. I leave a message with the person I'm talking to who passes it on but does make sure to ask if we waited a full 45 minutes or something to reschedule or do the second schedule. I say as far as I know she followed all instructions on the website.
About 30 minutes later I get a call from a person who asks what happened and tells me he can't do anything. He doesn't have any contacts. Thinks maybe it was because she did it from the same computer. Does not know how one edits anything. Doesn't have access to anything useful. Doesn't know if we even have an appointment or anything. Would be helpful if the number that was supposed to work worked wouldn't it? It has a case of being back in operation after a holiday.
He also asks once again whether she had waited 15-45 minutes between making the next appointment. I ask what this number is because neither of us had seen it and he said that's what is supposed to happen. Er, ok. No help. He can't help, doesn't know who I can talk to. OK, no hate.
I contacted TNDOT on Facebook as that was literally the only way to contact them.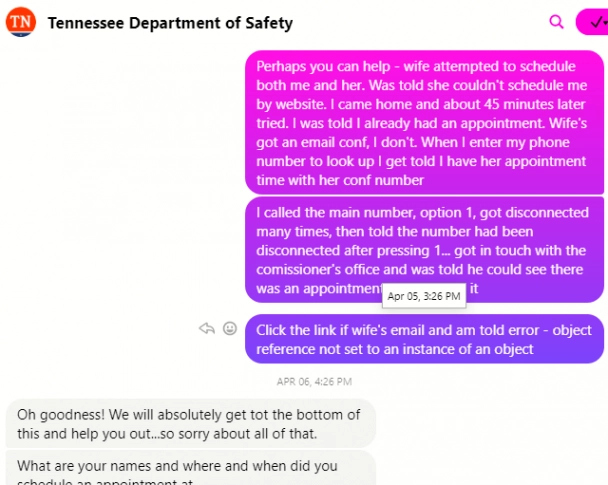 The above's from a Facebook chat, this is the last thing they ever sent me. I've hit them up about every other day at this point asking if anyone was there. No replies. They have all the information and just dropped it.
After a week we decided we were just going to drive across town to Centennial DMV location and hope that we're both there. As we're having to schedule two months out at this point this is going to be running into when we needed the IDs and the hope was that it would work.
This morning I got an email that my appointment had been cancelled.
I didn't cancel it, Kim didn't cancel it, but yup, it's cancelled. Go back to make a new appointment and the DMV location that we'd chosen is just gone. My guess is that's why they cancelled rather than anyone actively attempting to help us screwing something up.
Making the next appointment I remote into my work computer so the IPs will be different, I choose the next DMV location, further away, it's a haul. It puts me in for Monday, May 31st.. aw yeah.. appointment made, confirmation email sent me me, I go to put this on Google Calendar and … it's Memorial Day…I check hoping that the DMV is open on Memorial Day. It's not.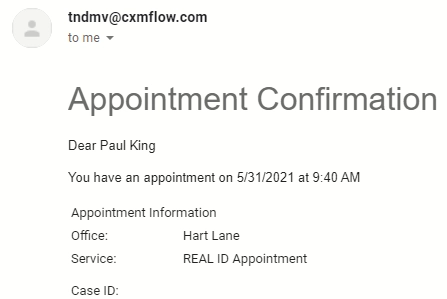 I go back and this time save PDFs and screenshots of everything. I look for this mysterious 15-45 minutes we're supposed to wait between making appointments. There is nothing that indicates this whatsoever. These people may have been told this but there's no text anywhere that mentions any delay in making multiple appointments that I can find.
Basically unless I'm missing something they're pulling a Google Tech Support and trying to blame you for their product malfunctioning.
This time when attempting to see the record I am able to reschedule. I reschedule for a day that had a few options open that Kim could then register for before or after me. I get the reschedule confirmation.
Should be noted that in order to get this Real ID we've already had to invest $40+ getting birth certificates through an online service because all in-person inexpensive options are closed for the pandemic and due to ongoing flood repairs we're not sure what is salvageable in that room that had the filing cabinet yet.
Oof, we're going to be making a trek.
This time with two IPs and reading and seeing there are ZERO mentions of waiting for any amount of time we have back to back appointments… hopefully.
Minor update time
Got an email that had been sent several hours before saying that the Centennial location was having issues and my appointment was going to have to be rescheduled but that someone would be reaching out to me about it.
Kim never got that email.