$25 Ting "Unlimited" plans unveiled
One of the ways I test out some of these trackers, phones, and other fancy things I get to play with on a regular basis is with a SIM from Ting Mobile. I've been with Ting on one of their lowest tiers plans for something like five years now, so I've had a little run with the company and can say they've been pretty cool to work with.
TL;DR – Save $60 for 3 months followed by $5 a month compared to other carriers, Paul despises the use of the word "unlimited" once again.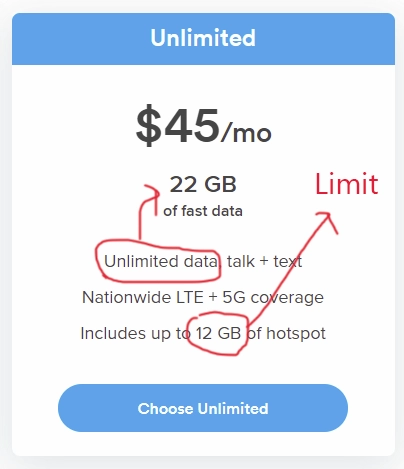 I'm going to preface this announcement a lot – I really don't like their (or most carrier's,) use of the word "Unlimited," because in this deal you're limited to 22 gigs of fast data (after which you're throttled/speed limited,) limited to 12 gigs of tethering, and as an MNVO you're limited to the one network they're evidently on at the moment (T-Mobile), and the Unlimited promo is of course limited to new customers. My beef is with their marketing department however.
Beyond that, their new deal is $25 for 3 months of 22/12 gigs of 5G (where available,) data and unlimited (within certain limits,) calling and texting. That's a $60 savings for most in the first 3 months.
Click here and evidently I get a referral bonus/discount on my $6 a month bill (my plan is evidently not on their plans any more).
After the 3-month $25 introductory pricing the price goes up to $45 per line for 22/12, which is $5 a month less than T-Mobile's unlimited prepaid and for most people would result in a savings of about $105 for the first year followed by about $60 in savings for the second if that plan works for you.
I find it a bit odd these days that a hotspot is limited in the data it uses as cell phones now use significantly more data than the average laptop… but oh well.
If you don't want Paul to potentially get a couple of bucks off the $6 SIM that's eating a hole in his pocket for Pocketables, just go to Ting and look at the $45 Unlimited plan, it should offer you the option of $25 for 3 months when you choose it. As I'm an existing customer, I can't see it. <sad trombone>