Creative Sound Blaster JAM V2 low latency headset review
Does the Creative Sound Blaster JAM V2 support aptX HD and aptX Low Latency? Yup. 24-bit 48khz audio via Bluetooth 5? Check. 22 hour potential playtime? You got it. Wireless or Wired (via USB-C) listening options? Affirmative. Quickly charge 4 hours playtime with 10 minutes on a charger? Awww yeah. Voice detection and noise reduction? Yup (although that's noise reduction on a call, not as in it makes the world quieter for you noise reduction.)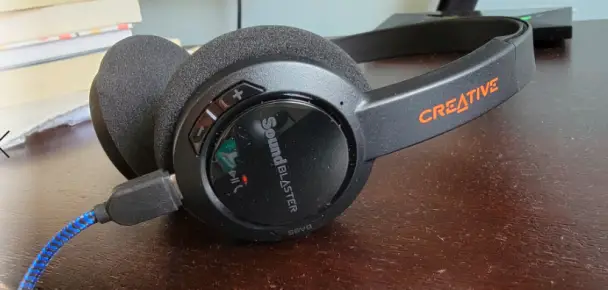 So, I can go on, but you can read a spec sheet anywhere.
Obviously as a blogger who is admitting I have tagged the links and if you click them and purchase this I have incentive to pump it up. So let's talk about what I disliked about the headset after a couple of weeks of use.
Paul tries to find fault with everything
First off, I'm no longer a fan of on-ear headsets. I've been spoiled by over-ear headsets. This is a personal preference, but I'd rather my ears not be slightly pressed upon constantly. This is more of a problem for me I think than others because having a huge head means these things tend to get tighter. These were no worse or better in terms of that than any other on-ear headsets I've used. My longest one shot session was 2 hours and 37 minutes (ask me how I know) and my ears were fine but slightly annoyed.
The Creative Sound Blaster JAM V2 control surface, well, it's easy to hit the center but feeling for vol up and down is… you'll get it but you'll make mistakes when you first get them. It's not particularly blind touch friendly especially if you're mowing and your hands are a bit numb / less sensitive. Not much of an issue because if you hit the wrong thing you notice it instantly.
It does not do any job of blocking out or diminishing outside noise, except to who you're calling. I only mention this because I've had a slew of noise cancelling (active and passive) and this, it's absolutely great for what it's designed for but threw me off a bit. I seriously have not had a headset where I heard the world around me as well as this in a couple of years. Really, I only mention this as it's not going to block the world around you. You need quiet from a sibling? Nope. Want to drown out the traffic? Nope (although if you're on a call your caller won't hear it).
Multipoint connectivity only supports two devices. While this is sort of a standard headset limitation, people like me like to pair to computer, phone, tablet, and work computer. I long for the days when headsets would pair with 8 devices.
The Creative Sound Blaster JAM V2 low latency gaming headset overall
Yeah, I don't have much serious to complain about. Testing seemed perfectly good headset on the S21, tablet and computer. I never noticed any lag although I'm not sure at my age and having dealt with bad audio codecs for so long I would.
The provide enough volume to be heard over mowing, and are crisp enough to note finer details in music.
Good relatively inexpensive well designed headset, I think based on my skinflint/cheap ways you could do slightly better pricewise, but not by much.
I like them. Links to Amazon here are tagged. Don't want us making 3-6% commission, go somewhere and search for yourself.
You can get a Creative Sound Blaster JAM V2 low latency gaming headset on Amazon for about $40 at the moment.