UGREEN portable 10,000mAh/20W PD/fast charger
I know what you're thinking – oh wow, another review of a battery. I thought Pocketables had stopped that. Well, pretty much we have, I've been turning these things down left and right because really at this point in the game unless it can recharge a laptop, jumpstart your car, or act as a portable defibrillator, it's all been done. I mean, it has all been done, but those are the last three interesting innovations.
TL;DR – works, appears to do what it says it will, inexpensive for size.
So this just showed up in my mailbox unrequested, but it can recharge a laptop, which covers one of the three requirements for me to raise an eyebrow, although just slightly.
This thing charges your phone, stays cool, supports Quick Charge 3 & Power Delivery 3.0 fast charging 5V/3A,9V/2.2A,12V/1.5A and claims it can simultaneously fast charge two devices without dropping speed. I was unable to test this part while this was in my possession. Their faq says total output for two devices at one will be 15 watt which I may be mistaken but seems less than full speed. It will reach 20W on the USB-C for your laptop charging needs.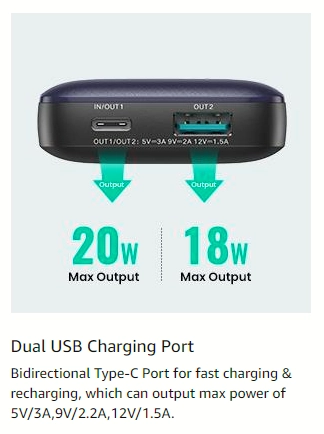 It charged, seemed to charge quick. It's in the possession of a plumber at the moment who's giving it a longer term testing, and I'll get the results of that in the next few weeks but there's not a lot to suspect will go wrong with these things these days.
As for managing expectations, 10,000mAh battery is going to get you 8000-8500 with conversion loss to your phone, so if you've got a dead 5000mAh battery (S21 Ultra 5G or similar,) you're not getting two full charges. Just keep that in mind for any one of these.
The UGREEN portable 10,000mAh/20W PD/fast charger is available from Amazon for under $25 as of this writing.