Google Home unable to reach a device? Relink it
Is your Google Home unable to reach a device? I've been noticing lately that my Home and Nest speakers stopped being able to control this, that, or the other device. They've been controlling things for years with no problems and then poof. The app will work, but assistant will come back with "Unable to reach <device or service name>."
Rather than Assistant/Home/Nest/Barbara giving you a proper error message, you're left to figure out why it's broken on your own. It could be a problem between Google's servers and the servers the device uses, it could be a temporary error. But no, just the message that it can't reach whatever the service is.
Usually the problem, at least for me, is the account just needs re-linked / re-authorized. Once you've reentered your username and password for the IoT service it'll just start working again.
To fix "Google Home unable to reach"
Open Google Home app
Hit + in the top left of the app
+ again to set up device
Choose "Works with Google"
Select problematic service
Press reconnect account
Follow prompts from account login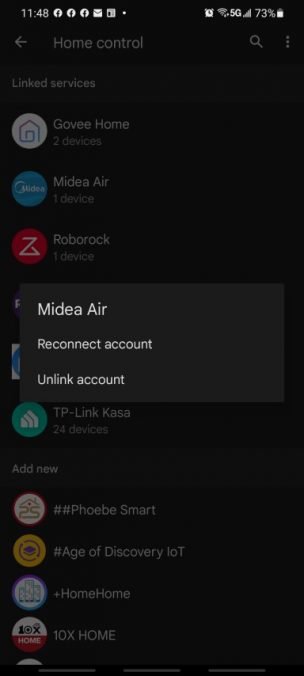 My Midea AC de-linked itself after *just* under a year. I had my Roborock service delink at a month and a half. I've got no idea why these link and delink at random but I'm sure there's probably not a good reason. Pretty sure all my services have failed at some point the past few years. Relinking's fixed every time I remember.
Really Home/Assistant needs to come back with "there was a problem accessing <service name> more information is available in the Google Home app." Because nothing's more useless than a vague error message that doesn't give you anything to work with. Oh, you got an authorization failed? Tell me to relink the account that's cool.