Fakespot, pulled from Apple, posts open letter to Amazon
Fakespot used to be one of the sites I advised people to go to to check out reviews and decide whether or not they thought they could trust a seller. For the most part, checked product pages and Fakespot grades matched up to what I would probably have given sellers.
TL;DR – site that uses you as the product gets removed from site that uses you as the product and writes email to other site that uses you as the product.
Literally for years Amazon has let fake reviews flourish, created an entire industry of apathy where you order a product and are offered $15 by the seller to post a 5-star review. Fakespot helped with spotting some of these.
More recently they hid the functionality of the web based analyzer and as far as I can tell started collecting your data (the browser extension they attempt to push on you has access to personally identifiable information, authentication information, location, a list of all web sites you've visited, and can pretty much do whatever.)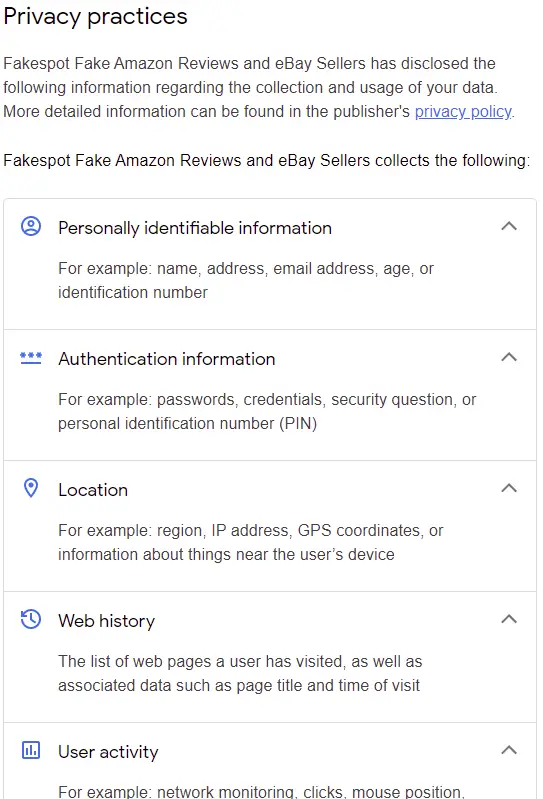 Just to be clear, this info is from the Chrome web store and you can see that here. That's… excessive.
They've also started pushing for you to use the apps, which at least on the Android app can read your media, has full network access, and modify and delete contents of USB storage because you know, when you're looking at an Amazon product you might just need to delete a kid's photo for some reason. That's just an odd one.
Anyway, Fakespot posted this open letter to Amazon about Amazon's request and Apple's subsequent removal of Fakespot from the app store. The TL;DR version is do something about your fake reviews, and also Fakespot somehow manages to employ 20 people in NYC from a site with no advertising (psst. They're not funded by unicorns, you're the cash flow.)
Fakespot's methodology can sure be called into question. I've tracked down fake reviews that are flagged as fine, and vice versa.
The question becomes really is whether you're allowed to potentially slander a retailer/product based on an algorithm's guesses at whether the reviewers are fake or not. If I posted something that Brand X had mostly fake reviewers and they didn't, I'd be at least guilty of libel. So what are the repercussions of badly grading a company based on reviews they might not have any control over?
Seriously, Company A wants to tank Company B in this day and age? Company A can hire 50,000 people to post fake positive reviews at Company B. There's no recourse. Fakespot was always heading to end up in a situation where it gets used to steer people by bad actors. This may not have happened yet, but it's coming.
Oh yeah, in the meantime if you wanted to use Fakespot without it having access to your location, screen, pin, email, personally identifiable information, children's photos, cat, there's a way. I mean, see if you can find it first on Fakespot.com, and if you can't, click here.
In other news, if I'm not mistaken Fakespot goes against the Amazon ToS they have to agree to to access the site, the Apple ToS they have to agree to to have their app online, and I'd assume the Google ToS but I'm really going to have to drill down into that one to point out where.