Hands-off with the Roborock S7 Auto-Empty Dock – Day 1
I really wasn't expecting Roborock to send me a Roborock S7 Auto-Empty Dock, so thanks guys. When you mention anything critical in the slightest to companies these days, they've really got a thousand other bloggers they can go with who aren't going to mention a problem they had.
I had a bad brush, it got replaced, never lost use of the unit, I was on pre-release software and possibly hardware when I started. New brush exhibits none of the issues old brush had. Who knows for another couple months? I'll let you know.
So anyway, with that said, a Roborock S7 Auto-Empty dock showed up yesterday or the day before and I've had some time to play with it now. I'll stress up here I don't have all the answers yet, and this is a series of impressions from a short time playing with it.
These will be available August 19 at Amazon, possibly sooner elsewhere. I'll let you know.
The Auto-Empty Dock is a base/charging unit that acts as a large storage bin for the dirt and dust and allows you to go several weeks without having to empty the unit's tiny little dustbin. With two kids, an old house, and evidently a lot of smoke from fires several thousand miles away, house gets dirty fast. I'd estimate cleaning the dustbins about twice a week at this point.
Seriously, between the Roborock S7 on my main floor and the Dreame unit on the second, I have dust rabbits weekly, not bunnies.
It contains a replacement dustbin for your Roborock S7 that has a tiny little hole on the side. If you remove your S7's dustbin you'll notice a sticker that tells you there's a plate in there you can remove. That's how the dirt gets out. Total setup time if you're not taking pictures of everything and trying to make your living room look like you don't have 2 kids and hadn't been on vacation for 10 days is probably in the 8 minute range.
No, that's not a water tank
It will not refill your water. That is not a water tank. I thought that it was a month or so back, my wife thought that when I set it up, this exclusively deals with dust and dirt retrieval. Why does it have two towers? One's the vacuum to suck out the dirt, the other is the dust bin.
Bagless?
It comes with two snap in bags (possibly 3, I haven't opened the bag of bags,) and claims it has "bag support." The dust collection unit comes completely off so it appears you could run this sans bag. I'm on day one and got a bag in. I see no technology that would prevent this from being bagless but I've got an email in to the PR people as the Amazon Product page says they don't know.
I've got to assume it's bagless, but yeah, hit me up day two or three, like follow and subscribe, check out my Paypal, patreon, mention me on Instagram, twitter, Facebook, all those things bloggers say…. Actually just wait till the next post and I'll have the thing pulled apart or a response from the company.
Look at the size of that thing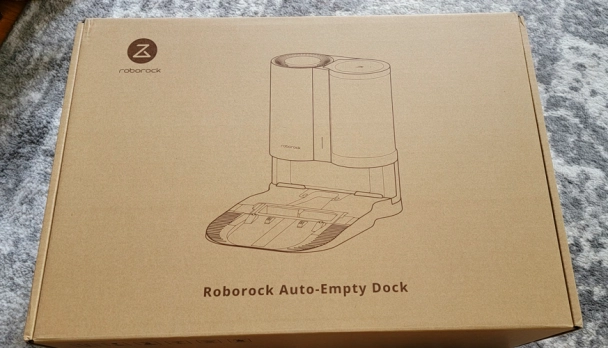 I like to keep my little robot vacuums under things and out of the way. Kids step on them, I step on them. I was really worried when I saw that that the best of Ikea drinking furniture was not going to be able to house my Roborock S7 any more. Fortunately, I was wrong, at least in my use case. I still have some cable management to do, but this is day 1.
It fits under and on the side of an Ikea …. something with an umlaut, I can't remember. This at least keeps Rhonda under wraps, although there is about 4 inches now on the side.
There's an app for that
There's mention on the product page that there're ways to configure the emptying. It can be pretty loud from what I've heard so far. I don't think the app has had this rolled to it yet, although there is a firmware update for the S7 waiting on me so perhaps post install I'll have emptying options.
And then I noticed that there's evidently a notification about the auto empty dock I missed. Did I mention it's day 1?
Oh yeah, as I'm about to publish this post, it's showing in the app… 5 options for auto-emptying. None of these seem to be on a schedule though. I'll send in a suggestion to them see if they take it because the dock sounds like a hurricane and the S7 is pretty darn quiet.
Roborock S7 Auto-Empty Dock conclusions
None, this is day one. At the moment it looks like it's going to make my life slightly easier and I can probably schedule Rhonda now and be assured it's not full.
Questions? Ask away.