Galaxy S21 Ultra 5G Thin Case with (M) Force review
The Moment Galaxy S21 Ultra 5G Thin Case with (M) Force is a case with a Magsafe compatible backing that allows you to wirelessly charge, and also snap your phone with some force to any accessories.
I've covered two Magsafe compatible products so far while using this case, a wireless charger, and Moment's Pro Magsafe/ (M) Force Tripod mount. Both of which worked as well with this as they did with an iPhone I managed to borrow for a few minutes. Magnets are magnets.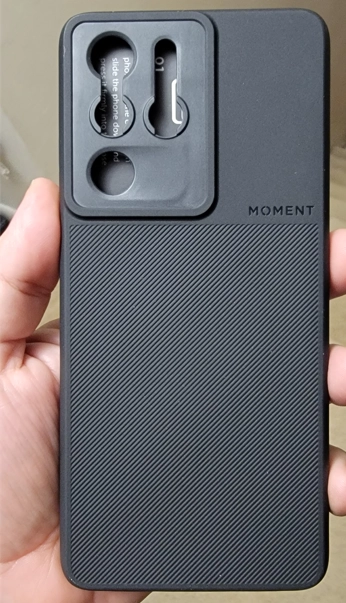 What I've discovered with this case is that in most instances the vast array of old wireless chargers in my house have no problem wirelessly charging, however I've got one or two that absolutely refuse to such as the Uniq Vertex Duo and one other wireless and battery operated charger. I'd say at least with the Vertex, it's been a little testy with a lot of cases.
I'm going to give two feelings on this case – it does the job, I've accidentally dropped the phone several times now and no damage. I'm not drop testing to fail however so take that as you will. The case is slim and sleek and attaching things to it seems natural. It just clicks, things work, bam. Works with most but not all of my wireless chargers, so take that as you will. Easy on, easy off, doesn't show dirt.
Additionally the cameras appear to be slightly more protected. I've not had a single instance where the Samsung notification that pictures look better with a clean lens has popped up. So there's that.
I am absolutely terrified of this case when it's holding my baby on a tripod. There's no reason to be, it's not going anywhere, but at tripod height I kind of want this thing to have beefier front protection. The lip at the top and bottom do well on a flat fall but that can't be more than a few MM of space out front. This works fine for flat floor falls, but having chipped Gorilla Glass 5 on day 15 of owning my Galaxy Note 8 back in the day from a tiny tiny pebble… I worry.
Overall though, case is good, magnets are strong, it's been a good experience. I'll be reviewing some of Moment's other (M)Force / Magsafe products in the upcoming days
You can grab a Galaxy S21 Ultra 5G Thin Case with (M) Force over at Moment's website. They've also got cases for other Samsung phones, although I only see the (M) Force in the S21 lineup.