Hands on with the Oculus Quest 2
The last time I played in VR was the last CES show I attended in person, so let's say at least 3-5 years and it was a VIVE unit. I was pretty impressed back then but the immersion was not particularly there for me (then again I was standing in a room full of strangers, it was loud, and I got bumped into by someone while I was painting in 3D, and I was on a time crunch for the next person, and the image was not quite focused right,) so imagine my underwhelmed "oh, that's neat give it five years" attitude for VR.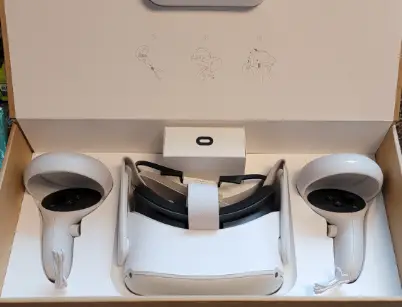 TL;DR – Paul tells you in unimaginative text what he can't screenshot due to computer that does all the editing being dead.
That part where Paul's PC explodes (unrelated, skip to next)
Cut to last week and I've got an Oculus Quest 2 for a work project / it's mine now bitches / for a project. *Side note* – The very last thing my home computer did before it died was install the OQ2 connect software… It wasn't at fault, just happened the system had been writing garbage to the drive for months and installing something to the main drive finished that off for it.
I was about to start reviewing Zombieland: Headshot Fever on Steam actually for NOT a work project… and boom. I got to a warning that there was an error, and trying to open a web page to google that error was when my PC passed away.
For the next 15 hours I lived the dream of playing with VR while waiting 7+ minutes for every boot attempt.
The setup
The Quest 2 setup requires a Facebook account, and was also one of the less polished setups I've run across. At one point during an update I ended up with no controllers detected and no instructions on how to restore them. The answer was to power the thing down by holding the power button to infinity and when it came back up shake the controllers and then the firmware update on them started.
It's a long setup, update, and possibly PC install – but I'm not really sure on that side what was damaged PC and what was the software. It was so long that I started at work on one network and completed it at home on mine. Tip: switching networks is easy.
Tip: if you wear glasses, during setup if you can muddle through without them you're going to be taking the headset off a LOT. From getting Facebook authentication codes, to do you really want to sit in a VR waiting room while firmware downloads, then updates, to putting on the thing to figure out what that sound was, and of course watching a progress bar.
Nothing in the setup was impassable, but it was not a great experience for someone who wanted to get in and poke around.
The market
I'm being asked to investigate an immersed virtual office for our real office and what bandwidth, WiFi, and hardware requirements are – think putting a programming team into an area that could be a coat closet for a decent sized club occasionally and then move them elsewhere. With my computer shot that investigation … slowed a bit. I believe I'll be passing our free trial… le sigh…
YouTube VR has shown me that documentaries can look absolutely amazing and be completely ruined by the narrator still. That 12K video can be incredibly blocky still.
Amazon VR still plugging through but mostly what I've seen is years-old "look, we could do this…" little shorts that the immersion is turning your head, and not much after that.
Beat Saber demo – daaaaaaaamn…
I've just been texted that my Costco hose exploded and a giant geyser filled the air. This is unrelated but thought I'd share. Picture from two days ago.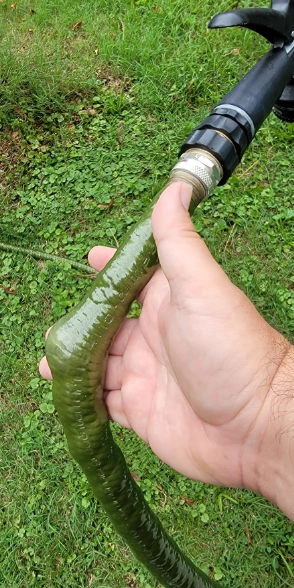 I'm fairly impressed by several of the offerings I've found. I haven't spent anything on these yet, but I think, assuming the latest findings in VR in adolescents are correct (no difference in brain activity post VR,) my kids are gonna get a kick out of the roller coaster ride. Still going to read through that study first though… it's my toy kids… totally investigating a VR-coworking situation here.
Trying Immersed to attempt to make my underpowered laptop into something useful. Imagine the best of 2006 laptops attempting to get anything done. It's got an SSD, quad core, but one core hits max and that's that. SLEWWWWW. Also the resolution claims to be 1920×1080 but yeah, single display no. Didn't manage to get that working last night beyond being able to see one display in the virtual world and struggling to figure out how to orient a floating keyboard that I finally just put over my head as it was face down no matter what I did (it was late, I was dealing).
I am quite amazed after a couple of days at the disparate quality of things in the Quest-verse. Oh here's something for $29.99 that looks amazing, and here's the same price that looks like the quality of a 1980's CGI music video.
Overall, think I'm going to enjoy playing with this, more so if I can get my glasses into the thing easier which I just started experimenting with last night.