Hoveo 5000mAh Magnetic Power Bank w/stand review
The Hoveo 5000mAh Magnetic Power Bank is a wireless Magsafe/(M)Force compatible power bank with a kickstand for viewing ease. If you're not familiar with Magsafe, it's Apple's magnetic attachment, and (M)Force is a company named Moment's version of that that works in the Android market. I'm currently using one of the (M)Force cases to test this with, and we'll have a review on that later.
The Hoveo 5000mAh Magnetic Power Bank supports up to 15 Watt wireless charging, and is pretty useful for not having to carry around extra wires or feel like you're transporting a ton of gadgetry. Little kickstand lets you watch movies in portrait or landscape if you want.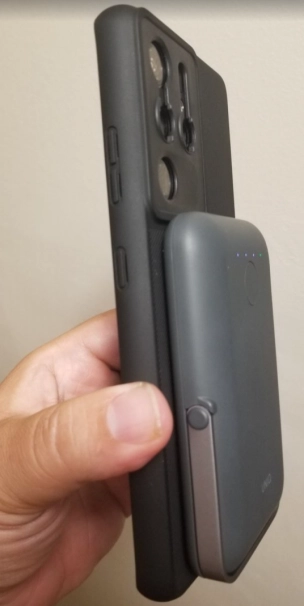 The magnetic grasp is ok, just a little weaker than I'd like it. However I'm going to stress at this point I haven't tested out whether that's the (M)Force case we're testing, or the Hoveo, or just the specs.
5000mAh is a bit weak for me, and that battery capacity combined with the inherent loss of power due to conversion, then loss due to wireless conversion, then conversion from wireless from power bank on your phone, then power loss to store it again, you're not going to see 5000mAh, although that's just the nature of these things.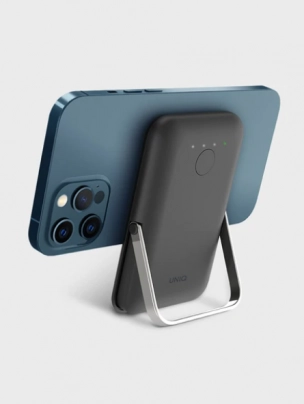 But for a decent top off, this battery will mostly charge you up a positive 4000mAh or so and I cannot stress how convenient this magnetic portable charger feels. Not having to keep up with wiring while walking is quite cool. Something I imagine the Apple crowd has been doing for a little while now.
Overall, pretty awesome if you've got a Magsafe compatible phone or after-market (M)Force or similar case.
You can grab a Hoveo 5000mAh Magnetic Power Bank at Uniq Creations.