iLive Indoor/Outdoor Dual Bluetooth Speakers review
If you're looking for a pair of solar powered indoor/outdoor Bluetooth speakers on a stick, read on. There's not a really good way I can describe how loud these are especially since I don't have a dB meter handy, but they're decent camp site level loud and at least with my phone have a robust range. I was over at the extreme end of my neighbor's yard and they were still chugging along playing without pause. It took a house to stop the signal, which is pretty good in my opinion.
Update: two months in and very little use, the solar charging doesn't appear to work on either unit. Days these things were in the sun and both were dead last night when I attempted to use them. They had previously held a 70% charge two weeks prior.
The product number on these is ISBW240BDL as a note – not that I'm not linking you to them, but yeah that was a mouthful to sneak into the headline so yeah.
Undirected sound at ground level tends to not resonate as well, that's the first complaint I had about these. You will likely want these up at least 3-5 feet for the Tiki torch appeal and not losing about a third of the sound to the ground. The stakes that come with it are about a foot or so high. Campsite good, but not great. They sound good at height, but that's not what you get when the stakes are low.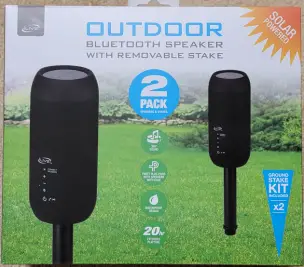 They carry well, the bass is what I'd call simulated for lack of an audio engineering degree. It's there, it's not going to shake you. Music like Never Gonna Come Back Down loses out in my back yard, while anything from Hamilton sounds perfect. The general kid consensus was that vocals good, instruments tend to not be as much. That however is the opinion of an 8 year old with the 5yo abstaining.
Solar charging means you can leave them out. They don't appear to charge particularly fast, but it's an exceedingly small solar panel so you're probably looking at a full day for a charge. Charges claim to last 20 hours at 50% volume, but 50% volume is not party level, that's book on tape level while snoozing in a hammock. These will maintain themselves depending on your use cases and desire to leave $70 of equipment in your yard in the sun.
You can also charge via USB, and if I remember you can charge and play at the same time but it's been a few weeks since I did that test and honestly don't remember at this point. The stakes can be removed and these can become shelf speakers. Let me tell you, these shine as shelf speakers. They are good as outdoor speakers on a stick but man, shelves.

Getting it into Party Plus mode means remembering to turn the speakers on, hit the mode button on one of them but not the other, and making sure your phone doesn't connect to either of the speakers before they pair together. That's a little bit annoying as my phone wanted to quick connect. Ah well, first world problems. I ended up having my phone just connect to each one at one point.
My wife mentioned that at 30 feet away they were a little loud to talk over (I was blasting something at this point) and I mentioned that for the most part I was attempting to see how loud I could get them, not how quiet. At 30 feet they do make you raise your voice a bit to be heard is the moral of that tale.
Overall, decent speakers, you can change out the base easily, but I don't know that there're any standard Tiki pole dimensions that would fit (I don't know that there aren't) – it would be nice if they included some sort of "clamp on a Tiki torch" adapter for these as I really want them a lot higher than they're at. Wish the Party Mode pairing was a little more streamlined or that you could pair after a phone quickly connected to the prime unit.
You can find these over on iLive's website. They're currently priced about $20 higher than I'd like to see them at, but I'm cheap.