Moment Pro Tripod Mount for Magsafe review
As I mentioned a couple of days ago, I'm working with a Moment (M) Force case (their Android branding of Magsafe,) with my S21 Ultra (review still incoming,) and the company sent me over some goodies to play with including a Moment Pro Tripod Mount with Magsafe for my phone.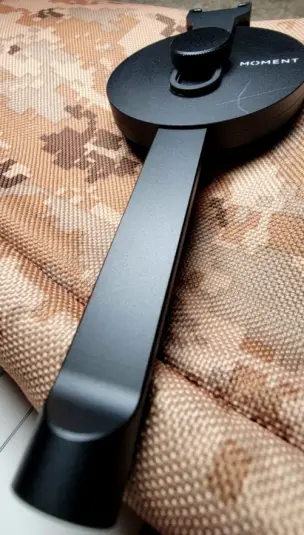 If you've ever used a cell phone and a tripod for anything serious, you've probably run across the great fun of a clamp that was not specifically designed for your phone, but it works, pretty much.
Unfortunately it's now obstructing the power button, maybe pressing down on a volume button, or the clamp just doesn't work with your case so you're clamping an unprotected phone at nose level on three sticks.
The idea behind the Moment Pro, assuming you have Magsafe or their (M) Force cases, is that you can just slap the phone in, it is held, do your business and pop it right out. There's an adjustable cold shoe mount I'll delve into a little more at some other point (they sent over a few accessories I'll be playing with this week,) that allows you to attach a light, microphone, or whatever your cold, cold shoe heart desires.
You can rotate that mount off to the side if you want to do portrait mode.
The Moment Pro Tripod Mount for Magsafe in action
There's not a whole lot to learn on this, you screw it into the tripod and snap your phone in. With my particular Samsung Galaxy S21 Ultra and their (M) Force case the phone snapped into position, and other than the adjustable cold shoe being a little closer than I wanted to the power button, everything was uneventful and just worked, and that's good when you're in a rush.
My main concern with this was that trusting a magnet with $1000 worth of phone at 5 feet might not be… wise. And I think I'm going to warn you I don't think it's a particularly great idea if you've got children around as I managed to (trying scenarios,) knock the phone off the magnet with a hard bump, and with a little bit of shaking of the tripod like what would be experienced when a 5yo slammed into it.
In the two "accidental" test cases, the phone met the floor while in landscape mode, which in my case was carpet. The attempt at tapping it off was harder than I anticipated, but still the phone met my carpet again. I don't think this is a failing of Moment's, but that the specs for the magnet are not designed to be able to secure a device that is getting proper pressure to remove it, or you'd be wiping out credit card strips within a 10 foot radius I imagine.
I also don't think the specs are designed to go up again an adult man doing a review actively attempting to knock it off with a series of increasingly harder taps, but that's what I do. Your phone's main enemies here are going to be drunk wedding guests, and phone gadget reviewers. So just steer clear of them.
I'd advise in a non-secure setting secondarily securing the phone using a charging cable if around people, but for pop in take a picture and pop out I cannot stress how easy this makes tripod mounting. I also did not have it pop out during normal testing, just with my "wonder what would happen if I simulated a kitten and a toddler attack?"
While in portrait mode I was unable to shake it or "accidentally" bump the phone out of socket using anything short of a direct attempt or scenarios that just would probably not happen in life.
Overall, I'd trust it, not around people, but I wouldn't trust my phone on a clamp around them either.
You can grab a Moment Pro Tripod Magsafe Mount at Amazon, or the Moment website. The case we're using is available here.