A very long-term review of VIZIO (V705x-H1, SB36512-F6, M50-D1)
If you want stability and a solid experience, maybe skip VIZIO. If you're looking for inexpensive, usable, and perhaps surprising read on. We're going into the rabbit hole here of 5+ years, what happened, what I like, and where we're at now so strap in and be prepared to wonder why you just strapped in. I mean we're really not going anywhere. FAST.
The VIZIO M50-D1
This is a 5 year old set. You can read my review on it here. You're not going to find this probably in the wild anymore, but thought I'd start with the 5-year experience. It went from amazing to pretty slow as the firmware updated. The WiFI – meh, I'm not sure if it's in the perfectly wrong place or not but I hade to hard wire it.
Over the past five years it's hard locked at least 15 times requiring power pulled. But overall it was not terrible. Random lines appeared on the bottom of the screen – you can see that suddenly some of the lines at let's call it scan line 900 are on scan line 950 and vice versa. I don't think it's a hardware failure, but I could be wrong. Plenty of people on reddit were saying they had similar.
Overall at 5 years it has been acceptable, but each one of these hard locks has been on the heels of a firmware upgrade that appeared to slow the display down. The difference between the Smartcast performance of the old M50-D1 and the V705x-H1 is noticed even by my kids who ask why it's so freaking slow getting to anything. It wasn't when I got it, I wish I'd filmed the speed of launching netflix, plex, etc.
At 5 years and multiple firmware, I lose the app lineup configuration about once a year now. While this doesn't sound like a bad thing, moving Plex from the far far right to the front now is a several minute endeavor where the unit appears to have locked up and I just have to wait to watch the app move. It's abysmally slow at this.
The VIZIO SB36512-F6 (sound bar)
Throughout the last three years of owning this I've been blown away by the sound, and under the impression that something with my setup might have been amiss. Keep in mind I have a lot of strange devices I'm testing all the time, so when I see a couple of things going wrong I generally assume it may have been my problem.
So did VIZIO's tech support.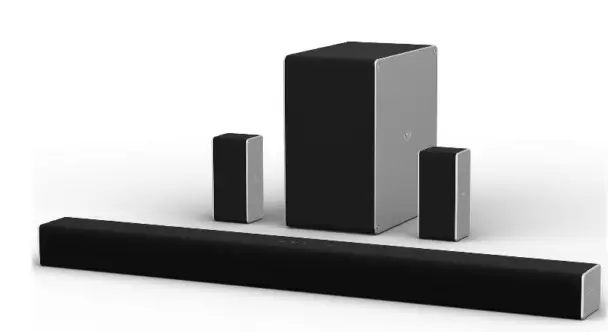 The issue is the sound just stops working some times. ARC craps out after a week or two, sometimes multiple times during a day. It's usually when the TV has been paused for a few minutes, but occasionally it's happened while I've been on it. I assumed it was a sleep mode issue, or a HDMI cable, it was extremely hard to track down.
Turns out many many many people had the same issues. It's their firmware, not my setup. The sound bar did the same thing on three different displays.
The VIZIO V705x-H1
I just passed month 10 of ownership of this, and it has had a lot of use. Here's a review I did.
Imagine being woken up by a panicked child thinking she'd broken the TV. This happened a few months back, unit would blink the lights indicating something was happening, nothing happened. I pulled the power, plugged it back in, things worked. I was greeted with an advertisement that was new and indicated there was probably a firmware update.
This seemed to be a recurring theme – every now and then there'd be the inability to turn it on, power cycle, things seemed a little bit different or all my placement settings for the apps had changed.
I started losing audio significantly more earlier this year. This coincided with my acquisition of a Series X and was lessened by plugging it into the HDMI 3 port as opposed to the sound bar. I had so many issues with the VIZIO 4K gaming mode and the Series X at the start, but I was never entirely sure who's fault that was. The problem when you've got two devices receiving firmware updates constantly is it's a shifting point the finger of blame.
If the X was plugged into the sound bar it wasn't passing through game mode ability for more than one reboot / soft power cycle. Talking with tech support didn't ever get a resolution. Plugging into HDMI 3 was about it and Game Mode had to be selected several times before it finally stuck.
I started losing internet on the TV about two months ago. Wired and plugged in, it claimed no network. This happens quite a bit, and rebooting the TV has been the only solution to get the wired internet back up and working. Tried different ports on the router it's plugged into and a different cable. Nope. Finally switched to WiFi.
VIZIO's V750x-H1's WiFI suuuuucks…. well, let's say this – the signal and data transfer is strong, but if something goes wrong such as the WiFi is down for a second I end up being told that there's no internet, and there's no ability to retry anything. I can reboot, join another network, re-join mine, enter in my absurdly long password… but there's no turning it off and back on again.
The HDTV tuner – overlooked, underused, and currently on mine not working although I have not really had much of a call to debug it. It's a horrible piece of software that seems to have been thrown in to just be as slow and annoying as possible.
Too much advertising, not enough speed.
Overall
I'm not particularly impressed by VIZIO's firmware updates. They seem to have been the cause of all the problems, although I guess the M50-D1 could be a hardware issue as others report similar. I sort of believe it's another firmware related issue. My next attempt with the M50 will be a factory reset and see if it doesn't just go away.
Display still solid on both, audio still great, advertising to me and some of the limitations of the Smartcast system, bleh.
For the price, expect what you get and be surprised. The display and sound are better than you'd expect, the annoyances introduced by the firmware updates are my primary complaint. Good hardware, firmware that isn't tested/proofed well for your device.