A week plus using VR Wave lenses on the Quest 2
I mentioned before that I was now using the VR Wave prescription lenses with my Oculus Quest 2 as using glasses in VR sucks… a lot. I've had them for a little over a week and during that time I've run into some interesting visual effects that I had to track down that were, in the end, unrelated but I wanted to make sure before I reviewed.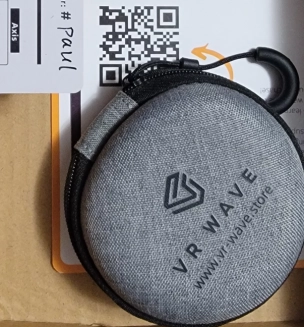 OK, so the VR Wave lenses let me see in VR significantly less fuzzily. Install is easy, popping them in and out for if the kiddos want to get on VR is simple, basically it's like putting a pair of glasses on the glasses you put on for VR. The adapter and lenses add a little bit of bulk, so I recommend using the glasses adapter that came with the Quest 2 to push the goggles away a bit.
The unit comes with a card that contains a QR code to go to the product website to watch a video on how to install the lenses. The QR code takes you here. Videos for installs of their lenses are located on YouTube and Instagram, and links are on that page. Instagram was not loading when I was installing them, would have liked a web page backup or text instruction set personally.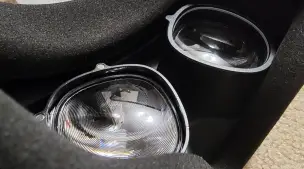 You evidently get two pair of base adapters. This isn't mentioned and due to Instagram being down (or my connection to is being temporarily blocked,) I sat there like a lump attempting to figure out how you sandwiched the lenses between two Ls and two Rs. You don't. This was the only install issue I had, but I do wish there was a piece of paper instructions that came with these rather than a QR code.
They are significantly less noticeable than glasses, but you can tell when they're on if you move your eyes much. Then again, the object in VR is generally move your head and keep your eyes in the sweet spot.
And then I learned the value of these
As mentioned a bit I've been working on a few VR projects for both work and for play. One involves learning a flight stick (more on the play side.) As an adult I got my first flight stick since the 90's Thrustmaster. Something like 20 buttons, left and right controls, attempting to figure out what button 4 is and with every wrong button press I somehow ended up in a sub menu.
I have no idea how many times I had to stop, remove the Oculus Quest 2, and look for what Button 7 or Button 4 was. Every time previous to the VR Wave lenses would involve setting everything down, lifting the strap at the back of my head straight up, pulling the Quest 2 straight forward because it was holding my glasses, removing my glasses from the headset, looking at what I needed to look at on the controller, and working that process backwards to resume.
With the VR Wave lenses I pull the headset up, look, and pull it back down. No repositioning glasses.
As a note, I'm not sure if this is a problem I experience due to the style of my glasses or the size of my head. This happens to me, I'm relatively new to glasses and I have an enormous head. You might not have this issue. I did. A lot.
Overall
I am still learning what is the standard experience here. I'm a relative noob to VR, Glasses, and a lot of the things that come about with them. It took me a couple of days just to realize the OQ2 lenses were not designed particularly for peripheral vision and another day or two to figure out with or without the Wave lens base adapter there's a reality-breaking blackness at the edge. More with them however.
But yeah, still loving these and will be doing another follow up when I have more to follow up on.
You can order a pair on VR Wave's website. You'll need your prescription info.