Lesson learned: don't update smart plugs that are in use
So I had the dumbs the other day. What started because a TP-Link Kasa power strip was not responding turned into downing my internet until I moved a crap ton of furniture. Have I whetted your appetite for a lame story? Read on.
It started with me checking my Sense Energy Monitor (we're going to cover some things I've done with that again soon, but right now it's a rainy day and I'm updating firmware) – I noticed that Sense was reporting usage wrong on a TP-Link Kasa power strip I had. I popped open the Kasa app one of my three devices was unreachable.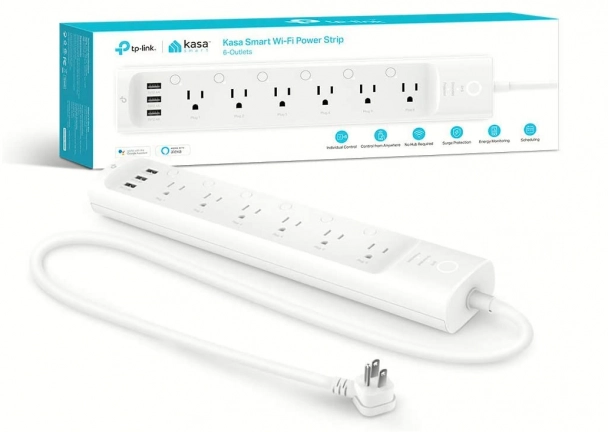 I'll note they'd been working fine since I installed them, we had several power issues in the neighborhood. The one that was not working was plugged directly into the wall, the two that were were behind UPSs. Let's set the stage that I'm impressed with the TP-Link Kasa at the point we're at in this story.
I went up, plugged the plug, then plugged the plug back into the plug, opened the app, and about 30 seconds later things seemed great. This was the first time I'd been in the Kasa app since I got the things, I'd connected them to Google and then just forgot the app existed. Thought to check that the firmware was updated and sure enough, it wasn't.
Most of my other devices auto update at this point, which is scary but yeah. Firmware updates for three devices.. sounded like fun.
I read through the instructions which simply read "Please do not unplug your devices during the update" – no warnings whatsoever about "this is going to shut the power off and turn it back on at least once when you hit 58%" – this I learned when my TV, Internet, WiFi, and a couple of other devices suddenly shut off.
Now most of this stuff came back on and was fine – the internet, not so much. I'm going to save the dramatic story of tracking it down to this weird fiber to ethernet box in the wall and just say that it was evident after 20 minutes of no internet that it wasn't the router. It was this weird wall mounted box an AT&T tech told me would never ever go bad.
I was forced to unplug it, then plug it back in to power. First time ever. Did not work. Nope, for some reason the adapter/base/big black box plugged into the power strip needed to have the power removed from it and restored to it in order to recover from the power being removed from it and then suddenly restored to it. It has soft locked up.
Half an hour in I had internet again and 2 out of 3 power strips had updated. The third set which did not update, I assumed due to the WiFi going down, had my new computer on it and I decided I'd just do that when I could have everything turned off.
I turned everything off, tried to update it, and was given an error message that that could not happen.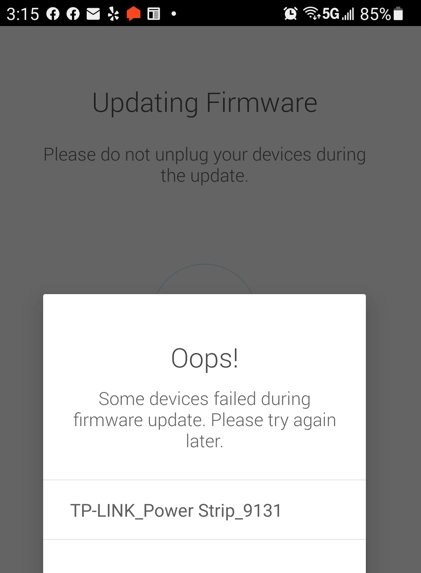 So, after powering everything off, I pulled the power strip out of the power plug, then plugged the strip back into the plug, then started the update again. I had a light on and a charger attached, but the computer and anything breakable was off. In hindsight I should have unplugged them as I didn't learn my lesson from the weird wall fiber adapter, but yeah I got out unscathed this time.
At 58% through the firmware update, with no warnings, power flipped off and on at least once (sounded like twice but I wasn't recording and it may have been something else) – and yeah.
Don't update smart power plugs with stuff turned on is the lesson, and also TP-Link, please add a warning that it's probably going to power cycle your equipment. Had I known this I would have shut everything down and not spent 30 minutes trying to get my internet back.
I will also note, I have other smart plugs, and they don't power cycle on firmware updates.