Airthings View Plus – know more about what you're breathing
The Airthings View Plus gives you actionable information on the quality and relative harmfulness of the air you're breathing. Knowing that it's terrible, you can take action rather than get sick.
While the View Plus has a lot of items it monitors, the three I personally find most useful are Radon, VOC, and CO2. Radon being a carcinogenic gas, VOC being organic compounds in gas form (think candle wax, scents, burnt pancakes, new chair smell, etc).
Now, if you don't need to do home air quality monitoring remotely, the Airthings View Plus may be major overkill for you. You might recall that I do other things such as property management and occasionally use remote sensors to prove or disprove issues (eg: radon sensor on site to get a tenant who was worried about Radon and her baby, tracking down a humidity related issue, and logging temperature in a kid's room.) I've been a user of the original Airthings Wave for a few years now (link goes to the second generation, can't locate my old one).
We'll skip all the monitoring options and go to what's cool about this – the View Plus allows you to connect most other Airthings devices through it to the internet. When plugged in it functions as a hub for their other devices if you want it to. Sadly, not my original gen 1 Wave, but that's ok, I can throw that wherever and check in via Bluetooth once every couple of weeks.
Updates seem to come in about every 10 minutes or so, and you can configure alerts on your smartphone for when any item needs attention. While there's not a whole lot instantly actionable, it is kind of nice to get an alert that the Aldi smelly candle of the week has been lit, or that the dehumidifier I have running in the basement is not keeping up and if I want my doors to open regularly I need to check what's going on.
It works with Google Assistant, but it's an oddly different way you set it up as I recall. I just asked to talk to Airthings and it connected the account as opposed to adding it in the Home App. I just mention this because this was significantly different from how I usually set things up and it threw me with how easy it was.
The only things I am left really wishing this had were dedicated smoke detector, carbon monoxide warning. There may be some way to detect CO levels via VOC, or PM but it's not listed as an option.
The unit claims up to two years on batteries (batteries disable hub mode,) or you can slap it on to any USB power supply. You can also have the batteries in and use a USB power supply if you want to move the unit somewhat regularly for any reason. Not sure why you would unless you are a product reviewer trying to see if your basement and attic have different radon levels, but your use case may vary.
The web dashboard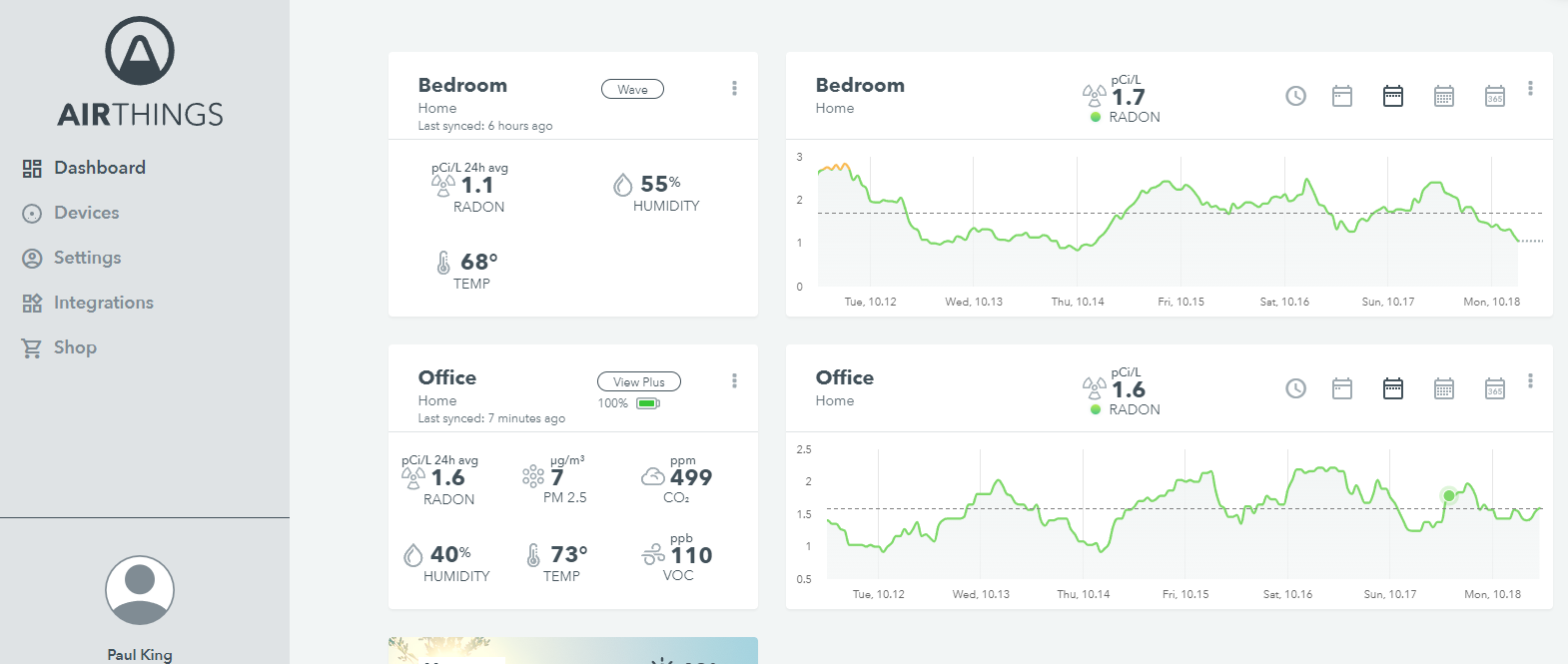 I can post a lot of screenshots here, but every item has a graph with useful timestamped data such as what I like to call the Aldi candle tracker:
It's got the data you want in a decent format.
Paul finds something to complain about
I had maybe three minor issues in the couple of months with the Airthings View Plus. I'm going to put it out there these are extremely minor issues and I'm impressed with the Airthings View Plus sensor overall.
The unit when shipped asked me to change the batteries that were included with it. This message popped up, I grabbed a battery tester and tested the batteries, they were all good, when I put them back in it had that request for a few more minutes and then it disappeared. I do not know if there was a connection issue, a bad battery, a logic error or what. Message went away, all batteries seem to be fine, running on USB at the moment but yeah.
Documentation on hooking it up to Google Assistant was not included if I remember correctly. The documentation that I found for another device had me asking assistant on my phone to talk to Airthings which connected the account.
Renaming in the app causes all data to be lost. It tells you this. What it doesn't tell you is you can rename on the web dashboard.
The current price point for the home version seems too high. I generally don't deal with price points because when I review items they're generally pre-release and prices drop, but this seems significantly higher than I would expect for a consumer aimed product. I'm not going to complain, I got this a a review unit, but I tend to see this MSRP being aimed at new parents or people who are stuck inside all the time due to new remote working conditions.
Final half complaint here is the slogan "complete control over the air you breathe and the power to change it" – mmm, not with this device. You have a fine sensor array here, it gives me most of what I want to know about the air I am breathing, but I do not see anything other than perhaps some IFTTT scripting ability that would allow me to control or change it. I'm being pedantic I know.
Availability
You'll find these in Home Depot, and on Amazon. At least as supplies become available. Also check out the Airthings website for more information on the product.