How to reset the MyFirst Insta Wi when it hard locks (3 videos now)
I spent a couple of hours of the day with my kids at Cheekwood gardens, despite what you might think, my kids love this product and I don't hate it – it just has issues that can be fixed rather than swept under the rug. I just want them to fix the very obviously messed up firmware and produce an image like they claim they will. As a note as it's been over two days since I wrote the company about the last set of issues and still no response (took 9 days and an article last time before they responded,) at this point I'm going to post every single issue as they come up as they don't seem to want to respond.
I've added a tag for the MyFirst Insta Wi issues/reviews. Click here to see all of 'em.
We came back home with a locked up MyFirst Insta Wi. This was the replacement (read: supposedly production,) MyFirst Insta Wi sent for the one they assume had the engineering CMOS sensor. You can see my issues with them here and here.
It hard locked, much like both the MyFirst Insta 2s we have did, and once again I see no notice in the documentation on how to reset these (although it's nearly midnight as of writing, it might be in there.) Documentation on reset hole is in the printed manual. It was late.
Below is a video showing how to reset the Insta Wi using a SIM popping tool that was included with my phone. You can use a paperclip or a pin if you need, or you can wait about four hours for the battery to die because the screen is on.
The firmware is buggy enough I carry these with me when the kids wanted to play with the Insta 2, guess with the MyFirst Insta Wi I'm going to pack as well.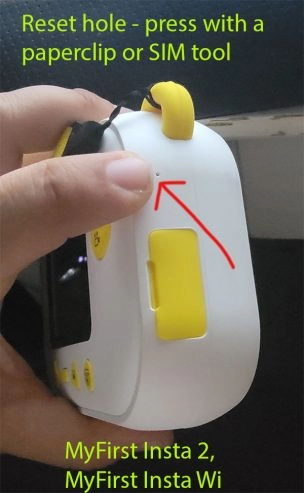 TL;DW – right side of the camera there's a little tiny hole over the charging port area, press in there, it's the reset.
Look, I know it seems like Paul is on a mission to destroy this launch but he's not. There have been images added for quality comparisons to the dropbox. There is now this video to show this is the exact same firmware flakiness I had with the Insta 2 cameras (I carry a reset tool in my car somewhere because of their previous cameras.)
The firmware has a problem. All of the things I have complained about from image quality to this lockup existed in the previous MyFirst Insta 2 camera. Parents are going to purchase this and (I assume,) have the same experience I have which is cameras locking up, 640×480 effective camera resolution if that, and I haven't even begun to write about the label making software yet so that's going to be fun.
Look, I realize from their press release that some reviewers have reviewed this positively. I want to. Really.
I believe the hardware is there and the software just needs a tweak (seriously, you know how many AOSP camera mods I've played with since 2010? This is doable. You don't need a tank to process a JPEG effectively). They even say in their rebuttal that it's an image processing issue. I believed that last year when I was of the understanding it was getting a tweak.
I'm a dad with two of these cameras now, carrying a reset tool, trying to explain pixels to kids.
Oh yeah, about two hours later it locked again, this time while I was attempting to pull some images off, here's another video of me resetting the thing:
Oh and here both of them are locked up together, although the unit they call the engineering sample actually unlocks itself in the video. These were both plugged into a Windows 11 system that I built about a month ago, and using the USB cables they included if I'm looking at the cables right.
After the dual lockup incident (October 15, 2021) I set the time and date correctly on both of them. Just mentioning that as previously I had not.