Preview: GameSir T4 Mini – kid sized game controller
There are few times I'll showcase a product that I have not reviewed. This is one of them. GameSir sent me what is essentially a kid-sized controller a few weeks back. It's sitting somewhere in Hong Kong for the past week, and today's the T4 Mini launch day. Plan was we get it, review it before launch date, yadda yadda yadda. You know the blogging drill. So take this as "product announcement," with a "bet there'll be a review later." thrown in for good measure.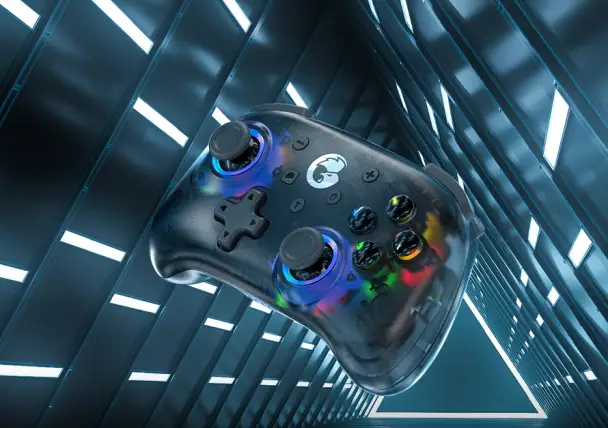 If you've got a child, you probably have noticed this one important thing: they're tiny when they start. A standard Xbox controller is, at least for my youngest, something that involves a place to prop it, because her hands are not quite large enough to play and hold the controller and use the thumbsticks.
That's the market for the GameSir T4 Mini. That or people with remarkably tiny hands (looking at you Angela.) I don't know, maybe for people who travel game a lot as well, but it seems like there're other controllers out there that would work.
I've reviewed two of their controllers so far. They work well for each thing they do. My complaints have been mostly that the grip portion (bottom side,) was not to my liking. You know what, we like what we like. Only thing I can spot on this one is the grip would be… for smaller hands and I do not like that there's a screw hole in the grip range.
If you've got a tiny little gamer who's frustrated by adult sized wireless controllers, this might be a solution for you. I'm going to stress might. Once again, I've not laid hands on this yet. It exists, you should check it out if you've got small ones. I'll review it when it gets here. They sent it on time. 4px says it's been from Shenzhen to Hong King, handed over to an airline where it saw for 8 days, then was "USMIA /Despatched to overseas" – hoping that MIA isn't what I think it is.
The GameSir T4 Mini multi-platform controller can be found on the GameSir site, AliExpress, and my bet is it will show in their Amazon store in the next day or two.