Android 12 issues compounded by Play Store delays?
I mentioned I'm having several issues with Android 12 since the Samsung Galaxy S21 update. Since day one and the initial lockup/reboot I've been mostly at app crash levels rather than OS going insane and locking up, which is quite a bit better but not great. I went from two crashes and one unexpected reboot I can remember since owning my S21 to about 11 crashes and an unexpected reboot over the course of two days.
Several app developers have issued patches for their products to properly work with Google's new OS, and guess what, I'm not seeing them. I mean, I will, but sometimes not for a long while.
As a note, I had started writing about Play Store issues a bit before the Android 12 rollout when I started seeing a toast "please check google play" regularly over other apps (once or twice a day.) I would go to Google Play, and it said there were no updates. There was never a message waiting when I got there. This happened again and again.
What was funny/annoying was I would go to app updates, it would tell me I was up to date, clicking into it would result in a few apps suddenly showing from a week or two back that needed updated.
Having auto-update over any network set on, this was not something I should have to manually do. If I was getting a message to check for updates, well, updates were obviously not coming in via auto update. The above screenshot was taken later in the day after I'd checked for updates and found 3 or 4 and updated, That was on the 16th of November with some apps showing as updated back on October 8th (35 days old at that point.)
The install log indicated that every day for the past week or so an update or two a day had been installed.
I don't know how to enforce the notion that I check app updates fairly regularly because I review things, but yeah. 20+ apps update, I check for new apps, nothing. Later in the day I get the toast to check google play again, 12 more apps dating back several days/weeks.
I get app crashes like this Facebook one, I check and I'm not on the latest but there's no way to force it, later in the day I'm told there's a several day old FB update waiting for me.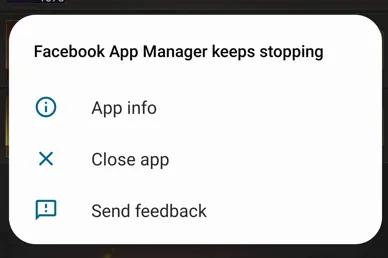 I check Google Play update history, it's every single day things are updated…I check an hour after the last update and get things from a week ago showing.
I'm guessing some of this is just rolling out staggering – such as there's no need for Facebook to prioritize a hundred megabyte update if the only thing that changed in the code was to change a copywrite from Facebook to Meta, but these Play Store toasts indicating I need to check for updates are weird. Like let me check and know that there're updates. Update them automatically to versions that are fixed so I stop getting apps just force closing randomly.
There have been 58 updates, most published over 5 days old, that have shown in the last 4 checks in two days.
Something's up – as it's Google's Android 12 using Google's app store Google Play on a certified phone I'm sure it's going to be my fault.
I really wish there was a "check for all updates, not just the ones on a staggered rollout or available to you now" – at least knowing there was a fix in the pipeline without having to contact the developers would be nice.