How to make Windows 11 notifications a bit more sane
We've discussed this before on Android, and will again when I get a grip on the new Android 12 notification prioritization, but as I've just had to build a new machine and was getting notification overload.
TL;DR – you probably already know this, this is for people who have been living with annoying notifications and not researching making it useful.
For me the average example is I turn on the monitor/shake the mouse and get a notification for 20+ emails that came in, ding sing ding ding ding, get a notification from Chrome, Messenger, and the notifications when I receive a message on Facebook Messenger. Basically with 300 emails a day and multiple social accounts I monitor for work, I get to listen to a series of dings every time I wake my computer up and, well, here's how you make that sane in case you have been putting up with it.
First off, right click the bottom right / time / notifications section on your taskbar and choose Notifications Settings. You can also just hit start, and type Notifications and it should pull up.
Above example shows I have zero interest in receiving a notification when I use the snipping tool to take a shot of the notifications settings. You'll notice to the right of the on/off toggle switches there's a more arrow you might want to take a look at especially if you receive a whole lot of email and notifications from one app.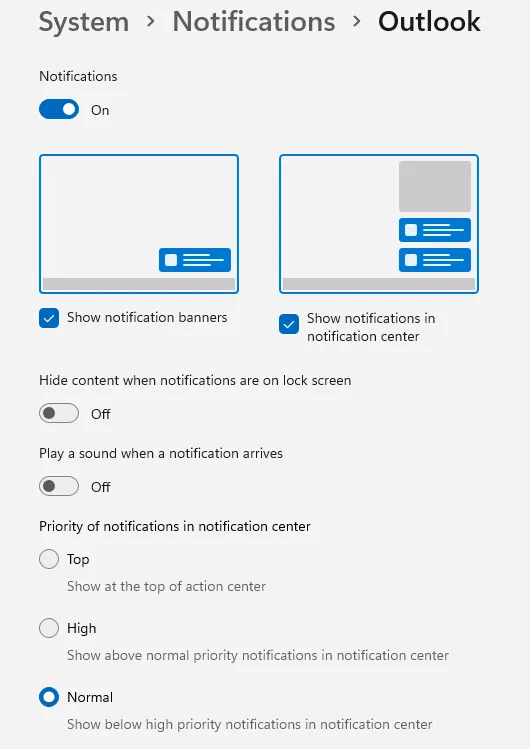 With the amount of email I get on a regular basis the bottom right corner of my screen is predominately a danger zone for clicking. Turn off notification banners for things that keep popping up and catching your clicks or denying you use of that area safely.
I have no need personally to see notifications of Facebook's Messenger, Private Internet Access, notifications from my phone (I've already handled those,) etc.
Should you like notifications as is except sound, you can change that with the main drop down to the right of the Notifications toggle.
Another very useful tool in this arsenal is Focus assist. Rather than go over all of that, basically if you've got a time you don't want to know every little thing going on or if you only want to be interrupted in a game for certain items, that's where you'll go for that.
That's it – pretty simple, probably by the time I hit publish they'll have moved all the items around and there'll be something like the Microsoft Focus Blob. As I recall Window 10 was pretty similar but I'm surrounded by 11 boxes today.