Withings Scanwatch: Clinically certified health monitor review
The Withings Scanwatch released today, and I've been lucky enough to have been testing it out for the past two weeks along side my non-clinically validated smartwatch. We'll get into some of the ins and outs and I don't expect this is the final review as there are some things I still need to test, but we'll start.
The Scanwatch looks and feels like a watch
This may be me showing my age, but this reminds me of a watch. Modern smartwatches make me think old television strapped to my wrist, which is ok and all but it's a screen/Dick Tracy device. This reminds me of my first watch I had as a kid, down to the winder and weight. This is metal, it has heft, the glass is some sort of thick glass, and if you tap this with your fingernail you think decent watch feel from pre smartwatch era.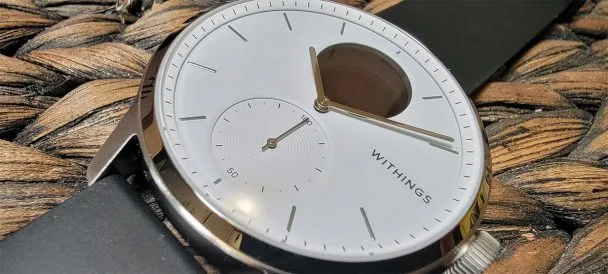 While there is a PMOLED screen built into the watch (black circle up top,) there's not much that distracts from the minimalist view that this is a watch. You don't have a lot of random stats flashing up by accident and lighting a movie theater up accidentally every time you move your arm.
The watch's only breakout from feeling like an old-school watch is the band, which fits surprising well, and that when you press the knob you're presented with options and a small screen at the top of the unit.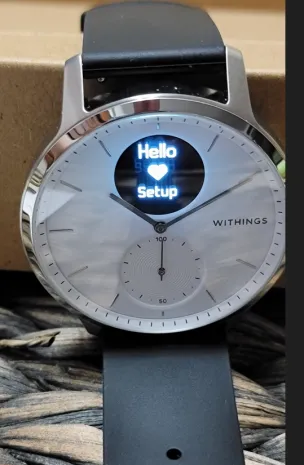 Clinically validated
What does that mean? That's a medical grade ECG, an Sp02 Oximeter, and AFib detection via PPG. It's also what might make you not want this watch. The ECG data in the US may/will require validation by a physician before you're given it (although I believe there's an option to talk to someone on a video call, this was not part of the reviewer's life.) I'm a little uncertain why the getting of the data has a consultation and verification requirement, but this is what I was told.
Afib detection can alert you on your phone. I was unable to test this out due to not being able to fake Afib.
Much like other higher end smartwatches this stores a lot of health data that can be sent to your health care provider. There are weekly summaries. Not a lot new here but I wouldn't expect that.
The clinically validated aspects tended to mirror my non-clinically validated watch.
Let's look cool and wear two smartwatches for two weeks (the review part)
Oh, quick note – The Withings Scanwatch did everything it claimed it would and did it without hair pulling. I had one issue with the pre-release software and let me tell you – me having only one issue with something is remarkable. They're releasing a released version today, my assumption is the fix is there, if you have a GPS issue with Android permissions contact me I've got a fix but literally one software issue.
I pitted the Withings Scanwatch against my Fitbit Sense for most of the two weeks. I had the Sense on my left arm, set to left arm. The Withthings Scanwatch on my right arm set to right arm. I switched it up one day but found no discernable difference. The test and head to head ran until my Sense's charger cable broke, and then a couple of more days.
The results of the head to head were surprising. I did several test exercises and during these the difference between the Sense and the Scanwatch were usually within what I'd consider as close to dead on as would be expected / a reasonable margin of error (under 1%). I saw no difference in ECG, SPo2, heart rate.
During non-exercise events such as just being around the house, the Scanwatch appears to slightly undercount steps (about 1-2%,) the Sense inflates to the point it's unreasonable. Not going to get into my complaints with the Sense but the Scanwatch made me realize just how unreliable the Fitbit was when just around the house and the probable reason my FB guided eating plan was not working.
Above I pitted FB to HM. They were about the same – the reason behind the 0.11 mile difference was real world issues in that I ran into a pack of deer and had to get selfies with them and quite simply forgot to turn off the watch for an additional 0.07 miles according to the Google Maps. The Sense disconnected from GPS a few times that it informed me of. I do not know if the Scanwatch did.
The Health Mate app that comes with the Scanwatch is a little on the light side, which I kind of like. There's a minimalism with room for expansion. I mean I like my dashboards and all but it feels clean and at the current time is not attempting to sell me classes, a subscription, etc.
Walking, biking, running tended to be about the same, but swimming showed a very distinct difference in the two watches and this one I feel comes down in to the court of the Fitbit. I'm splashing around a pool for an hour with two kids, FB claims 200 calories, Health Mate claimed 600. My body claims next to no energy expended as I was standing in a pool keeping kids from going under. I don't know that I didn't expend an additional 400 calories over what my Sense claimed, but that is the only exercise in which I think the Scanwatch over credited me.
So, the only thing I think the Scanwatch got wrong was swimming. Everything else tended to be dead on.
Overall the Scanwatch is great
Does what it says, does it without problem, looks and feels premium. I'm probably going to do another review when I can do some more head to head testing and have a bit more time, but feel free to ask anything about it.
The darned good Withings Scanwatch can be obtained from the Withings Store, Best Buy, and Should be on Amazon.