Day 1 with the Roborock H7
The Roborock H7 is a cordless stick vacuum that quite often comes bundled or on a deal with the Roborock S7. The S7 as a note is the smart vacuum of my dreams. I'm going to be transparent here: this is not the type of device we generally review but you might have guessed by my S7 reviews I am quite a fan of Roborock's products. I also needed a vacuum my kids could operate as I'm putting them to work.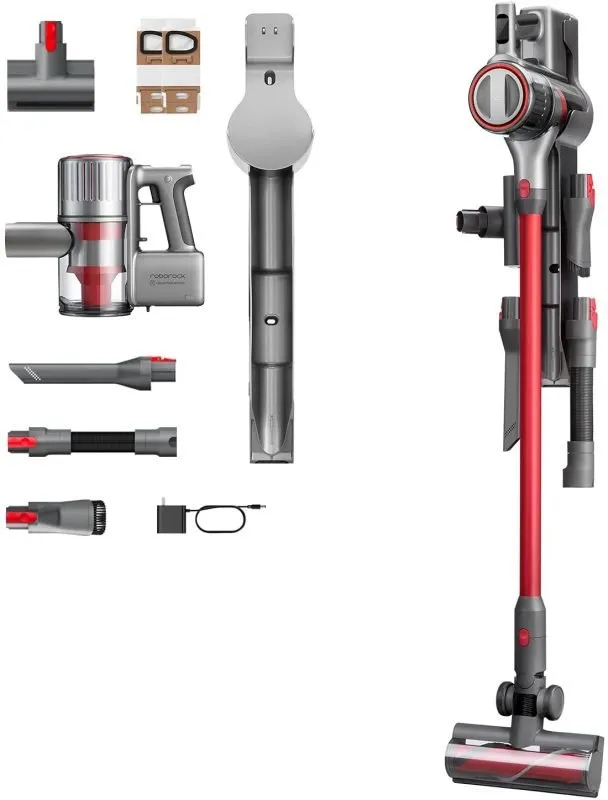 My experience with cordless vacuums include an old Shark handheld (foot long, green, great for stairs but not much else,) a more recent Shark stick vac at work (previous generation of that one,) and a couple of corded options that look similar but weigh a whole lot. I've also got my somewhat damaged but beloved old Shark standard (pretty sure it's the granddaddy of this one,) which is great, but I'm the only one who can seem to ever get it out.
I've also reviewed a ton of robot vacuums that all have the same problems that require manual vacuum intervention, mainly that they can't do stairs, won't vacuum under the couch cushions, and can't do drapes or assist with cleaning the car out. All my robot vacuums are also banned from my kid's rooms because searching for action figure accessories in a dust bin ain't much fun.
On to the critiques of the Roborock H7
As mentioned above, I am a major fan of their products. End of day one of this I'm a fan of the Roborock H7. I mention that because I'm going to point out my issues thus far so you can see if these are deal breakers for you.
First issue I have is the battery life. For what I needed it for yesterday and today (full suction, spinning) it's about 12 minutes. 2.5 hour recharge time. Now, you have a stick vac and no kids, this is most likely fine. That 12 minutes probably translates to about 20 minutes plus of average use. When you have kids and one of them has a shag carpet there's no average any more.
Second issue – the spinner shuts off when it reaches a certain resistance. Unfortunately shag tends to be that resistance. As such I found myself lifting the vac and restarting it many times to get my eldest's shagariffic carpet cleaned. I will point out: this carpet stops everything I've thrown at it, so this is not surprising. Just a little disappointed.
Third potential issue – emptying the bin.. I'm going to read the manual and get back on this one, but it seemed a bit more complicated than it should have been. I ended up having to walk to an outdoor trash bin to avoid a huge fiasco. I did this with the main stick still attached and yeah, everything ended up a little dirty. I'm thinking I did this wrong but I'll see.
Fourth – the vacuum is trigger-operated. You can lock the trigger with a button that's on the handle. Maybe I'm just new to this but I don't feel the button and generally have to look for it.
The Roborock H7 in operation
I'm pretty sure this is the lightest vacuum I've ever dealt with. By what came out of the dustbin I can tell you it's most likely the best stick vacuum of the cordless ones I've used. I have no complaints on the cleaning side of things as of this writing. Previously mentioned we're at day two of using the thing. Look for follow ups which will be linked below.
Out of the box I was able to identify, install, and use all but one part without looking at a manual. I'm still unsure what that part is for, but I have not read the manual yet. It looks a little like a cupholder. In short there was no learning curve or anything I had to figure out.
The vacuum worked, worked well, and other than my emptying and notes above (which may be moot by day two.) I have enjoyed this as much as one can enjoy holding a device that will mean your 6 & 8 year old now have no excuses.
Where can I find one of these fine things?
So yes, I am not recommending this … yet. I'd like to be clear on that. This is part of a review, the start of a review, but not the whole of it. Should you want to jump the gun, The Roborock H7 is available on Amazon and Roborock's website. The Amazon link I'd make a commission, the Roborock one I would not. Alternately you could not click the Amazon link and just search for it.