Roborock H7 cordless stick vacuum review (updated)
As noted previously, this is not what we normally review, however I was quite interested in Roborock's products after the wonderful experience I had with the Roborock S7 robot vacuum. Could a $500 cordless stick vacuum be in the same field as the S7 was? I mean, you have to understand, the S7 is amazing.
Some updates at the bottom change the review as of Feb 16, 2022. TL;DR after many uses I'm kind of fed up with it.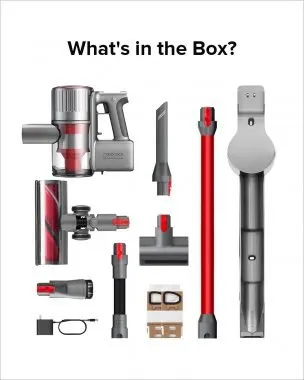 The H7, I had to do some work on doing an actual review. These are the experiences that I and my family have had. The following is based on experiences over the course of slightly less than two months of use.
I need to clarify something up top here for this review – no non-smart vacuum is going to excite me much. Don't take my non-enthusiasm is a statement on Roborock's product.
TL;DR – it works slightly better than similar vacuums in the price range for how I've tested it. Extremely light. Good. Mostly positive review however I showcase issues because that's what Pocketables does.
Start with the good
The H7 picks up what the S7 leaves behind in daily cleaning. It also handles the stairs which sadly have no cleaning robot. In doing this I am noting that a whole lot of dirt is being pulled from even under the rug. That's a good thing. The fact that it's filling up the 560ml chamber every use or two however becomes an issue as I'm the only person who can evidently empty it.
The battery life for my usage is about 17-25 minutes. You can get up to 90 minutes of runtime according to the stats in eco mode, however I'm on max vacuum and powered roller and that is primarily what I did testing on. If I'm vacuuming more than 10 minutes at a shot something has gone wrong with my robo vacs.
My children have been able to use the Roborock H7 vacuum as it is very light, and you can remove the main extension pole and make it shorter.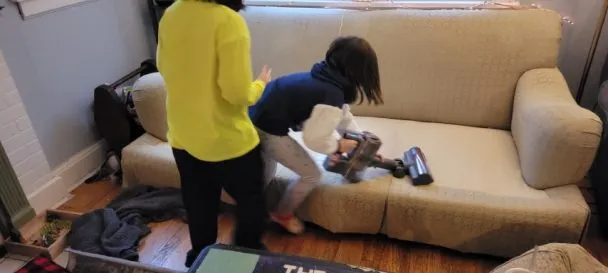 Mounting hardware means I can hang it up and charge it. This is good because I have absolutely no space left in my house.
It gets a disturbing amount of dirt out for how much we already remove daily with the S7 (I mean dang… how filthy am I?)
There are a lot of tools that come with the unit, you either will use them or they'll sit in a bag for the rest of their days. As a note, they don't have to sit in a bag, they have a magnetic base and can attach to most magnetic surfaces or right onto the side of the dock. Guess who didn't know they attached to the dock until writing this line?
Onto the operator error
This has been used by four people now. Three have managed to dump the contents of the dust bin on the floor once. The canister eject and the canister open switches are, in my opinion, in the wrong locations and not marked "don't touch little 6yo, this will be messy." I'd suggest Roborock consider changing the color of the switches that open the canisters from grey to red, but once you do it you don't do it again.
Assuming operator error, but one time it didn't charge. Noticed it, put it on the charger again and it was working. I have been unable to duplicate the not-charging scenario even attempting.
The unit has gotten filthy due to accidental openings, or opening the wrong thing. Once again, operator error but I think this may be the cause of one of the problems I'm going to detail below.

Problems encountered
We did a total of 12 test runs that I documented with me, the kids and wife. Of these, 9 required my intervention. The floor rotator attachment was the most common issue just not starting three times. I have yet to figure out why this keeps happening, but whenever I get to looking at it it works again. Suction is always there, just the spinning brushes either work or they don't until I came over and looked. I'm going to clean all the contacts, as I noticed in a photo they are dirty after an operator error dumped a lot of dust. Seemed to be only when my kids were using it so I'm not sure what exactly was going on.
After a few runs I got notice that the air intake was clogged. However it appeared to be functioning. I pulled the assembly apart and washed as instructed and things got back to normal. This was at 5 or 6 runs and it was not caked-on filthy (at least in corded vacuum world.) Just really, really dusty. I believe it was impacting air intake slightly, but it was the level of dust I'm used to being handled by a corded vacuum.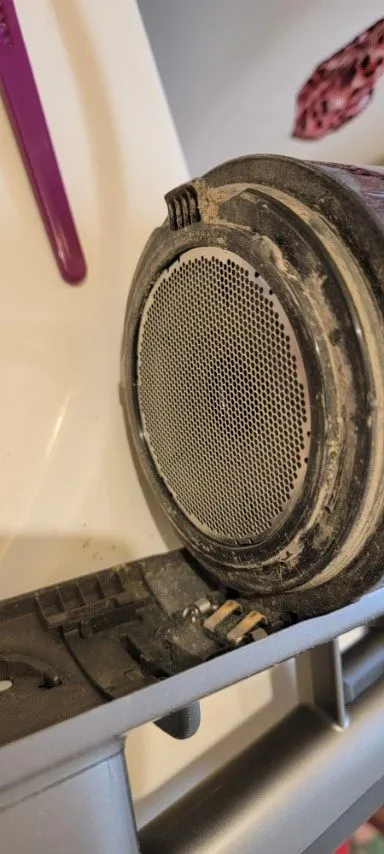 It seems at fewer than 20 runs I've been working on it a tad much, but my stairs are also pretty clean and I now have minors doing vacuuming.
Proper consideration
As a fairly strong adult the weight difference between a corded and a cordless isn't a factor for me, but yeah, this thing is light coming in at about 3 pounds. My 6yo can operate it.
At work I was reminded that our fancy cordless vacuum for quick day to day touchups had similar issues. The first few weeks after getting it I was routinely explaining to coworkers that it didn't matter what brand it was a large ball of tape was not something you could reasonably expect to suck up with a household style vacuum.
Going to use a bad comparison here with a major name brand in cleaning claiming 60 minutes of runtime and a display that's somewhat similar. The bigger name brand also is known for shocking people based on reviews. This is not something I ran across with the Roborock H7. Name brand MSRP was $479.99, although currently $369.99. MSRP and initial price is, of course kind of a marketing trick.
In that case, the $20 initial price difference (initial MFG price vs Roborock's initial price,) or $129.99 price difference currently is what we're looking at for a unit that 1) doesn't shock you (just going by the reviews,) 2) has a similar runtime per suction, 3) has a bunch of tools included you probably will use two of, 4) has a wall mount charging dock.
I'd say the H7 probably comes out ahead. From what I'm comparing it looks like the H7 usually comes out ahead slightly when adjusted for new car smell.
Would cheapskate Paul buy a Roborock H7?
If I had a budget between $400 and $600 for a cordless vacuum yes. I believe based on what my experiences with other cordless stick vacuums has been, and the reviews of similar models I can find, that the H7 stands out at the front of the pack, at least slightly. However I would probably wait until we've passed the initial MSRP phase of operation and feel a lot more comfortable with a recommendation when the pricing was closer to $399.
You pay for new.
Wishes
The vacuum runs when you pull a trigger. There's a button on the side that locks that hold. Side button needs a little more definition, be down half an inch.
Red dirt/vacuum release levers so that at least I could say "don't touch the red thing, all the dirt will dump out."
Suction impediment indicator – would like to know what it thinks the level of dirt impediment is rather than just randomly getting a clogged warning.
The up/mid lever opens the dirt release on the bottom. The lever near the bottom release disconnects the fill unit from the middle section. I know why they did it, but I'm having a Lewis Black moment where I just want to scream "fix it!"
Finger-shaped grip. You'd be surprised how useful these can be when cleaning out a car / small spaces.
Overall
It's a cordless vacuum. It picks up well. If your use cases are under 15 minutes at a shot of vacuuming it's the best cordless vacuum I've used in terms of weight and suction. A small amount of modifications and it would be ideal in my opinion.
This said, I'm once again conveying that I like the vacuum, even if it doesn't seem I'm enthusiastic about it.
Roborock H7 Availability
The Roborock H7 is available from the manufacturer's website as well as Amazon and other retailers.
Paul would advise you purchase at a lower price than MSRP unless you really need a stick vacuum right this moment. He would also mention that the Amazon link earns a referral fee so if you don't want the reviewer to get beer money, just go there and search it yourself.
Two additional month review
I have to clean the filters every other time I use this. This is two bins and complete cleaning time. I spent a lot more time doing this than I want. The insane dirt spray appears to have been the cause of the spinner not spinning. There's no way to cleanly dump the dust inside the house. I just leave as much of the vacuum in the house as possible and dump it outside.
Wife has given up on it at this point and is back to the ancient, loud, and heavy Shark vacuum.
I have pulled every single piece apart and done a cleaning of every part, verified suction is there, and basically if it clogs again in the next couple of uses it is leaving the house.