When you can't do it right, duct tape
Going to share one of the most ridiculous projects I've ever had to do. I'm going to preface this with the actual equipment we need is several weeks backordered and this had a two day turnaround. This is rigging. This is hoping $300 of equipment holds and me not being beaten if it doesn't.
TL;DR – Paul rigs a drink cooler into a WiFi/Fiber Optic shelter using cringe-worthy amounts of duct tape.
The project
Security cameras to guard a construction site on the top of a fairly large hill. Nearest nearby house is about a quarter/half mile away. Nearest fiber optic connection is actually on the construction site however. There's an outlet on a temporary power pole. Goal is to be alerted the instant anyone steps foot near the construction materials. There is no shelter. There is no LTE that's compatible with the solar powered LTE camera you're about to suggest, although there is a 3G connection that's capable. (There is LTE there, but been through this rodeo.)
I was tasked with getting WiFi on a hill, in the elements, with the correct equipment on backorder, now. It has to survive wind, rain, possible flooding as it's on the side of a hill, be near the power and fiber pole (which is about 6 feet high and made of 2x4s,) and be done with what I could pick up locally.
I also had to have this done and ready to meet with the fiber optic installer on the side of the hill for them to install their equipment in.
The materials
For this endeavor I chose the only thing I could think of that was waterproof and could survive outdoors – a crappy Island Breeze Family Cooler – 48 quart/45 liter Igloo cooler that we've hated ever since a former roommate bought it as a replacement for our good cooler. It is, however, waterproof and the lid seals shut extremely well.
It has no drain hole, no wheels, and was smaller than the one that was loaned out and never returned.
An outdoor power strip, an outdoor extension cord, duct tape, an ASUS WiFi 6 RT-AX3000 (we're using that elsewhere, it works really well for 2.4ghz distance.)
And duct tape. The duct tape is meant as a temp measure that went into production. (Really had this cool idea with kite string and… we'll talk about that later)
The idea
I didn't have an exact spec on the equipment that was being provided by the fiber provider. Just that it was about the size of a couple of cell phones stacked on top of each other and had a block for a power supply. I also didn't quite trust that the cooler would be 100% waterproof, but as noted this is to get this up and running right now.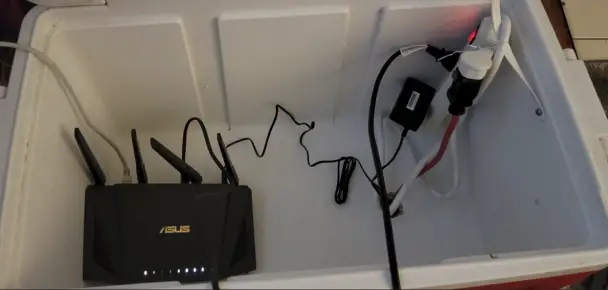 I'd cut a hole in the bottom of the cooler in a slightly raised segment using a drill attachment I do not know the name of. It was just large enough to allow the head of an extension cord to get through. The cord was then raised and off the ground attached to a plastic strap.
I would run power and the fiber optic cable through that hole. After this I would take a sponge and create a rudimentary ant/bug barrier around the hole. All equipment would live on the inside top lid of the cooler so that if there was any water intrusion it would have to either be up 5 inches, or kill the equipment via humidity.
I would use kite string to create a cat's cradle for the equipment on the top lid using duct tape only for temporary placement.
No plan survives the enemy
I received a call that the installer was going to be there in 10. I was 36 minutes away. Hauled butt out of my house conveniently forgetting ethernet cables, but with everything else. Reached the hill, which my Honda Odyssey barely can climb (gravel, no driveway to speak of yet,) and got out to find nobody there.
I got a call shortly that for some reason the company decided they didn't want a subcontractor doing this they wanted their own people because … reasons… I got in touch with my contact and mentioned it was below 20f there and I was freezing and 36 minutes from my house and it would be nice if they'd get someone out there. They did.
The fiber optic Adtran was about the size of a biscuit. The power adapter was about an inch by an inch and a half. They plugged it in, ran the fiber optic cable into the Island Breeze cooler, and by this time I was quite frozen solid. I reached a point I could not keep myself warm, possibly because I was hungry, but more likely because I think the temperature topped out at 24F/-4.4c.
My ability to string the string like I wanted it was just simply not going to happen that day. I couldn't feel my fingers. My ability to seal the plug hole against ants also was not going to happen that day. Basically I was going to get this in a condition that would work and come back another day to make it nice.
The ASUS router sits on a plastic-wrapped sealed pack of sponges about 4 inches off the ground. I suspect this is sealed enough to not transfer water straight up but you know what, that's a chance at this point.
The power strip is straight up duct taped to the lid. The outlet is not taped over regardless of how it looks.
The Adtran fiber optic to ethernet box is in a zip-lock bag that's taped shut and hung about 3 inches up.
The implementation
With 300mbit fiber and WiFi, I sat in my car with the heater blasting and configured a couple of the solar powered security cameras, not particularly expecting this to last beyond me reaching the end of the driveway.
I'd planned to tie the cooler to a pole, however there were a couple of stakes just sitting around and oddly I carry a small sledge hammer. I put these through the cooler handles, and then classily duct taped the handles down so they wouldn't raise easily.
Not trusting that the lid wouldn't fly open in the wind, I duct taped the crap out of it and used heavy rock technology (not shown) to secure the thing.
The result
At least at the moment there exists a very large WiFi coverage zone that goes for several hundred feet in any direction. The solar powered cameras record events both to their local storage and shoot over a warning in the event there are people seen (there have been already.)
I'm headed back down that way to install a few more cameras when it will be a balmy 37F/2.7C and get the cradle created and the ant seal taken care of hopefully.
Known problems
Potential water ingress from bottom – sealing shut and raising on Tuesday. Spelled "surveillance" wrong. Lack of good WiFi names for a hill, although after deployment got "Rocky Mountain Wi(fi)" from a friend, "This LAN is my LAN," and I came up with "The Hills Have WiFis"
Updates
The first failure (resolved) June 29 (T+157 days)