Android emulation for Windows 11 appears here
While supposedly released last week on the 15th, this is only showing for me on one of my machines as of today. Whether that's processor related or what, not sure.
For me, the way to do this didn't show up until after I had installed KB5010414 (OS Build 22000.527) Preview. And that took surprisingly long to download and install. It was available right from Windows Updates, no searching required. Wish I'd seen it in the week before.
After installing that there were about four other updates that popped up and instantly installed, and from there one of my machines worked and the other two didn't.
The process is go to the Microsoft Store, library, get updates (wasn't required for me,) then search Amazon Appstore. If you find it, install, it'll give you a notice that it has to do a really long one time install, that took about 20 seconds on my machine. I mean powerhouse and all but it didn't seem to take as long as the warning would merit.
After that you've got the Amazon Appstore, Android Subsystem, and can install Android programs from the Amazon Market from there. Tonight I'm going down the Google Play add in rabbit hole, we'll see how that flies.
Something to note – On the first one I installed I could not uninstall from the Appstore, nor from Add/Remove Programs like you normally would. I wish I'd screenshotted my attempts at getting rid of Talking Tom 2, but after the first app at least the second is appearing in the add/remove programs where I'd expect.
The subsystem does not appear to be particularly stable. I installed, installed My Tom 2, played around with that for a bit, closed everything out and on attempts to re-start I'm met with a Starting Windows Subsystem for Android message that never goes away.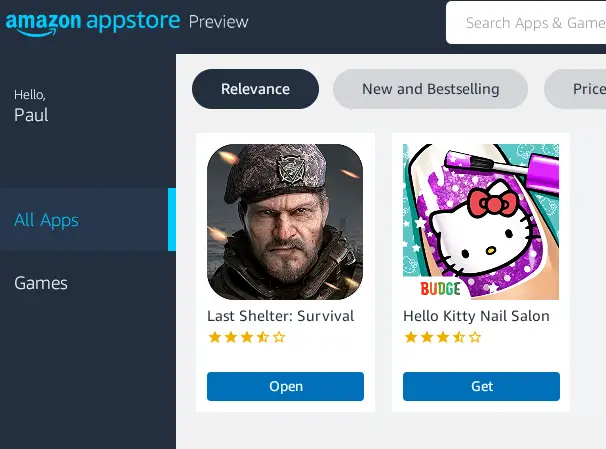 Three attempts, closing out of other programs, disabling VPN seemed to get it back so maybe it's just me.
The machines it's not working on for me do not meet the minimum Windows 11 requirements, although I installed Windows 11 on them. I'm not sure if it's a supported processor thing or not but Amazon Appstore just does not show when searched on either of them.
I'm not getting a good read on how well this is performing, but it doesn't seem significantly better than my last dalliance with emulators on one game, and significantly better on another. But could just be the game I'm playing.
Apps appear to freeze if you switch to something else which is fine. Eh, it's here, time to play.
[
Microsoft Blog
]