Withings ScanWatch vs Fitbit Sense week 15ish
For about 15 weeks at this point based on what I can tell, I have worn two watches. This being a Fitbit Sense, and a Withings Scanwatch. I purchased the first, and got a review unit of the second.
TL;DR – Winner still Withings.
In the nine months I have owned the Fitbit Sense at this point I have reset it 3-4 times trying to get the accuracy better, it's crediting me with far too much activity when I'm not exercising and the caloric recommendations are generally 30% higher than they should be due to the overestimation of calorie burn, steps, etc that I am getting. I have been unable to get idle tracking to work enough to trust caloric burn.
I've also had a faulty cable replaced which I documented as well.
That said, when it's tracking, when it's GPSing, there is little difference I can tell between the Fitbit and the Withings Scanwatch. Almost all of the findings and complaints from week 5's review stand. Withings Scanwatch still is mostly the winner in my book.
I'm adding to my list of disappointments with the Sense at this point – the barcode scanner tends to be hot garbage, picking up the wrong barcode quite a bit, the calories on quite a few items are just off, I'd probably rather go back to MyFitnessPal (which is what Withings uses/suggests if I remember right,) if I wasn't particularly invested in the Sense graphs.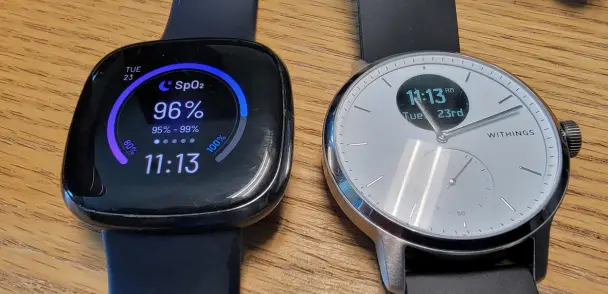 Withings Health Mate has graphs, I'm … just picky. Their software and web interface, it works, it has what I need, Fitbit had me… don't know why at this point because now that I'm logging blood pressure and SpO2 for a medicine I'm taking Fitbit's even less useful. Fitbit has no blood pressure tracking that I've found, and the SpO2 readings are only for sleep.
To get the Fitbit Sense to last a reasonable amount of time (3-4 days,) I had to turn off the screen and a few features. I've managed to kill it a couple of times, but meh. Never have managed to get the ScanWatch to below 25% but that would probably take about a month of me not charging it.
I let the free trial expire for the Fitbit premium. I don't miss it. It didn't particularly offer me anything better.
I guess here's the thing – I got the Fitbit Sense thinking I was going to have an SpO2 sensor, a snore indicator, a moving calorie target that made more sense. I got an SpO2 sensor that only works when I was asleep, a snore indicator that drained the battery, and a moving calorie target that I followed religiously for months and lost a total of nothing.
I stopped paying any attention to the moving calorie tracker of the Sense, watched the steps on the ScanWatch, and I'm down 5 pounds in a month. Or perhaps I am imagining it and my scale is backing up my false narrative.
So at week 15, and maybe the last update, Withings ScanWatch wins in everything that I want, except swimming. It's pretty poor at figuring out when I'm splashing with kids what the deal is.
The ScanWatch has some new rose gold offerings just in time for Valentine's Day.
Fitbit has deals going on as well at this point.
After defective cable, no ability to tone down the 30% overcounting, constant barcode failures, and really feeling kind of scammed with the Fitbit (which doesn't even work correctly with Google Fit, and yes Google owns Fitbit now,) I'm going to say if you want a classy looking fitness tracker that does what it says, Withings. If you're going to strap on the watch just to exercise, maybe consider the Sense but damn son…