ZIKE MagSafe Charger launches today on Indiegogo
You probably already know MagSafe compatible chargers aren't particularly new. Nor are dual chargers that allow you to wirelessly charge two devices at once. ZIKE brings something new to the table in a crowded field of chargers, and is fundraising to release a charger that gets you charge faster at the same wattage.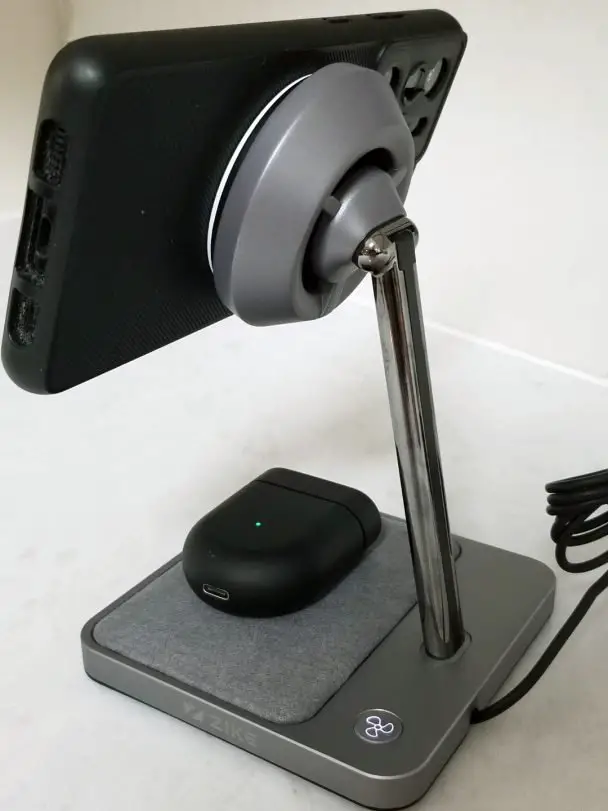 How? Watts up with that? (see watt I did there?)
Keeping your phone cool while charging at higher wattage is what the ZIKE charger (pronounced Zeek,) claims will charge your iPhone roughly 50% faster than Apple offerings and 41% faster than Belkin at the same wattage. Not having these chargers to compare, all I can say is my phone (which is an S21 in a MagSafe-like case,) kept cool and charging at 15 watts up until it reached near the top at which point it ramped down as expected.
The ability to trigger the fan while charging, nice. The ability to turn off the fan while on a conference. Cool (er, I guess slowly warm actually.)
Keep your phone cool while using this as a Zoom/Facetime/Meet conference monopod. The 360 rotation and 45 degree adjustable tilt allow you to position the primary charging phone close to however you want for meetings or watching videos.
In terms of innovation there's not a lot new, just significantly better packaging. It's a fan blowing charging waste heat away from your phone. You can accomplish the same by putting your existing charger in front of a fan I'd imagine, however it's one one convenient device and looks significantly cooler than using a fan as a heat exchanger.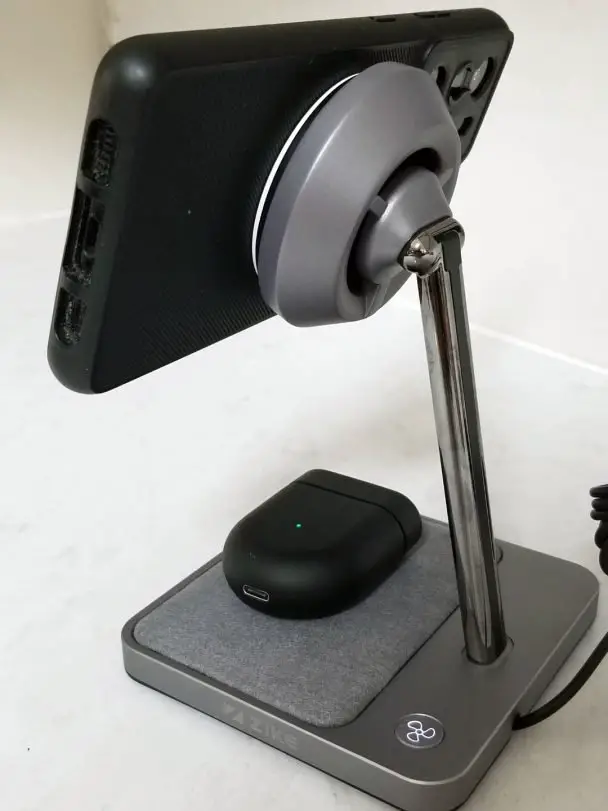 The only real criticism I have on this, and keep in mind I am working on a pre-release model sans packaging and potentially not the final product, is that if it's aimed at the Apple ecosystem, built with a silver housing, a black power cord kind of throws off the aesthetic.
It's also yet another wall power supply/charger style to keep up with as the plug that goes from the wall wart into the ZIKE charging base is round. This matters because in four years or so when your charger power supply dies due to lightning strike, coffee, toddler, you're going to have to search to find a 15 watt round plug in hoozie as opposed to any of our new space age gigawatt USB-D/Thunderbolt 8 power heads.
Just makes diagnostics and repair a little more difficult down the road, along with limiting the colors of cables you have available.
The pitch and roll can be adjusted to tilt to a better viewing angle, or switch between portrait and landscape modes.
Overall, a very pretty design, charges more than one device at a time, appears to cool pretty well (I never saw thermal throttling, however I'm not using the target device and the only time I've actively noticed thermal throttling on Qi charging was using a car mount / navigating. Doesn't mean it doesn't happen on my existing chargers, just means I generally Qi charge at night when I'm not in a hurry or using the phone.
I wonder if the next ZIKE charger will incorporate Peltier cooling to drop the temperature way down. Seems like the logical next step.
The ZIKE 2-in-1 MagSafe Charger with Active Cooling launches on Indiegogo today at 8AM PST with early backers being able to get one (according to the embargoed press release,) for a little under $70 which will be half of the MSRP at launch. The ZIKE is also Certified for MagSafe if that's any concern for you.
[
INDIEGOGO
]