How much battery fail can you fit in a day?
This is a story of a large amount of unrelated battery failures and why I can't get anything written for the site. It's true, I promise. TL;DR lot of battery fails took up much of my day.
Yesterday we had quite a bit of a wind issue in Nashville, however as far as I know the power never even flickered at my house. When I woke up and the WiFi and everything was down I assumed we'd had a power outage, but the non-smart clocks were fine, and things I have that alert me to these things had not so if there had been it was less than one second.
A quick investigation of the breakers indicated that there was nothing afoot with the wall that the internet was plugged into, and some things appeared to work. Notably nothing that was plugged into the battery side of the UPS. Just the battery side. The surge side was working fine and I got things up and running on it and ordered a replacement.
Into work, after a 24 hour test of a completely different UPS with a new battery in it (it went down a week back, got new batteries,) there we've determined that the UPS just does not charge anything. Batteries are fine, unit doesn't do whatever is required to make the batteries happy. Sad batteries is sad.
Two different UPS brands, two locations. Connex and SMART-UPS if I recall.
Look over at one of the jumper batteries I reviewed in the past, it's refusing to charge and I'm about to chuck it but didn't today – after a week trying various chargers it just won't charge for more than about 20 seconds. I'm reminded I should go ahead and grab another jump starter for my wife's car.
Came back home, replaced the UPS, did some rewiring of my most valuable network, and upon getting out of the shower had multiple text messages and calls from my wife that her car was dead she couldn't get the kids, and so I leapt into action bringing my CAT jump starter (20 pound beast or so) to the fray. I'd charged it up prior to going on a road trip two or three weeks ago so I knew we were in good hands.
So we weren't in good hands. CAT jumper battery completely discharged, completely useless. Kim calls the campus cops who come out shortly and upon finding out I'm her husband give me grief for failing her. We own 3 pair of jumper cables, none of which are anywhere we can get to. We suspect one pair is in Kim's trunk but it won't open without power. There are none in my car. I do not know why, they've been in my way for the past 7 years and are not there now.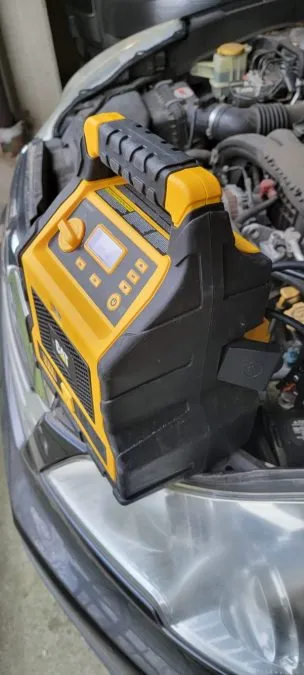 I'm told of these wonderful jumper batteries… I tell him I have multiple, they don't tend to last past a year when actually in a vehicle getting hot and cold in Tennessee temperatures. Nobody's given me any to test in three years. Womp womp.
I take my leave to pick up the kids before they start charging $10 a minute late fee, get stuck trying to get out of the campus parking as I'm not an employee, totally look like an ass having to move vehicles back because I don't have a badge to swipe out, and have to wait on Kim to walk down to let me out.
By the time I get to pick up the kids I've got a text that the campus cop's jumper battery he brought is completely dead, they've dispatched a second one because he has failed (Nelson laugh). Second jumper battery of the campus cops works. Don't find that out until we're back at the parking lot and she's pulling out.
I've got Kim's battery on a tender tonight. I suspect it's dead. She's had that car 9 years and this is battery #4. All test fine, run fine, then die one day never to come back. This one's a little over a year old as I recall.
Wife's big bulky black jump starter battery went away last month because it no longer held a charge. My year old CAT is about to go away because it won't hold one either (seriously, 3 weeks ago it was charged,) and that ticks me off. Got at Costo, may go ask them about warranty on it.
Oof.