Paul's not gaming: The Guardians of the Galaxy teaches a lesson in how to present a good story and make it not fun
I started playing Guardians of the Galaxy on XBOX's Game pass after a lot of issues getting it installed, and we're not even going into how my kids lost my thumb D-PAD control surface and now I hate my only good joystick for the past week, but yeah there's a major problem with GotG and that's that it's not a game, it's a movie with bad game elements thrown in.
We'll get past that this has nothing to do with the GotG movie, it's another timeline, multiverse, or something in which nobody looks right (like the Avengers game,) and the actions are … I don't know, thieves being thieves. Take out the sort of romance, the caring, throw in that Peter Quill is now a motivational speaker for the team, and it's… interesting.
The story, you'll like it or you won't. I'm several hours in and we're at zombie Nova Corp fights which is an improvement over cubed Jell-O. Yeah, that's right, one of your main opponents is cubed Jello. You'll spend several fights running slightly backwards and to the left circling while shooting your blasters at Jell-O. This is not to be confused with the several fights you run slightly backwards and to the left while shooting cubes of Jell-O filled with Carol's robot killer raisins.
Most fights involve running to the side and slightly back and shooting things. The only difficulty becomes when they come in overwhelming numbers and you have to give a motivational speech to get the team back up and running.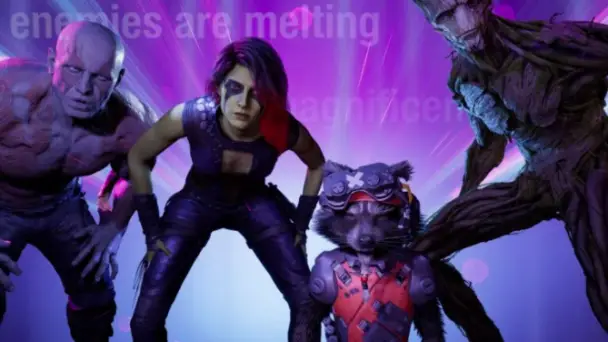 During the motivational speech you have to look at the words behind the team, there're generally four or five, and then choose something that tends to tie them together from the choice of two options. I have yet to not motivate the team.
If you had fun with the fighting system of Marvels: The Avengers, it's got the same feel. I really didn't care for that, it feels like I'm punching air and getting a reward. No feedback, just some animations and some number of points taken off the enemy.
The world is a rail. There's no way to get lost. There's no way to explore. The only surprises pop up on the rail occasionally when you get mired in something and a completely random popup event happens… oh this one I've got to move the joysticks slightly to align something and I have a total of .5 seconds to figure this out or I get get watch the past 2 minutes again? Great. Oh I'm going to fall and it's flashing a narrowing circle that changes color when I need to press the X but there's no text indicating when I need to press it? Perfect. Such fun.
Can you tell lil ol' colorblind me spent some time dealing with a red circle that turns into a green circle when you need to actually press a button?
Now the story is OK… but you're either stuck too long watching the story, or it's too spread out between fighting gobs of semi-sentient Jell-O or fighting an animal that's been forced to fight you, that somehow spews cubes of Jell-O.
Mostly though this is an ok Guardians of the Galaxy movie/story with a meh game thrown in. The game tries to be the Avengers meets Mass Effect, but the pacing is all wrong for either a game or a movie.