IFTTT+Fan+box+Sense AC assist
I live in a 1940's house. The original duct work was for heat vents, they're small to the upstairs, there's no room in the walls for better ones. Nine years ago the decision was made to purchase a split AC system. I did, paid for and it was delivered to the installer.
TL;DR – This is the way too long story of a device rigged to turn on and off based on another device's activity while I am waiting on a real solution to be installed. The device is amusing to me as it integrates the Sense Home Energy Monitor, a drywall fan, a smart plug, IFTTT, a fire log box, and a Nest remote temperature sensor.
You can skip the long story and go straight to the project, which is just simple rigging. It just amuses me that I had to rig something like this up in the first place.
The long story (you can skip)
The installer received it on a Monday in 2012, fell off a roof, broke his leg/foot, got on some serious drugs and that was the last I saw of the several thousand dollars I spent.
Yeah, fun with people who worked with you for 6+ years on 84 projects you make the mistake of trusting them on the 85th, but that's another story.
I was able to skim by with a couple of window units in the upstairs. I'd let it get warm during the day and blast two units for a bit before I got home and things would cool. The central kept the main floor fine, it was more than powerful enough to cool the entire house. Just no way to get air up top with small, shallow heat vents from the 40s.
The pandemic hit and I could no longer allow the upstairs to heat up while I was at work because this was work. Our energy bills were absurd. Cooling the upstairs 24/7 using window units with people at home during the hottest part of the day was costing too much. Yes, the R factor on the upstairs of a 1940's house is pretty crappy. I remedied that with several hundred dollars of insulation but heat still rises, cold fell, and the window AC units were keeping the first floor cooled which had a far more efficient heat pump.
As I couldn't get the cold up top, two window AC units basically were cooling the entire house. I needed to get the cold air up from the first floor. The ducts were capable of moving it but the blower wasn't able to achieve much. Even with diverters thrown in.
I got a couple of little register booster fans, and they sort of worked. But getting 2-3x the airflow meant pretty much nothing. Just not enough air was being pushed to cool, and the downstairs kept shutting off because it was 60 degrees and I was freezing the family out.
I discovered that attaching a high powered fan upstairs worked remarkably well as long as I could make a seal, but there was no way to in-line any good HVAC solution. No matter the fan, the temperature was always off, and it was noisy as all get out but I could survive.
During the great remodel things got worse. We lost two rooms of the house for two months, Kim had to move upstairs and that took out the one remaining upstairs air conditioner because the only place for her desk and computer is right in front of the only remaining window unit. Moving it is not an option if we want to sleep in a temperature below 85f.
Getting a split unit in should have been accomplished this previous weekend, but the AC unit just showed today and the installer is booked until next week. Lucky this is Tennessee, two days ago it was 87f, today it's 61f.
The only fan that moved enough air is a loud drywall fan that was pulling about 200 watts. That's not huge in terms of electric, but I think 100 watts of that were just devoted to noise and heat generation. 1/8th HP, 570 CFM, slightly less with sucking through the thin straws of my vent system, this thing needed to shut off when not needed as it was generating heat and noise and costing ~$0.70 a day to annoy me when it didn't need to be running.
The project
Use the stuff I've reviewed or written about to rig things to hold the line for several weeks until I can get the actual solution in place. Attempt to save $14.70 in wasted fan electricity over the timeframe, cut down noise and fan heat (probably another $4 wasted,) while waiting on install.
The assets:
Nest Thermostat / Nest remote temperature sensor
Smart Life / Google Home apps in passing
Drywall fan (didn't review it, but yeah it blows)
Plugged the drywall fan into the Gosund smart switch. Place Nest remote temperature sensor near the area that needed cooled upstairs. Switch Nest Thermostat to use remote sensor.
Set up Gosund smart plug in Smart Life, sync with Google Home. In IFTTT set up two triggers so that whenever the Sense Home Energy Monitor says the heat pump kicks on or off set the Gosund plug to the same state.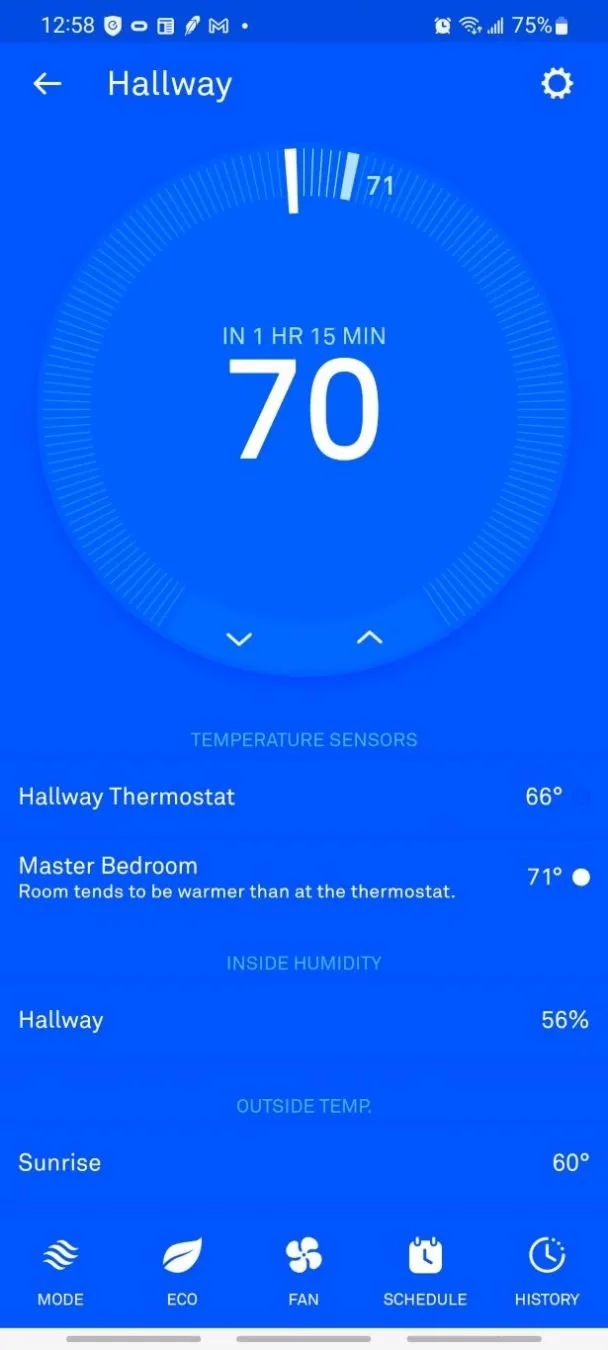 Bam – incredibly rigged solution while waiting for the real. I can also now kill the loud fan from anywhere the instant a phone call is received via Tasker, Google Home, App, etc. But as the fan shuts off when the central does, it's not on all that much.
That's the incredibly rigged overly complicated project. Issues currently are that sometimes there's a delay on the on/off. Sometimes there's no delay. I suspect IFTTT, but as it's not causing any issues beyond "hey that should have been on… ok now it is" it's not something I've investigated.