Last night Plex quietly entered the "holy crap!" useful phase of existence
You don't have Plex and you don't want to. I've come to terms that I have to allow people to exist incorrectly, but after the upgrade I received last night I've got to say you're missing out, but you don't have to. It's free. Love it.
TL;DR – Plex implemented a search across all streaming services and on some platforms can just start playing that.
Yesterday I turned on my TV, fired up Plex because that's how I watch my live TV and DVRd shows, and was presented with a notification of a new Discover feature. If you've ever watched a TV series on one subscription service that sold to another and wondered where you could stream it now, bam – taken care of.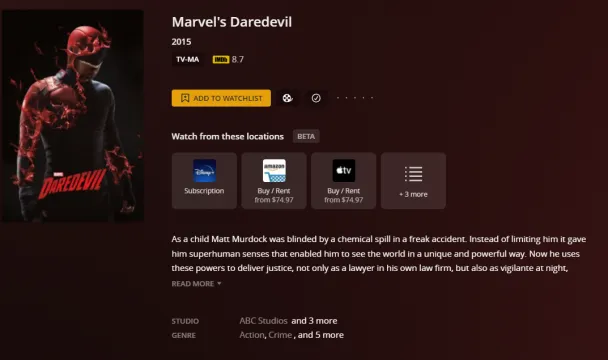 For example, searching "Daredevil" will return where it's streaming, allow you to add it to your watchlist, and on some platforms will take you right to the playing options (Android launched an app, web launched the right web page).
The main discover tab will let you see what's trending on the services you subscribe to as well as across all services.
Want to search for an episode of Young Rock (a tv series I record to my DVR)? Well there you go, I can see all my episodes as well as where to stream the one I didn't get to watch because we had a tornado and local weather wanted to keep me informed and alive.
Currently in the Android app and web page versions it's pretty functional. Selecting will launch an app or open the correct web page. The Vizio version I saw last night does not allow for launching of the associated app, and I haven't had a chance to test out the Android TV or Roku versions yet but I'll be getting to that later. My assumption is the TV ecosphere is pretty hard to touch another app.
Gone are the days of trying to figure out where something is streaming without googling it.
Hey, remember when Trolls was a movie, but then Netflix got it, but then Hulu did a whole series? Or when Netflix owned Marvel properties, but then half of the original series got on Hulu and the other half on Disney+? Or when Netflix had The Office but then that went away and then it ended up on Peacock? Or when The Orville was on Fox but season 3 was going to premier on Hulu?
Yeah, no having to break out a second device to figure out where one can watch your shows.
Besides that Plex does all the other stuff – tons of free (with advertisements,) movies, consolidates and streams all your media, has DVR functionality with a Plex Pass and an HDHomerun, organizes your vast trove of ill gotten gains, transcodes for slow internet connection, yadda yadda yadda,