Technaxx TX-165 Birdcam review
Who hasn't looked at a bird feeder and thought "I wonder if I can stick a camera in a bird's face?" Well, you can. The Technaxx TX-165 is a trail camera with a bird feeder built around it.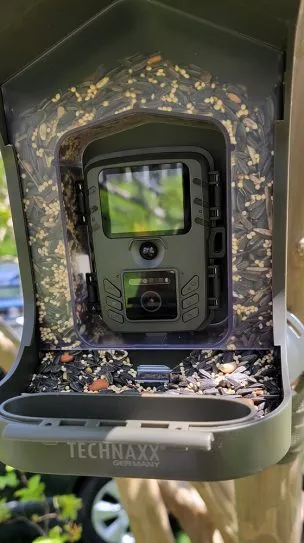 TL;DR – photos meh, videos pretty good and may be worth it, very inconsistent recording, squirrels destroyed the thing that keeps the seeds in.
Over the course of the pandemic our bird/squirrel feeders provided a whole lot of entertainment. So much so that I slapped in a security camera so I could take them into the office / let coworkers watch the live stream of squirrels defeating yet another attempt to keep them from the birdseed.
The TX-165 Birdcam comes with a couple of mounting options – one clamp option and one belt or screw option. It's probably mountable pretty much anywhere your birds want to be.
Birdcam in action
The construction is solid, but not particularly stunning. It works, but with a fairly small feeder you're going to be filling up pretty often. If you've mounted this high, something to note is emptying the thing needs to be considered.
You'll need to do some configuring out of the box as the time/date/date format and recording options are not set by default. The one review I can find of this product is someone complaining that it's not an HD camera, but judging by my 1080 photos I'm going to say it is.
This has a microphone in it, but it doesn't seem to pick up much. Also has night vision which can be horrifying.
The proof is in the pudding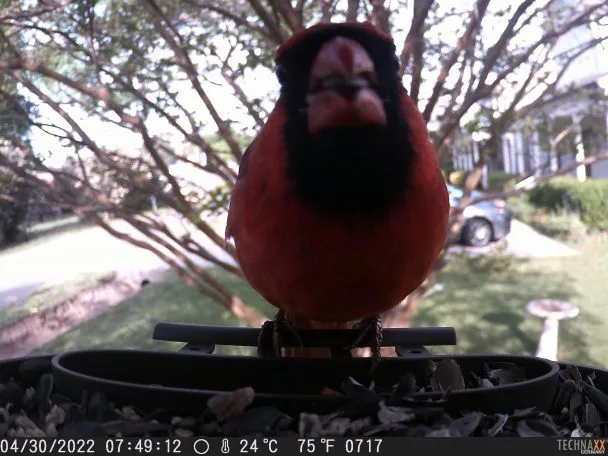 Most of the still shots are hot garbage due to birds moving like a … bird. Out of about 400 the camera took in a day I'd say there are 6 or 7 that look good. I'm not impressed with 98% of the still shots, but the videos are pretty good.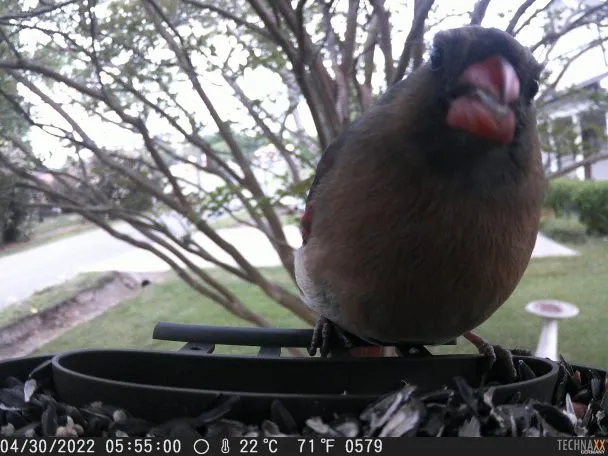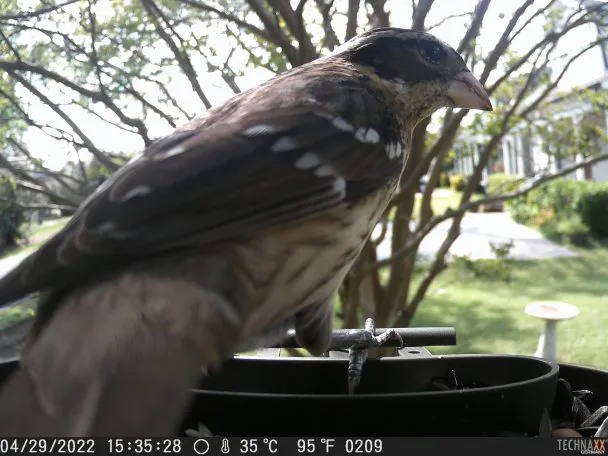 The photos, I don't think particularly shine. Where this thing rules is the short HD videos of birds it makes.
I had the unit out for four days, discovered on day 3 I'd put in the wrong SD card and it filled up before I got out of the house, then another day and got this hour and 13 minutes of bird videos.
This is a combo of 441 videos that was produced by the TX-165. There's no software or method that ships with this to combine them so be aware this is going to produce several hundred 10 second videos a day. I went through 28.1GB of SD card in under a day, so plan accordingly.
Where the problems start
This is an update to the original review. I'm of the five attempts at recording over a couple of days only two have produced anything. I've had the switch set to on, watched the countdown timer, installed correctly, and gotten nothing. This has been when it was mounted on a tree, and when mounted hanging. The only video I got this last attempt was seeing my hand raise up to open the bird feeder.
Two days worth of birds I watched from my window, got none of them on the camera.
Be prepared for disappointment a little over half the time, or there's something seriously wrong with mine. I'm going to stake mount it so the base can't move at all (the tree and post could sway) and see if that makes any difference and will update if it does (writing this May 8, 2022)
Update May 9 – not so much – staked, no ability to move. An entire feeder of food is gone, I watched a squirrel come up and eat, same exact settings that got me 500+ photos and videos in 24 hours on the first run and there are only 26 videos. It didn't even record me taking the camera down today. I've changed the sensitivity to high and the video recording length to 20 seconds and trying again. Batteries indicate half full according to the meter which reflect roughly 3.5 hours of recordings.
Update May 13 – zero new recordings captured. I notice that the battery indicator is now showing low so I'm going to put in new batteries after two days of successful recordings and next to nothing.
Put in new batteries, also said they were low. Grabbing battery tester on Monday but assuming at this point I've got a defective something.
June 1, given up on the camera… it's probably defective. Squirrels got to the feeder and chewed the green door bottom out in an attempt to get at seeds. there's no way to put seed in the thing at this point without it leaking everywhere. There's enough door left I can sort of make it work.