Tribit MoveBuds H1 unboxing, review
The Tribit MoveBuds H1 are an IPX8 Bluetooth 5.2 pair of headsets with a potential for 65 hours of play time with the included recharging case.
TL;DR – these are possibly the only Tribit product I haven't particularly liked.
So you've got the spoiler there. I'm going to start with some of the good and work into what I've encountered in a relatively short review timeframe. I've never had issues with their other products but these were not enjoyable for me.
Tribit MoveBuds H1 – the good
These are very comfortable. The weight sits on top of your ears using the earhooks so if you've got sensitive earbuds or suffer from a lot of booming these might be the buds for you.
They've got antibacterial properties, although I have not personally heard of this being much of an issue for anyone. Your experience may vary.
The play time with a charged charging case is around 65 hours. A good work week worth of workouts.
Very long range in my testing that they worked. A house away and I was having no issues listening to them.
IPX8 means you shouldn't have to worry about water unless you're scuba diving.
Ambient/transparency mode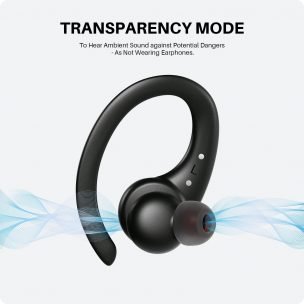 We're going to start (nitpicking,) with a feature that's touted on their Amazon page. That being transparency mode. The ability to hear what's going on around you. Basically it's a feature that's touted and if you're interested in using it it's called Ambient Mode in the documentation which is 5 words and one horizontal inch of text dealing with the right earbud: Click 3 Times: Ambient Mode.
There are no settings for how much this brings in from the outside world. It's pretty useful as it stands but most other buds I've run across with this allow you to set some sort of threshold for it.
I'm going to say my main beef with this is it's not in the right level of outside to inside for me and there's no configuration options. Personal preference.
The charging case
In your charging case the right earbud goes into the left side, and the left into the right. I have lost count of how many earbuds I've worked with in the past but why? It's counter-intuitive. Maybe I'm making a bigger deal than it needs to be but why?
The charging case has a cool snap close that closed every single time I pulled one earbud from the unit or placed one in. It's unusually large to accommodate a large battery and the ear hooks. It makes a loud whack sound. I do not like the charging case particularly because there's very little defined lip to open it up.
Don't get me wrong, you're not going to have a lot of trouble re-opening this thing, but if your hands are sweaty and you don't have much in the way of fingernails, it's annoying. Even if you do have much in the way of fingernails this case is simply not designed to grip.
Earbuds you'll notice have texture. The case is smooth. I dropped it with not sweaty hands. It's not right for the target audience, but then again you'll probably be removing the earbuds from the case before you start working out.
The controls
The controls are on the earbud portion as opposed to the hook. When you tap the controls you push air into your eardrum. Boom. Control points could have been on the ear hook.
The part I very much dislike
While audio is a personal preference, these were way too bass-y, sounded vaguely like there was a spring being vibrated somewhere in the room, and required the Tribit app to do anything in terms of equalization.
The app without any registration will tell you there's a firmware update and that's it. Want to download the firmware update? Tough cookie guest. You have to register, accept a series of terms and conditions, verify your email address with a code, and jump through a whole lot of hoops that just don't need to be there.
I did all this to update the firmware or get an equalizer hoping the experience was going to be better. It … slightly was. I'm not an audio expert, but nothing here sounded quite like what a premium headset experience has been. These sounded a little like some of the $40 range earbuds we reviewed (I think from Tribit) several years back.
No matter what settings I applied in the sound mixer it didn't seem to change the output sound a whole hell of a lot. I mean, it worked, but it was like the mixer settings were minimized.
Tribit MoveBuds H1 overall
At the time of this writing these are $90usd earbuds. While I am a cheapskate generally, the feature set combined with audio reproduction don't reach what I'd consider a $39 earbud level. At anywhere around $35 I'd be comfortable saying these are ok (I do not like the audio reproduction, but some of this may be personal preference,) but at the moment no.
I will note the Tribit brand, they've made several nice sounding speakers and earbuds and things that have not annoyed me. I do not like these however.
Should you want to make a blog approximately $5.40 in Amazon commission on earbuds we are not recommending click below. I will note at time of writing they're also $15 cheaper not on Amazon.
Grab the Tribit Movebuds H1 on Amazon or the manufacturer's website.