XGIMI Elfin 1080p 800 lumen projector review
About a month ago I first wrote about the XGIMI Elfin. Over the past month I have used this nearly every day in every scenario I could implement. I now have friends who profess projector envy (that they don't have one, not that this is better than theirs,) and I'm genuinely surprised that I enjoy a product so much that I'm not nitpicking on.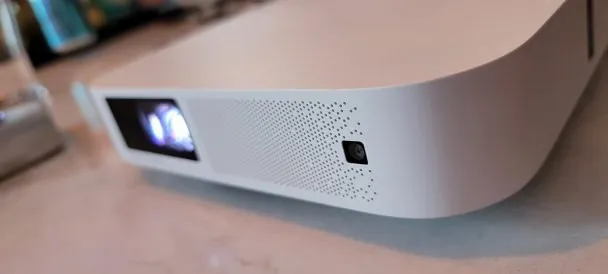 TL;DR – Amazing projector, Netflix issue needs resolved to be perfect.
Specs
800 ANSI lumens
1.2 : 1 throw ratio (30″-200″)
2x3W Harman/Kardon DTS-HD & DTS Studio sound
Auto keystone and alignment, intelligent obstacle avoidance, auto focus
FHD / HDR10
Adjustable motion compenstation
26.6ms low latency game mode
Android TV 10.0
HDMI ARC-capable
Dual band 2.4/5ghz WiFi, Bluetooth 5.0
2.18lbs
Remote with voice control abilities
Tripod capable mounting
2GB RAM, 16GB ROM
Nitpicking the XGIMI Elfin
For those that don't read Pocketables, understand that everything gets nitpicked. I've never met a perfect product, although I've come close. The XGIMI Elfin is close. I put the nitpicking at the top so if these are game killers for you it's here.
Netflix certification is the first issue here. You will find some projectors claim Netflix certification, but unfortunately at the moment the Elfin is not among those. (as of August 2022 I haven't found a certified one, just ones that use third party apps to make Netflix work.) While it's Android TV certified, Netflix is their own thing. I've gone down the rabbit hole of reading about Netflix certification and all I can say is it's complicated and some have it, some don't, and I've been told that XGIMI is trying. You can get Netflix up and running by installing a third party Netflix client or attaching a Chromecast, Fire Stick, etc to the back of it.
Installing a Kodi Netflix took about a minute. It's not something you should have to do, but you do. Hopefully the XGIMI Elfin gets the certification in the near future. Netflix's app will pop up a message saying it's not optimized for your device, look like it will be about to play, then tell you your account can't watch a video.
Not a huge fan of the power adapter. It plus the Elfin's heat are slightly noticeable. Laptop brick style power adapter also makes mounting the Elfin a little more challenging.
No option for a detachable power pack? I can take and make my own power if need be but we're going to be using this at a school talent show for kids who tangle up in wires if they're located within 200 feet. I'd love an option for those times when you're wanting to set up with no power. 65 Watt power consumption, should be able to handle that.
The XGIMI Elfin screams portability – perhaps a tote of some sort? Protective lens slide?
Unit I got required 2aaa batteries, which were not included. I'm told this may be changed in the next batch but this was not operable out of the box without batteries, and at 12 cents in bulk that's odd.
The sound works, usable, not great, sort of what you'd expect from a device this size. This isn't a criticism of the unit, but an observation that while the sound works, if you're projecting a 200 inch image you probably want a large sound. Definitely connect to different speakers for the cinema experience. Think of the speakers it has as a useful bonus.
That spouse testimonial part
I have no idea how to convey that the fact that there's an unadulterated wall left in my dining room is quite unexpected and caused in great part, if not exclusively, by this projector. We had a major kitchen remodel and a dining room overhaul, and all I would hear about was shelves here, photos there, plant there. I'm a fan of shelving, don't get me wrong, but having blank walls is something Kim cannot generally handle.
Over a month ago, shortly after the paint was applied, I slapped the Elfin on the counter and popped on some TV that could be watched from the kitchen. Since then I've offered to place shelving up, perhaps get a drop down projector screen, nope. Suddenly there are no plans for that wall. That dining room has nine shelves of which you can see 5. The Elfin has a little spot, there's kitchen entertainment when wanted and we just put it on its side next to the wall when it's not.
It was not my fantasy to project on a white wall. I did not fight to keep plants and pictures out of that area. From a knowing her for 18 years perspective this is one of three Pocketables review items I believe she's not immediately thought was dumb from the get go. She has plans for it.
That pixel snob testimonial
While I'm colorblind, don't have perfect eyesight any more, I can tell 4K from 1080p from 720p from 480 etc. If you've read any of my Netflix and Amazon Prime video commentary you'll probably know what I think about their Fauxr-K. Putting 4x the fake film grain and calling it 4K isn't. Those services barely deliver 720p quality.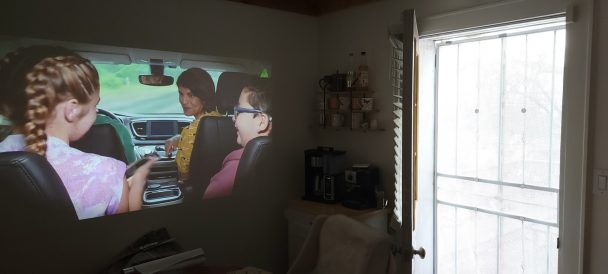 Welp, I put some Blu-Ray 4K downscaled to 1080p, projected it onto a freshly painted wall, and damn. I wish I could get what I've been paying for on 4K from Netflix for the past few years, but whatever. It's beautimus. The pixel resolution, at least where I can test which is about the equivalent of a 65 inch TV, looks fine.
The kids' testimonial
They watch video on phones covered in peanut butter grease, I'd skip their opinions at this point beyond they like watching on walls because for some reason it's more interesting than watching a TV mounted on a wall that sticks out an inch or two.
Android TV
Standard plain Android TV interface. Easy setup. I do not believe there is any customization or straying from a default Android TV implementation out of the box. This works. I see people reviewing the software, it's just Android TV. I don't see much difference between this implementation and the NVIDIA Shield's implementation and any other Android TV I've seen.
The only problem that exists is Netflix is prominently featured and installed at go time, which if you're like me is about the first streaming service you set up.
Motion compensation / Days of our Lives mode
This has several options for video settings, you can choose what looks best for you. One of the things that I noticed was motion compensation. You have the option of turning it off or four other settings. I've found on most things I can have it off but I did watch a couple of extremely low FPS videos that were greatly benefitted by turning it to max.
It's on by default if I remember correctly, so if it looks strange out of the box like everyone's gliding to their position, change it.
The XGIMI Elfin projector, overall
Barring anything going wrong I anticipate using this regularly ongoing. Other than nitpicking I have no complaints. I really cannot properly express how pleased I am with this product with what I have experienced thus far.
I recommend.
Purchase an XGIMI Elfin on on Amazon, on XGIMI's website.
XGIMI Elfin
The XGIMI Elfin is an amazing Android TV certified 800 lumen projector that brings almost everything to the table without compromise.
Product Brand: XGIMI
Product Currency: USD
Product Price: 649.99
Product In-Stock: InStock