How to view dismissed notifications / history on Android 12 (2022)
I didn't wake up particularly fully in possession of my faculties today. Just not a good night of sleep, which it appears my entire neighborhood suffered from due to racing and some loud events involving a train issue. I reached over, grabbed my phone, and there were the normal 20+ notifications from the night with one incredibly detailed one that said a device I owned had lost power and was no longer functioning in some mode and beats me what the rest of it said because half asleep me dismissed notifications.
This was done on a Samsung Galaxy s21 Ultra 5G running Android 12 in May 2022. If you're reading this before or after this time it's entirely possible Google moved it again, also entirely possibly this works differently on your phone.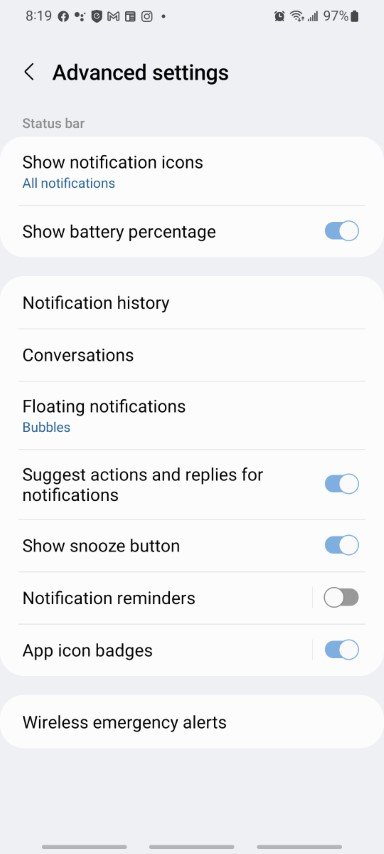 As I stumbled to get ready for the day I kept wondering at had I actually read the words "view plus" and what in the world was that and what was I supposed to do? I've got a lot of devices I've tested, this one needed an action and I had no clue. It was this as a note.
So I went down the increasingly garbage hole of searching for how to do something on Android, in this case see dismissed notifications. All the articles that popped up indicated putting a settings widget on the screen with notification history, and of course there's no "settings" widget on my phone, no "notifications," nothing whatsoever useful. If you've got that option, your experience is different than mine. Appears Android 11 was the last time that worked outright, but who knows.
Seriously, trying to find out how to do something on Android feels like you're being gaslit as several hundred people did it and testified to it and now it's just moved. Might still work on their devices because they set it up when it worked and Android is great at carrying things forward, but meh.
Settings -> Notifications -> advanced settings -> notification history. This will need to be turned on in order to work. Unfortunately you're reading this after having dismissed an important notification, I feel sorry for you son.
You'll turn that on, but until notifications come in and are dismissed there's not going to be a lot to see. I see some references to there being a history button on the notifications section on AOSP, but that's not been my experience. The only way I can see to see these are once again going to Settings -> Notifications -> advanced settings -> notification history. That's ok because I don't generally dismiss notifications out of hand.
Make sure to activate it if you think you're going to accidentally need it some day.