A couple of days with the Nest Hub Max
A Nest Hub Max appeared at my doorstep the other day. It has been something I'd considered purchasing due to the facial and gesture recognition along with the better speaker but it wasn't a priority.
TL;DR for Nest Hub users – Unexpected Nest Aware/Security Cam integration, better sound, different PS, gesture control, facial recognition.
I decided I'd place it in my kitchen, replacing what was originally purchases as a Google Hub and rebranded to a Nest Hub. Sadly it didn't take the same power adapter and I had to use the included Nest Hub Max plug in, which is OK but when you've got USB outlets you just want to use them. Probably not enough power, oh well. The Nest Hub Max power supply looks fine.
Setup was pretty standard, but as the Nest Hub Max has more features I decided to take the tour. This was something I haven't done in a few years and it did not work. That was unexpected – you can see a tweet I made where attempting to follow instructions failed. That or I'm misconstruing what I was supposed to do.
Going to add a spoiler here – other than being unable to complete the tour, setup worked fine and the unit functions fine. I've verified post setup that this worked with no issues and have informed Google of the issue. Doesn't appear to have anything physically wrong with the unit.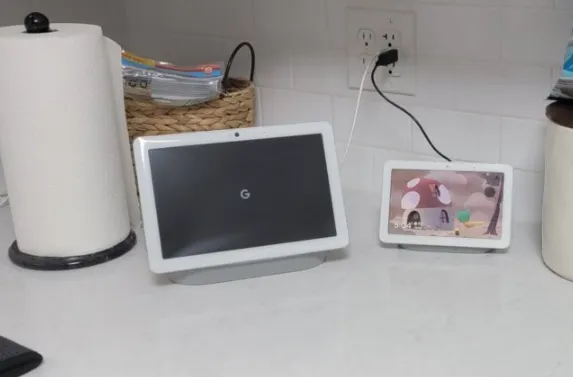 That was unexpected
What I did not expect was that the Google Hub Max could be used as part of my Nest Aware / camera setups. It's not as good overall as maybe a Nest IQ Cam Indoor, because it has no night vision, but for being in the kitchen it's freed up a security camera for me.
The only issue I have/had with using the Nest Hub Max as a kitchen security camera is that the camera is angled upward. It's not an issue unless you're wanting to use the thing to be able to see the floor (like I have it in the picture above). Unit has to be physically tilted forward unless there's some setting or hardware I'm not seeing. Picture above I've got a plate on the back tilting it forward. Without the tilt it's looking at my ceiling far too much.
Not really an issue unless you're planning on using it to verify your floors have not suddenly gotten wet from a broken hose. Just something I noted. Considering how many Nest Hub Max adjustable stands I've found on Amazon I'm assuming this is a common complaint.
With great audio quality comes great expectations
Music, great. It's an obvious improvement over the Nest Hub Second Generation I have. Richer, bassier, yadda yadda. With that comes me hearing the voice of Assistant .. I guess… crack a bit more. I listened on some older devices and newer and yeah, it's there, just a bit more pronounced on a better speaker.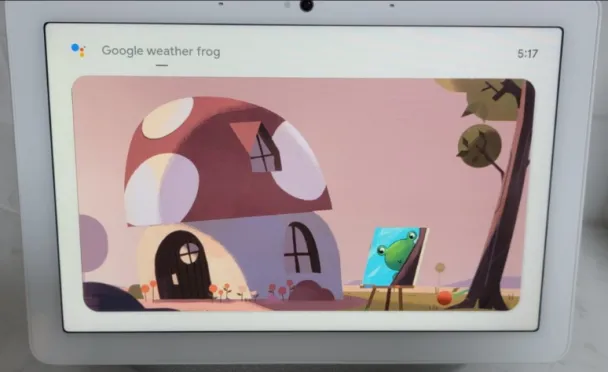 Don't know what the fix is here, but it's a thing I noted.
There's not a lot of things different than the smaller screen experience, and i have not used gestures and face recognition enough yet to see if it's anything that's particularly useful. These are just observations at the start of day 3.
You can grab a Nest Hub Max from the Google Store, where it appears to be on sale for Father's Day. I'll be doing a follow up in a bit.