Roborock Q7 Max+ Vacuum with Auto Empty Dock – day 33
We've got a problem here, and that problem is I can't find anything major to complain about with the Roborock Q7 Max+ other than it needs an aggressiveness dial because it's all about getting up on things few vacuums I've played with would attempt.
The Roborock Q7 Max+ exists as a near-replica of my beloved S7 (Rhonda,) although without the lift mop and vibrating pad that make Rhoda unique.
I'm not a huge fan of drag mops, nor do I have a great test environment for them at my house. I checked – it drags a mop and appears to do what other drag mopping robots do: wet a cloth pad and drag it.
In the last 28 days of use, after first securing a couple of things and defining some no go zones, there haven't been any human-involved events. No dragging of cables or getting into mischief. It just worked.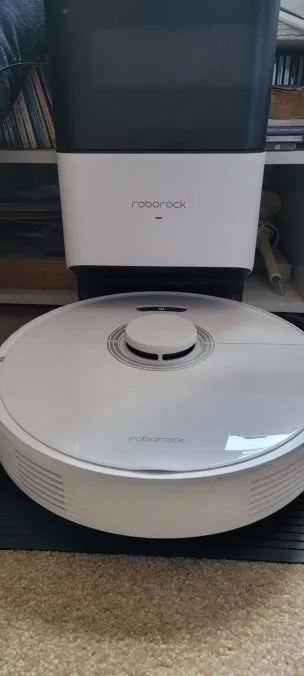 The only thing I've noted that has made this not entirely a perfect experience for my was that the app seems to not want to rotate the 3D map for me in the way I felt it should. As I was writing this up I explored a bit more into how it requires you to operate it and discovered what they did.
What I thought it was: Finger center, rotate second finger around perimeter. What it is: Finger center, slide second finger to the left and right (or up and down).
I think the angle was throwing me. Why it was, I don't know. How many times am I going to look at that map? Probably not many. I ask Google Assistant to start the upstairs vacuum and it does, and it cleans, and it returns to its dock without incident.
The past month and the aggressive cleaning this beastie is capable of has had me discover that the Q7 Max+ drop sensors are pretty good at figuring what it can get down off of. It takes some risks, but not dangerous ones.
My robo test mat here has drops from 1/4th of an inch to 1.4 inches. It seems to know where it can safely jump. The Q7 Max+ also knows exactly where to edge for the staircase. It does everything "dropping" correctly so far.
The Roborock Q7 Max+, like all I've tested before it, does not seem to be able to pick up or move a penny near the edge of the mat. I'm not sure if this is a particularly useful skill for a robot vacuum to have, but so far none have picked up or moved it. This, I think would take some slight raised edge detection at the minimum.
I devised the penny edge test a while back when I dropped a penny while moving something and forgot about it.
Anyway, long story short at the current time this vacuum is performing admirably, the upstairs carpets look really touched and clean, there have been no docking issues, calls for help (which I still get from the S7 now and then, but that's a more kid-occupied floor,) and yeah.
It's a product I'm pretty happy with and other than Day 1, where I had to arranged a few things differently, it's been without annoyances.
The upstairs doesn't get as much dirt as the downstairs does due to lack of children upstairs. However I manually halted the Q7 and there is reasonable amounts of dirt in it. When the Q7 gets done on the auto-empty-dock, no dirt remains. I'd say the tower is about as powerful as the S7's and appears to use the same replacement bags, which you can get third party if you want.
Overall: tied for vacuuming with the S7, mopping it's good, but as noted I don't care much for drag mops.
You can find the Roborock Q7 Max+ on Amazon, Roborock's store.