VEVOR / Mophorn 3500W Demolition Hammer review
This is an incomplete review as the project we're working on that would use this is once again pushed back due to weather or other events completely unrelated to the hammer. I'll be updating this as (if,) the project progresses.
The project currently involves taking out a small trench of 1940's concrete basement to form a drain and data line (yeah, there's a PoE and delivered power aspect to this for another project). Might be an old Raspberry Pi thrown in as a control unit, but that's another story.
The VEVOR company wrote me about reviewing this a day after I was researching how much renting one would cost at Home Depot… because I'm not the type of guy who needs a demolition hammer in his arsenal under normal circumstances. I told them we're a connected gadget blog, this was not a great fit for them, but I did have a project coming up. I expected this to not bring them any value. Just laying out the expectations here. Nope, they were willing to try.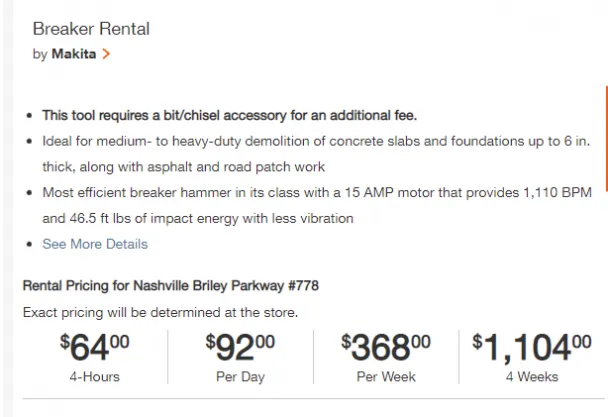 As this has not had prolonged use, this review currently is more the look, feel, and documentation and tales of first use which rattled the ground so much the video was unusable. This also is based on my use of two fully functional jackhammers in my life.
First off, it works pretty much out of the box (add oil). If you've worked with demolition hammers before you're not going to be surprised (add oil). If you haven't, I would hit a couple of YouTube videos on understanding what's going on and why you have to have oil before you go on a bender with this. The maintenance instructions are intended for people who have an idea of what they're doing, which considering I've never done maintenance on these is not me.
I'm not really knocking the instructions, I don't expect a hammer to have great instructions, just if you don't know what you're getting exactly you do want to verify that there's oil in it. That it's supposed to be there if there isn't. If something goes wrong you need to adjust something… a page saying "your impact hammer is ready to use out of the box! (after you add oil)" would be useful. By the way, it's pretty much ready out of the box except for oil, which you need.
No big… me being an expert on impact hammers and all. You can find a manual that's slightly more useful here. In case I didn't mention it, add oil.
The body of this reminds me of a Makita Small impact hammer I have used a previous model of in the past. I don't think there's been a lot of major improvements in impact hammers in the past 20 years, but I could be wrong. The main difference being I don't like the forward handle on the Mophorn Demolition Hammer one bit. It's cool and utilitarian, but even if I am wearing gloves I want rubber all the way over that edge.
I'm not huge on fancy handles, but after slicing my hands on one that looked similar to this… wear good work gloves. It should be noted that the Mophorn 3500W Demolition Hammer ships with gloves and a mask and some goggles. Mask and goggles are acceptable, I would not trust my hands to the gloves here, but that's me. You're not buying this as an all in one Jackhammer Excursion Kit however. You can also fix the edges with duct tape, but I'm reviewing as is, not potential.
The unit comes with a couple of bits. I can't really tell the quality thereof. If the project gets underway we'll see.
You can adjust the front handle it looks like, but only if you're packing tools with you. Not a huge issue but if you've been working for a while in one position and prefer a different grip, it's a few more seconds. Seems like the last one I used had a locking bar of some sort that I noted but didn't use.
I feel I should complain about the trigger but it works. Not had enough use to bother me and I doubt I will get to annoyed levels.
Some things vary from the product description on Amazon and the label
One of the things I'm attempting to find out is the rated power input is listed as 3600 watts on the label, not 3500. 1800 impacts per minute as opposed to 1400 advertised.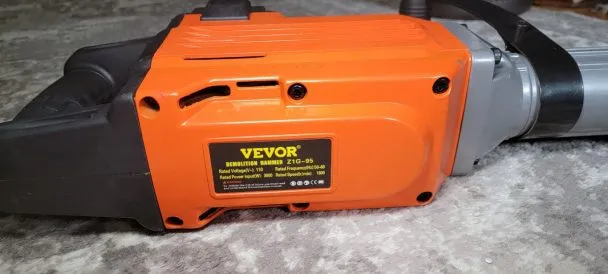 I mean under promise and overdeliver is great and all but I note when I catch some pretty obvious numbers being off. It lists a max power of 3500 or 3600 watts, lists 13 amps… if you're thinking this sounds wrong with amps = watts divided by volts, you're correct. at 120 volts that's 29.16 amps (3500/120=29.16) – at 110v it's 31.81amp.
Something has gone wrong in the documentation or I'm missing something. I could be showing that I don't know the electrics also.
Overall
I'm not feeling there's a deep conspiracy here, just some hastily thrown together documentation.
Things to consider
I would say plan on 3500 Watt / 30 amp power draw. If you're not familiar with how bad cheap extension cables are for these purposes, prepare to burn up the motor.
At the point I am at, which as noted is prior to the project I actually want it for, I suspect you would make out like a bandit compared to renting. I would make out at about five hours.
Also consider this is not much of an actual use review. I've done a little, attempted unsuccessfully to film it (who would have thought that putting a tripod next to a jackhammer the results wouldn't be usable?)
Considering the known name brand tools are over $1000 in this category, and this is currently below $200, it's worth a check out.
You can get the Mophorn 3500W Electric Demolition Hammer on Amazon