ILIFE A11 Robot Vacuum Cleaner (unboxing, first days) review
Today's long-running puck vacuum/mop review comes with the start of testing of the ILIFE A11 Robot Vacuum Cleaner.
Update: Sep 25, 2022 – I can not finish the review as the first unit blew a main motor and the replacement unit died and I'm waiting on RMA #2.
There are a lot of robot vacuum cleaners out there, and I'm putting this one through the home and corporate test environments. I've completed the home testing with several runs, and will be moving onto the larger scale cleaning on an office building in the subsequent follow-ups which will be reached.
TL;DR – good, testing not done, follow up coming, mid range price, above mid range performance, software needs work.
ILIFE A11 Robot Vacuum Cleaner unboxing
The kids decided to help me with the unboxing and assembly and got the entire thing set up and ready, however the battery was discharged completely at time of arrival and it needed charging. We were unable to test, and by the time it was charge enough the kids had moved on from their dreams of being social media stars.
The only thing of note that is different with the ILIFE A11 that will confound people who are familiar with robotic vacuum cleaners is the charging station requires you to remove the bottom of it to plug in a cable. This was done entirely for cable management purposes I believe, but since it's on the bottom of the unit the question becomes why bother with a cable hiding plate.
It's over-designed, and that's ok. Just something to note if you're a bit confused like I was as this is the first time I've had to look at the manual to a vacuum in a long long time.
ILIFE A11 First uses (home)
I decided to set up some traps for it. My house has generally been wired, taped, and set so that robot vacuum cleaners will not catch anything, so I threw out some wires, made a rug trap (pictured below,) but did close the door to the rooms because that's entirely not a fair test on anything that can't visually process barbie shoes and shag rug.
The ILIFE A11 defeated my carpet trap, did not suck up cables in any attempt that I threw at it but honestly I do not know how it didn't, but finally managed to get stuck on initial mapping underneath a recliner in recline position I was sitting in. It went around behind the recliner, pushed its way in (there's fabric I thought it should have seen,) went through the standard recliner assembly, and wedged under the thing with me in it.
I had to have the kids come and remove it because if I moved I was going to crush the thing. My only escape would have been over the side. The A11 wins an award for trapping me. This marks the second time I've been trapped by a puck vac, the other time one just died on the other side of a door.
Hey, this sounds like I'm complaining about this? I'm not. The thing did remarkably well.
The ILIFE software does not appear to have a fast mapping mode. You have to complete a first run before you can save maps. I'm not a huge fan of this because I've now dealt with many vacs that can map a place in a few minutes and let you define what you want to clean. That said, the regular cleaning mode mapping this did identified most of the house at the edges right off the bat and I'd say within 15 minutes we had a good map.
This mapping included getting jammed under my chair. It appeared to have discovered enough of the house that it knew where it was to complete the initial map. That's cool.
First use at my house I did not expect too much dirt to be discovered. I was wrong. We'll talk about what happened with the other vacuum later, but it's a combo of bristles + getting caught and me not noticing it for a few days.
I highly suspect that most of that grey fuzz in the image above is due to the bristle brush that was installed combing a newish carpet. the particulate matter in the unit was not particularly high.
Issues encountered
Software thinks I own 4 ILIFE A11s. They're all the same. I do not own 4 ILIFE A11 vacuums and have only reviewed one ILIFE product in the past that I remember. This is not an issue, any one of these I tap has the same map and controls. Bug, I imagine they'll fix it.
The speaker is not particularly loud. It said some things that I didn't catch because it's not particularly quiet while running (it does have a quiet mode, I was testing on super and regular,) and I don't see a log of what it was trying to inform me of.
As with all other LiDAR robots, it thinks a mirror is an unpassable entry into another room.
Bumps into legs of my living room table – note how these curve in. LiDAR must be clearing it at 3 inches and as the table legs curve in it's hitting the feet/bumper testing. I haven't seen this issue on other robots, and it's only this one table.
All issues: meh, not bad. Nothing I would walk away from.
What's in the ILIFE A11 Robot Vacuum Cleaner box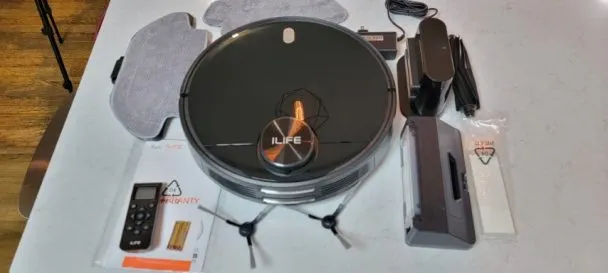 Going by what appears to be there so if I leave anything out, let me know.
Main ILIFE A11 robot
Bristle brush
Silicon brush
Mop pad assembly with drag mop
Spare drag mop
Remote control
2 batteries for remote control
Wet/Dry bin
Dry bin only
Charger cable to plug into outlet/charging base
charging base
manuals
two side spinner brushes, one of which you'll attach to the main unit
Notes from the first few uses
First couple of uses the battery appeared to drain very rapidly and inconsistently – I believe this was a calibration issue as later uses seemed normal.
Mopping appears to be as good as any drag mop is.
Unit spins around a couple of times and backs into the charging plate like a dog.
Best charging routine I've seen. Does not push the plate. Just comes up, gentle electric kiss, then goodnight.
Lack of self-emptying tower may annoy some, large dustbin may mitigate this for most though.
The ILIFE A11 Robot Vacuum Cleaner overall
Fairly fast, mid level model pricing, good obstacle avoidance except on curved feet, I like it. Not going to lie however, I am spoiled by self-emptying vacuums these days.
I'll be covering this more with the office building test that it will start tonight, barring something odd going on.
The ILIFE A11 Robot Vacuum Cleaner is available through the ILIFE Robot Store, and on Amazon.
The link to Amazon we'd get a commission on, if you don't want that just go there and search it yourself.
Update: July 26 it is dead – main brush motor just not turning. No obstructions. Contacted PR. Happens to the best of them, and this was one of them.
ILIFE A11
Today's long-running puck vacuum/mop review comes with the start of testing of the ILIFE A11 Robot Vacuum Cleaner.
Product Brand: ILIFE
Product Currency: USD
Product Price: 399.99
Product In-Stock: InStock