Bring the party with the Tribit Stormbox Blast
Tribit Stormbox Blast
The Tribit Stormbox Blast is a 16 pound, 90 watt, beast of a Bluetooth 5.3 speaker that is loud enough to annoy your neighbors
Product Brand: Tribit
Product Currency: USD
Product Price: 199.99
Product In-Stock: InStock
The Tribit Stormbox Blast is a beast of a portable Bluetooth speaker that pushes out the most loud of any battery powered device I've run into so far. It's also got some blinky lights and can charge your phone but I'm not particularly interested in those aspects.
Overview
90 total watts of power in two 30W woofers and two 15W tweeters means this can be raised to obnoxious levels of volume. I put my kids in the backyard with this and they felt compelled to turn it down because they didn't want to be "those neighbors." I mean, we are those neighbors… those kids talk at jet engine levels of volume.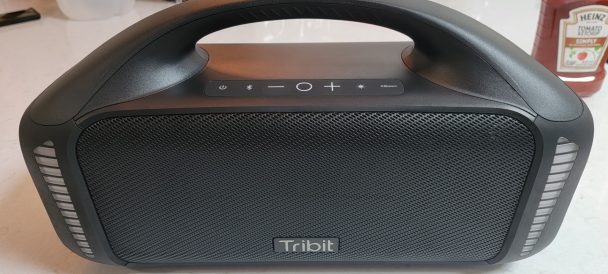 I cannot stress how impressed I am with the volume of this thing, and with a potential 30 hours of playtime you can really really annoy your neighbors.
The audio quality is there, Tribit uses its xbass technology and some audio processing to make the loud even louder and deeper. This makes it sound slightly different than you might like, but you can tweak that with the Tribit app. I didn't do too much tweaking on this because I was more interested in testing how obnoxiously loud it actually could get and trying to figure out a metric for it.
Basically my back yard was filled with sound and at the transmitting device (my old Galaxy Note 8) it would have been audible with an audience of 40 or so talking. By far the loudest speaker I've reviewed. Was was also unexpectedly impressed by their smaller version of this product line the StormBox Micro 2 if you're looking for a smaller sound beast.
Tribit Stormbox Blast specs
90 Watt total power
Bluetooth 5.3 A2DP, AVRCP
TWS for stereo paring with another Tribit Stormbox Blast
Aux, Bluetooth, possibly USB audio input
32 LED lights
~16 pounds
19,800mAh battery (9x 18650 @3.6v) rechargeable
Can pair with another for true wireless stereo separation
---
Let me tell you – I'm really surprised this thing exists in such a small package, I am quite happy with the sound, but here's all the nitpicking I get paid the big blog bucks to do.
Complaints about the Tribit Stormbox Blast
There's no real configuration of the light shows. It's on, it's off, and there are some lights that flash on the woofer part that seem to …. well, they exist but it looks a little more like a fault that going with the music. I'd like the ability to at least turn those white flashers off while leaving the side lights on. (This may be better with a firmware upgrade as I tested this on what I received and didn't do the firmware update until today.) The unit also "breathes" while it's sitting silent.
You will require registration in order to get the firmware upgrade. App doesn't do anything useful without verifying your email address.
Update has a very concerning ending in which the Tribit Stormbox Blast shuts down after saying upgrade successful in the app. You can power it back on, but man I thought I had a brick there for a minute or two. Nope, it just shut off. I expected a reboot. Would have been nice to see a message saying "you'll need to power the unit back on after upgrade."
If you made the faux pas of connecting to the Tribit Stormbox Blast, you can not find it to add in the Tribit app. You'll need to disconnect and forget the device in your Bluetooth settings before it can be found in the app.
The thing is so much louder than you expect. It's loud at low volume.
It can charge a phone via USB-C, but can't be charged via USB-C. You'll require a power cord, which it comes with but if you lose it you'll need to grab something similar. Looks like this one, inexpensive but if you charge out by the C, why not charge in by the C as well?
Without seeing their advertising I came up with the same filming angle… They however had the ability to get something that looks like a DeLorean and therefor my 80s attempts are weak sauce.
Wrap-up
Holy crap this is loud. Coming in at 16 pounds it's technically portable, but it's not something you'd want to haul along on a hike. If you're looking for loud and quality, you've got it. If you're looking for easy portability, maybe not so much.
Grab a Tribit Stormbox Blast on Amazon, or the manufacturer's website.
We get a commission if you click the first option and buy literally anything on Amazon, second one we don't.
You can also click here for an Amazon link without a tracking code.