Wemax Go Advanced Projector – a visually impressive budget portable projector
The Wemax Go Advanced Projector holds a battery capable of powering your presentations, movies, or whatever your heart desires for about an hour and a half without being plugged in. Should you want, you can probably watch any of these movies without being near a power outlet. If you can get to an outlet, compatible power bank, etc, there's no limit.
Wemax is attempting to aim this at the business crowd as it's extremely lightweight, perfectly portable, and in a pinch can run without a power cable attached.
The preface to the review
Chances are you don't know how I review things and have come here from a Google search. I attempt to find everything possibly wrong with a product and present it so you can figure out if it's going to drive you mad, or it's something you can live with. I can tell you this is not a money making, or brand-confidence building strategy, but it's what I do even on products I absolutely adore.
TL;DR – You want a massively useful easily portable relatively inexpensive business or personal projector? This is pretty good at an OK price. Several of what I consider business critical features do not function correctly such as casting. This can be surmounted but do you want to deal with it? That's up to you. Chromecast dongle or HDMI cable are the fixes.
It's quite far from perfect and that's what I'll detail below. Does any of this affect you? I do not know. I'm using it as a portable video screen at the moment.
I will also note this reviews is primarily the results of about 15 hours of testing, finding bugs, attempting workarounds, and general insomnia over the past few days. I will update as we continue using it and software updates, but it feels like I've hit a stopping point. Good hardware, incredibly portable, software is slapped on and feels cheap, some apps like Netflix are obviously rigged/workarounds by some third party.
The TL;DR to the review (because the review is long)
Hardware great (except audio) thin, light, well designed
Software it comes with, not
You will want a Chromecast/Fire Stick if you want nice Disney, Netflix, Plex
Plex, Disney and Netflix are installable options, but they're … special
Casting does not function / would want an HDMI cable for presentations
Priced higher than it should be for how many issues the software has
Limited documentation
Limited configuration options
No way evident in apps to fix keystone, change brightness, etc. Exit app / go to settings.
Documentation and help built in is wrong, even showing pictures of it not working
Wemax Go Advance hardware is mostly impressive
The Wemax Go Advance is light coming in at a listed 1.71 pounds. Unknown if this includes the charger or not. It's a fairly large wall charger coming in at 65 watts and about 2 inches high. This thing is light, highly portable, can protect its lens with a sliding on/off switch, and work pretty much anywhere.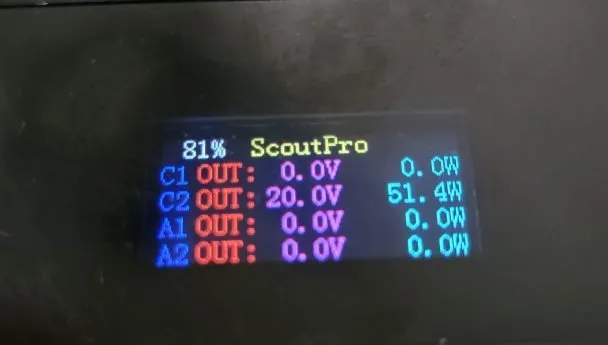 ALPD (fluorescent laser technology,) provides the heavy lifting and puts out 600 ANSI lumens. This is a little dimmer than I'm used to, it doesn't compete with the outside light, so this is definitely an indoor, or nighttime outdoor projector. Nighttime it looks really good on my wall of testing, and of course the closer it is to the destination the better and brighter the image.
The projector delivers the beats with a very unimpressive 2x2W set of speakers. They work. They're ok. You will not impress anyone with the built in speakers. Luckily you can connect to external Bluetooth speakers with no issues that I encountered. Really, I can't say anything particularly nice about the audio here. It exists. There's also an audio jack to get sound somewhere that can deliver it. You will want external audio if you're doing movies. Works fine with any Bluetooth speaker I threw at it.
Wi-Fi on 2.4 & 5ghz for streaming, HDMI and USB inputs as well.
Specs
These are mostly from the Wemax Go Advance specs page, some gathered from Amazon and AliExpress.
1.7lb, 8.6*4.6*0.97 inch
1920*1080 resolution
ALPD laser light
600 ANSI lumens
16:1 display ratio
100% Rec.709 color range. HDR 10
1.2:1 throw ratio
Display size: 40″-120″
Auto keystone, focus, screen alignment, obstacle avoidance
T972 CPU
2GB RAM, 16GB eMMC ROM
Software listed as WemaxOS, display is FengOS
2.4/5ghz WiFi
Bluetooth 5.0 (dual BT audio was listed on one of their product pages – this is meh/misleading – by the definition I understand this means connecting to multiple speakers to spread the audio around a room. Theirs appears to mean it can connect to a Bluetooth speaker, or you can connect your phone to it and use it as a speaker)
Miracast, Airplay, DLNA, Huawei Cast+
Type C, USB 2.0, HDMI 2.0
<30dB
<50 Watt power consumption
Type C PD 65 Watt charger
Battery – 39 Wh (as listed on Amazon)
Battery – PR says 1500mA (which would mean 26volt batteries) but 1500mA feels closer based on weight
Wemax Go Advanced Projector software is… not
The Wemax Go Advanced uses a custom Android software called FengOS, but does not have the Play Store or Amazon installed. There are two apps that get other apps, these being Apitopia, and GetApps. I suggest using the first one as the second installed older versions of the apps I was testing. The splash screen shows it as FengOS (specs call it Android 9, Website calles it WemaxOS or SmartOS) and the projector comes with a file manager that allows you to install APKs off of a USB (or downloaded from the preinstalled Firefox browser,) right out of the box.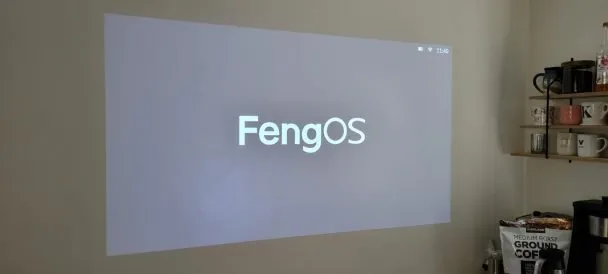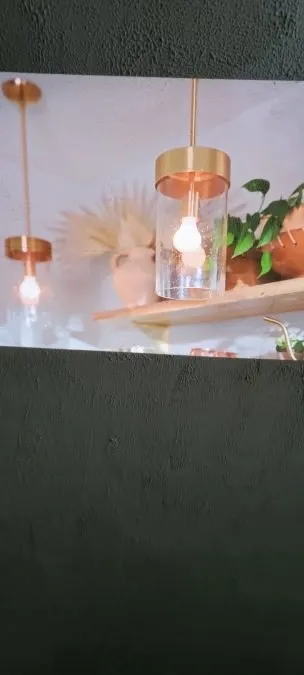 It's a pretty no-frills utilitarian Android install with a couple of apps to get you more apps without the need of a Google account.
Software issues encountered
I received the Wemax Go Advanced projector, checked to see if there were updates and none were listed. In an app that was one of the three or four launcher choices I had, I installed Netflix, Plex, YouTube and it seems like something else. When I opened Netflix it complained that there needed to be some updates, however it presented no method. Plex was kind of buggy and the guide didn't work, and YouTube I forget what happened but something was odd.
About four hours later I booted the Wemax Go Advanced back up to play with it some more, went into the Apitopia app installer, and all three of the buggy softwares had a updates available.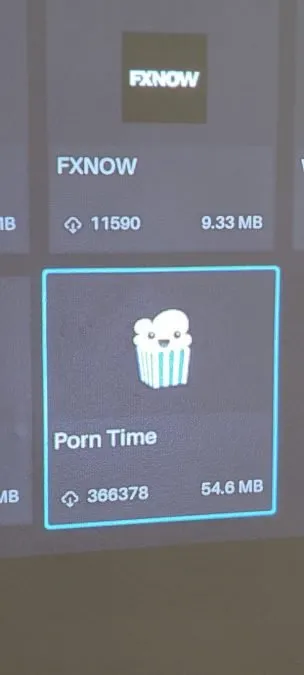 I realized when writing this section (these sections were done at different times,) there are two app installers that are included with this projector – Apitopia and GetApps. Apitopia updated all the apps that were odd. They mostly worked afterwards.
Netflix is weird. It appears to be a browser-enclosed Netflix similar to the Kodi Netflix client. It'll work, but you need to use mouse mode to pick between things. It's a pain on this and I would probably use a Fire Stick or Chromecast plugged into the unit instead of what you can get through their market.
Plex appears to be the current version as there's playing video when watching OTA HDHomeRun video and checking out the channel guide. I believe that we're probably looking at the current release of the software.
Disney+ is listed, but it threw an error message that I couldn't use it but there were still options for me to view cricket by the app.
Issues encountered
Let's start with operator error – I could not turn the thing on. It had a red light, I installed batteries in the remote (it does not come with 2xAAA batteries,) and then thought I'd received a defective unit because I could not turn it on. Slide the front grill, power on normally. Don't be like me. I noticed I cannot see an IR beam from the remote, which is because it's Bluetooth most likely.
Unit doesn't appear to gracefully warn you it's shutting down for power related reasons. My first shutdown was plugged in to a charger not its own (2.4amp/30 watt?,) and my guess is the charger was not providing enough juice to positively charge the unit. Bam, dead… I thought the whole thing was dead as I could not get a light to come on. Unplugged it, let it sit for a minute, plugged it into its 65 Watt charger and it started up again.
I decided I'd mess with it a bit, let it run and started streaming something or other and then just yanked the charger plug out of the wall. I would have expected it to last a minute or so, but no. Almost instant death when it was that discharged. Not sure if I'd drained the battery beyond warning levels prior or what.
It is a warm little brick. My temperature gauge last night claimed about 95F/35C being pushed out of it and while you might be thinking that doesn't sound like a lot, it's pushing a lot of 95F heat away. I have no good idea how to metric the total heat output, but I'd guess imagine a 65 watt incandescent bulb in whatever room you're in. Not world ending, but it's warming the air and it's moving a lot of warmed air.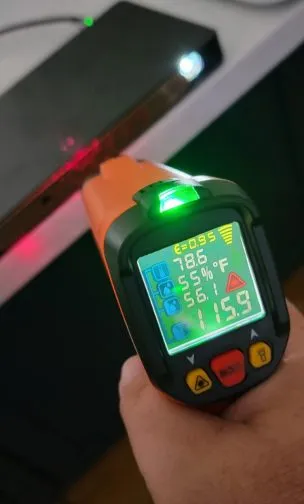 There's no way to switch video modes from the apps I'm using that I can find. Other projectors generally allow you to press a button or combo and get a thing like keystone correction, brightness, etc. There's none listed here and this actually is very annoying as I'd like to adjust without exiting the app I'm in, and going to settings. I found a review that claims you can press a couple of buttons, but that did not work for me. Nothing listed in the manual.
The keyboard by default had English letters and auto-complete in Chinese (although I was able to enter text). Took a minute to figure out that the change language option was on the right. No video of this but it's an option somewhere on the keyboard on the right.
There's a casting option, cast straight up does not work. The unit does not register on the network as a cast destination, and even the two pictures they show of casting in the online manual, the unit is not shown. I was able to connect by installing a Miracast app and choosing allow remote displays. I will note that in the week since I started this review the casting options below have changed to not show it not working.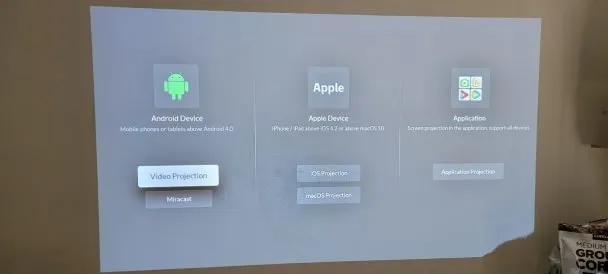 The only screen mirroring I've managed to get to work is with a Miracast app, and enabling wireless display mode from my phone. Attempting to cast / Chromecast / use a Miracast plugin for Chrome results in no connections. This would be a dealbreaker for me as a business projector. I have not tested the Apple options as my ancient Apple hardware barely boots at this point.
An update here is I had someone on an iPhone successfully take over via Airplay and that worked for about two minutes until he rotated his phone and the projector never appeared as an Airplay device again. There's no evident way to disable Airplay, and no requirement to join the network it appears, so fully expect your projector to be bombed.
There's a voice button on the wireless remote. Pressing it pops up a message that says "voice support is coming soon." I will bet you money this doesn't happen due to there being no Google backend integration. Shipping with Android version 9 according to the spec sheets, that's a good 5 years of branched code, although this FengOS release is probably more recent, it's still looking like that's not a fast updating product. It works, worked, needs work.
Dual Bluetooth audio is/was listed, this generally means connecting to two speakers to add to the sound… nope. I've got plenty of speakers. It can connect to one at a time. They are using Dual Bluetooth to mean you can connect your phone to the device and send audio to it to play on the tiny speakers. Could be my understanding of what dual Bluetooth means is different, but whatever.
Attempted to leave a short list of problems that needed addressed on an Amazon review and it's currently flagged for suspicious activity and only verified purchasers (which I am not,) can leave reviews.
Wemax Go Advanced is visually ok
The color representation appears better than average. This coming from a colorblind man. It's a bit brighter than I would expect a 600 lumen projector to be, and quite sharp. I have issues here however as while it's in 1080p mode, I feel like I'm looking at something lower attempting to claim that. This may be due to the laser aspects of the image production, but it looks on close inspection like large square dots that don't mix as well as I'm used to seeing. Not a huge issue, but noticed it and have not on others.
Here's a picture of what I'm seeing – this is a blow up of a wall of a white house projected 7ish feet onto a piece of white paper: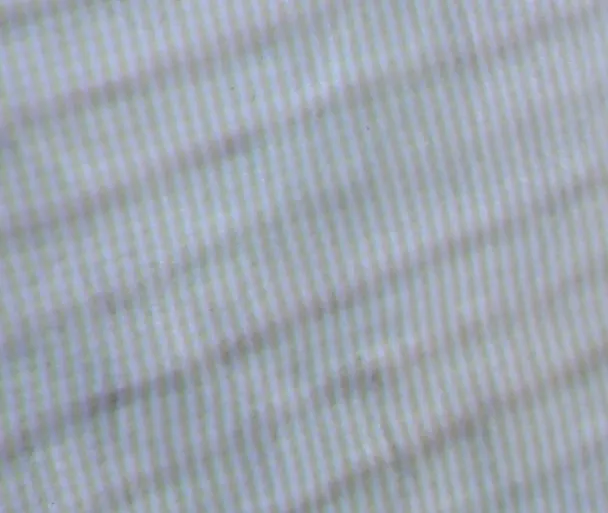 Now my guess is the above picture is showing about 300% on a desktop and 60% of reality on a phone. Square pixels with a little bit of shading between them. I tried different apps, and you can see similar if you just look at the menus. I believe it's only noticeable if you're looking for it when the virtual screen size is less than about 60 inches, but nearing 80 where I'm testing it's there.
The Wemax Go Advanced Projector produces an image I can take a better photo of on my Samsung Galaxy S21 Ultra, but in the side by side with the 800lumen projector above in person it was being overwhelmed by the higher powered competition. My guess is the lasers photograph well.
I'm not a fan of the visuals in eco mode, and unfortunately there doesn't appear to be a way to be out of eco mode if you're on battery. It's dimmer and looks wrong. I'd rather have 20 minutes of good projection in some cases than 90 minutes of meh. I know why they did this, but meh.
Nitpicking the Wemax Go Advanced
No tripod/mounting screw hole. How hard would it have been to put that in? The software even has settings for the unit being upside down.
AAA batteries not included for remote.
Android device with no security or parental controls.
Native 1080P but with "4K Supported" feels like marketing lies. Yeah it can input 4K content via HDMI I'm guessing, but it's still projecting 1080P. I can stream a 12K video to it but that doesn't make it 12K. Meh, I get what the claim is (4K input via HDMI, downscaled to 1080p going out,) but it feels wrong to put that into a product title.
There's a safety feature which dims the light the instant a person is detected in front of it. This is ostensibly to protect little eyes from staring right at a laser. It's a great safety measure, do not get me wrong, but I can trigger it a little too easily. You can turn it off, but you can't set trigger thresholds on it. The trigger also pops up a screen saying that the light has been dimmed. You have to locate the remote to get out of it, there's no countdown to normal light returning. My kids of course keep "accidentally" popping in front of the thing.
Summary
Hardware: Good/really good, except for speakers. Great portability and usability. The image quality is remarkably decent indoors although my photos do not represent that. Other than the lack of a 1/4th" projector stand hole I think this is supurb.
Software: Not good, at least on the Android side. Business features such as casting notably do not work or do not work without third party apps. There's no security to the device, no logins, no parental restrictions, no preventing younglings from installing some not appropriate apps in the GetApps app. You will need a Chromecast or HDMI cable to make this a truly business projector. At least with the current software. This is all fixable but you're looking at $30 more and another thing to carry with you.
Business use – overall it is a good piece of hardware with problems. At current pricing and with the issues I have with the existing software, it's about $130 more than I'd pay for something I feel I'm going to have to bring cabling or dongles along to make it function correctly in a business presentation environment. If I could reliably connect wirelessly, that's a game changer. Cables, been done far less expensively.
Personal – the lack of a decent Netflix, Disney+, parental controls may be an issue for you. This can be mitigated by a Chromecast or Fire Stick attached to the back of the unit, or by installing a different Netflix APK (I bet the Kodi Netflix interface would work,) but these are things you'll have to do and should not expect that the unit comes with software capable of delivering this experience. For the price, unless you need the enhanced portability that this unit offers, I think you might want to research other things.
Portability and the ability to slap this in a backpack or briefcase is the key here. If they get the software worked out I'd have no problems wholeheartedly endorsing this, but as it stands it's neat but comes with a lot of issues.
You can find the Wemax Go Advanced Projector on Amazon, AliExpress, and Wemax's website. Should be noted that as of this writing there are three prices at three places.
If you click the Amazon link there and buy literally anything we get a commission.
The Wemax Go Advanced Projector was furnished to me by Wemax Marketing.
Total use time as of this article (which has been updated for the past 6 days) somewhere around 21 hours.
Wemax Go Advanced Projector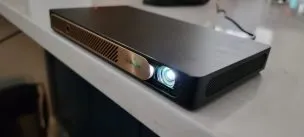 The WEMAX Go Advanced Projector is an Android-based portable USB-C or battery powered 1080P projector with a lot of features and a few issues we cover here.
Product Brand: WEMAX
Product Currency: USD
Product Price: 699.00
Product In-Stock: InStock
Pros
Portability
Configurability
Potential
Can be fully wireless
Cons
OS is a mess (unfinished)
No security
Unstable casting
Battery life fairly short
Complete wireless ability time short